Special Counsel Robert Mueller's office is trying to block an investigation into how anonymously sourced accounts of their investigation leaked to the media, claiming the leaks don't amount to evidence of illegal grand jury leaks - which could just as easily come from defense attorneys in the Paul Manafort case or others outside the investigation, reports Politico.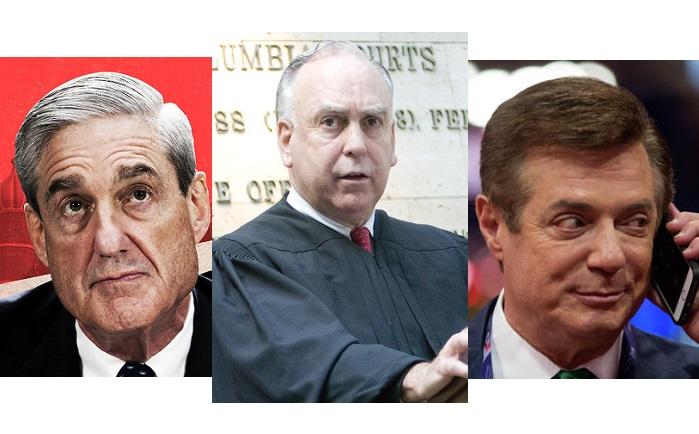 Mueller's team has asked a federal judge in Virginia to turn down a request for a hearing on the leaks, requested by attorneys representing former Trump campaign chairman Paul Manafort.
"Manafort's speculative claim of improper conduct falls far short of the showing necessary to warrant a hearing on potential violations of [a grand jury secrecy rule] or of his constitutional rights," prosecutors wrote. "A pretrial hearing on alleged government leaks, which would itself generate publicity on the very matters that Manafort finds prejudicial, is unwarranted."
Manafort, who is facing separate criminal cases brought by Mueller in federal court in Washington and Alexandria, Virginia, filed a motion late last month complaining that he was unfairly attacked in a flurry of news reports that appeared to be based on illegal leaks of grand jury secrets and classified information.

In the motion, filed with U.S. District Court Judge T.S. Ellis III, Manafort's defense said the release of sensitive details about the investigation threatened his ability to get a fair trial. -Politico
"By their actions, it is self-evident that the objective of these government sources was to create unfair prejudice against Mr. Manafort and thereby deprive him of his Fifth and Sixth Amendment rights," attorneys Kevin Downing and Thomas Zehnle wrote. "The government's investigation, and the criminal charges that ultimately resulted from it, are the epitome of a party seeking to decide a case in the press and not the courtroom."
Politico posits that whether or not Manafort's claim has legal merit, his claim that the leaks have hurt his case "could bolster his chances of winning a pardon from President Donald Trump, who has railed against leaks he alleges have emerged from the Mueller investigation." 
Mueller's team, on the other hand, says that there's no reason to believe the news accounts identified by Manafort's defense team came from prosecutors or investigators leaking information that came from a grand jury.
"He cites ten articles, none of which purports to disclose grand jury information," prosecutors wrote in the filing. "Many of the matters reported, if accurate, would have been known to the defense, to witnesses who were interviewed or subpoenaed for documents, or to other investigators examining overlapping issues."
Mueller's team suggests that the leaks could have come from members of Congress or their aides. 
"Multiple accounts note that Manafort was also the subject of ongoing congressional investigations," Mueller's team noted. "References to 'officials' or 'American officials' in the reports … could thus be to people who are not subject to [grand jury secrecy] restrictions."
In other words - "Don't look into this, it could have been anyone" - including someone on Manafort's team. 
Prosecutors suggested that if a hearing was held on the leaks, it would be fair game to look into whether any of them originated with Manafort's attorneys or his spokesman Jason Maloni. Maloni wasn't named in the filing, but was identified as "the spokesman who has regularly accompanied Manafort to court and has often been quoted, including in some of Manafort's cited articles."

Mueller's team also submitted a secret filing to Ellis "concerning one article." Prosecutors did not say which article it was about or why the information needed to be placed under seal and withheld from Manafort's defense. -Politico
Manafort faces trial on July 10 in Virginia on charges of tax evasion, bank fraud and failing to file reports on foreign bank accounts, among other things. The separate case in Washington D.C. is scheduled for trial on September 17, and focuses on charges of money laundering and failure to register as a foreign agent in connection with Manafort's work for Ukraine.
Meanwhile, even anti-Trump Bloomberg editorialists are starting to get tired with the "witch hunt"...
Mueller took a year to obtain 19 indictments, 13 of them against Russians who will never face a court, one against Manafort based on an earlier FBI investigation, one against a guy who opened bank accounts for Russian trolls and four more for lying to the FBI. Wow! Great job!

— Leonid Bershidsky (@Bershidsky) May 15, 2018
Not one of the indictments is for the DNC hack or the Podesta hack.

— Leonid Bershidsky (@Bershidsky) May 15, 2018
Not one is for anything related to collusion.

— Leonid Bershidsky (@Bershidsky) May 15, 2018
Am I missing something or does he have the best job in the world, especially since firing him is supposed to be equivalent to obstruction of judtice?

— Leonid Bershidsky (@Bershidsky) May 15, 2018