In 2009/10, squeezed by insolvency, a lack of liquidity, and Federal limitations, the California government began to issue a 'parallel currency' in IOUs in lieu of payment on everything from supplies to contracted services and health-care costs, so it can actually preserve cash to make payments to its generous debtors.
Now, eight years later, despite all the talk of 'recovery' and 'global synchronous growth' and 'normalization', Italy's newly-formed coalition of The League and Five Star (which some have likened to Trumpian 'nationalist' Republicans merging with Bernie leftists) have put forward a plan that, among other things, includes the introduction of a parallel currency for Italy - 'mini-BOTs'.
The chart below, created by analysts at Nomura, shows where both stand on key policy issues, highlighting both their similarities and their differences as they prepare to govern together.
It is the Italian euroskepticism that dominates market concerns. Investors were initially spooked by a section where the nascent coalition floated plans to ask for €250 billion in debt forgiveness for the country. But, as Credit Suisse argued,
"A markedly Eurosceptic prime minister... as well as concrete support for the introduction of a parallel currency (so-called Mini-BOTs'), would be major negatives, in our view."
So what are 'Mini-BOTs'?
In order to settle bills with suppliers or creditors the state might consider "instruments such as mini-government notes" which may also be used in turn to repay tax arrears, says the government program agreed by the two parties' representatives and leaders.
Earlier this year, outgoing Economy Minister Pier Carlo Padoan described the proposal as "a plan to circulate a disguised parallel currency".
It is this section of the Five Star-League Accord that raised eyebrows...
"Something must be done to resolve the problem of the public administration debts to taxpayers."

Claudio Borghi, the League's economic chief who helped write the government plan, told la Verita newspaper that the new securities "could be spent anywhere, to buy anything".
Mike Shedlock previously noted that 'Mini-Bots' are a parallel currency based on future tax receipts, similar to the plans proposed by Yanis Varoufakis in Greece.
The minibot was in the Lega's election manifesto. Five Star is far less radical on the eurozone, having dropped the idea of a referendum, but also seeks changes that are incompatible with the the EU fiscal rules.

A parallel currency stands a much greater chance of success in Italy, and it would go some way to solving the government's fiscal dilemmas. The open question is whether it would constitute a slippery slope towards euro exit.
How would it work?
Bloomberg's Stephen Spratt explains that basically the Italian government would mail you a certificate that says it's worth a certain amount -- and you can sell that if you want to get the money quicker.

But it would be likely to trade at a discount to its face value in euros, in effect creating a parallel currency -- particularly if people were to start using the new note as cash to exchange for goods and services, rather than using euros.
There are reasons to be skeptical - not least that these notes are likely to be in small denomination and won't be perfectly fungible with bills or cash. It may seem far fetched, and may never come to pass, but that's bound to make investors nervous.
Of course, the question is 'what is a mini-BOT' worth?' For now, it is impossible to tell but we do note that Italy's relative creditworthiness for Euros is about 20-30bps higher than its recent norms...
And Italian Euro debt trades at around a 160bps haircut to German Euro debt...
Which could perhaps be extrapolated to indicate an Italian Euro is worth around 98c on the German Euro... for now.
Finally, we note that while mini-BOTs, for now, are still effectively backed by the full faith and credit of Italy, MishTalk's Mike Shedlock had a suggestion that could really be dramatic...What If Italy's Parallel Currency Was Backed By Gold?
The parties are eurosceptic to varying degrees. Part of their platform includes a Parallel Currency.
Heck, why not back it with gold?
After all, the bank of Italy has the third largest gold reserves in the world after the US and Germany.

Banca d'Italia's Mammoth Gold Reserves
The BullionStar discusses Banca d'Italia's Mammoth Gold Reserves.
Italy's gold has had an eventful history. Robbed by the Nazis and taken to Berlin. Loaded on to gold trains and sent to Switzerland. Flown from London to Milan and Rome. Used as super-sized collateral for gold backed loans from West Germany while sitting quietly in a vault in New York. Leveraged as a springboard to prepare for Euro membership entry. Inspired Italian senators to visit the Palazzo Koch in Rome. Half of it is now in permanent residency in downtown Manhattan, or is it? Even Mario Draghi, European Central Bank (ECB) president, has a view on Italy's gold. The below commentary tries to make sense of it all by bringing together pieces of the Italian gold jigsaw that I have collected.

According to officially reported gold holdings, and excluding the gold holdings of the International Monetary Fund (IMF), Italy's central bank, the Banca d'Italia, which holds Italy's gold reserves, is ranked as the world's third largest official holder of gold after the US and Germany, with total gold holdings of 2,451.8 tonnes, worth more than US$ 105 billion at current market prices. Notable, Italy's gold is owned by the Banca d'Italia, and not owned by the Italian State. This contrasts to most European nations where the gold reserves are owned by the state and are merely held and managed by that country's respective central bank under an official mandate.
Palazzo Koch
In its Palazza Koch vaults in Rome, the Banca d'Italia claims to store 1199.4 tonnes of gold. Of this total, 1195.3 tonnes are in the form of gold bars (represented by 95,493 bars), and 4.1 tonnes are in the form of gold coins (represented by 871,713 coins). While most of the bars in Rome are prism-shaped (trapezoidal), there are also brick-shaped bars with rounded corners (made by the US Mint's New York Assay Office) and also 'panetto' (loaf-shaped) 'English' bars. The average weight of the bars in Palazzo Koch is 12.5 kg (400 oz), with bar weights ranging from relatively small 4.2 kgs up to some very large 19.7 kgs bars. The average fineness / gold purity of the Rome stored bars is 996.2 fine, with some of the holdings being 999.99 fine bars.

The Banca d'Italia also states that 141 tonnes of gold that it transferred to the ECB in 1999 as a requirement for membership of the Euro is also stored in Palazzo Koch. This would put the total gold holdings in the Palazzo Koch vaults at 1340 tonnes. Gold transferred to the ECB by its Euro member central banks is managed by the ECB on a decentralised basis, and is held by the ECB in whatever location it was stored in when the initial transfers occurred, subject to various location swaps which may have taken place since 1999.
Where's the Rest?
Bullion Star writer Ronan Manly asked the Bank of Italy, Mario Draghi, and other officials a bunch of question on location, leasing, etc. The questions were all refused.
Manly also uncovered a bit of history, translating a video in Italian into English, noting that when the bars were moved to Germany they were stamped with a Swastika:
"The RAI broadcast video shows a 1940 Nazi bar from Berlin, stamped with the eagle and swastika insignia and with Prussian mint markings. The Nazi bar holdings can be explained by the fact that the Italian gold was confiscated by the Nazis during World War 2 and ended up being moved out of Rome up to the north of Italy and then most of it was transported onwards to Berlin in Germany or else to Switzerland."
The reporter, Angela, states that in addition to Rome, the Italian gold is stored at the Federal Reserve Bank in New York, the Bank of England in London, and at the Bank of International Settlements (BIS) in Switzerland. The reporter uses the exact words "Banca dei Regolamenti Nazionali".
Even in Italian, the video is fascinating. Here are some image clips.​
​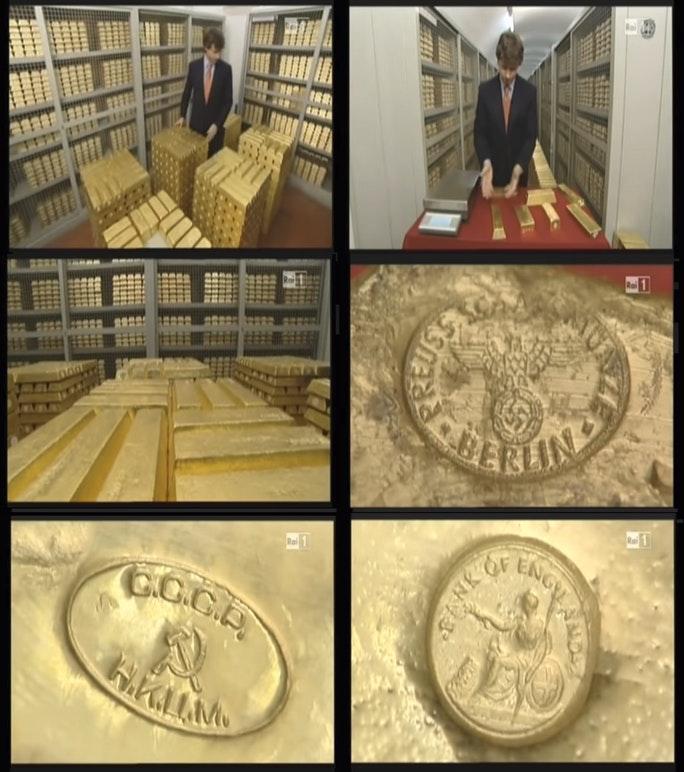 Italy's National Debt
Italy's National Debt Clock stands at 2.331 Trillion as of May 11, 2018.
Italy's gold is worth a bit over $100 billion. Thus, Italy could not wipe out its debt with gold, nor could the US or any other country.
That aside, backing a new currency with gold, gets my endorsement. How might that work?
Consider Hugo Salinas Price's idea: A Silver Coin for Mexico: History Lesson and a Stellar Proposal.