Brookfield Asset Management is one of Canada's largest investing firms, with over $285 billion under management. The company was formerly founded in 1899 as the Sao Paulo Railway, Light and Power Company, but over the course of over a century has turned itself into somewhat of a Berkshire Hathaway of Canada, with deep ties to investing in Brazil. Not unlike Berkshire Hathaway, Brookfield looks for deep value and distressed situations – exactly what it was able to find, and capitalize on, in Brazil over recent years.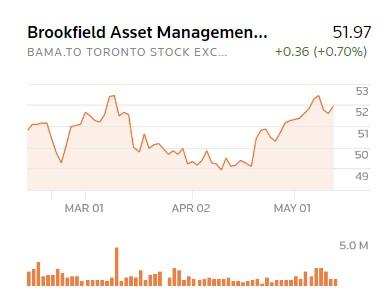 The recent economic climate of corruption and recession in Brazil has meant that assets have been put up for sale at dirt cheap prices. Brookfield has been quietly and methodically scooping up these assets, using its experience in Brazil as a guided to navigate a volatile economy. Reuters reported:
In 2016, for example, Brookfield Infrastructure Partners LP (BIP.N) led a $5.2 billion acquisition of a pipeline operator from Petroleo Brasileiro SA (PETR4.SA), the state-controlled oil company at the heart of the Car Wash scandal. Recently, another Petrobras pipeline network with half the capacity fetched a top bid of around $8 billion from other investors. Bargain-hunting Brookfield gave that deal a pass.

The Canadians' savvy is built on nearly 120 years of experience in South America's largest economy. But the recent buying spree pushed the company to new extremes of due diligence and bulletproofing, according to interviews with six people involved in the deals.
Brookfield's CEO was tongue in cheek about the way he described buying distressed assets in the company's letter to its investors from February of this year, using the term "sellers in need of capital" instead of something less tasteful, like "desperate sellers":
Chief Executive Bruce Flatt, whom some call the Warren Buffett of Canada for his value-investing approach, called recent Brazil acquisitions "quality businesses from sellers in need of capital" in a February letter to investors.
Left wing politicians in Brazil have been notably against the scooping up of state assets by private companies. But Brookfield has been sharper, drawing up agreements that result in compensation if they are broken, and covering their bases when it comes to due diligence and potential legal liabilities:
Brookfield's purchase of gas pipeline operator Nova Transportadora do Sudeste SA (NTS) from Petrobras was part of a controversial divestment program aimed at trimming the oil firm's massive debt load.

Critics have decried the privatizations, and Ciro Gomes, a leading leftist presidential candidate, has pledged to reverse sales of state energy assets if elected this year.

Foreseeing the risk, Brookfield tasked dozens of lawyers with drafting an ironclad agreement. Brookfield has a right to compensation if Petrobras changes the contracts in a way that hurts the Canadians' cash flow, according to three people with knowledge of the matter.

The head of Brazilian investment banking at a global bank, who was not involved in the NTS deal, said it was an example of Brookfield's willingness to bet big while protecting itself.
The climate of corruption in Brazil has not come without its challenges, even for Brookfield. The company has been accused of being involved with a few relatively smaller bribery scandals of its own. Reuters continued:
Its homebuilding unit was among around 30 developers accused of paying bribes to building inspectors in Sao Paulo between 2010 and 2012. Former employees of the unit, which later changed its name to Tegra, confessed to paying bribes and were cooperating witnesses in the trial of the building inspectors.

Brookfield said the company was not a target of the investigation and cooperated with authorities.

In a separate case, the U.S. Securities and Exchange Commission (SEC) opened an investigation in 2012 into accusations that Brookfield's Brazil shopping mall unit bribed Sao Paulo officials to win construction permits. The SEC dropped the case in 2015 without bringing any enforcement action. Brookfield denied wrongdoing.

One of Brookfield's toughest recent deals will test its ability to avoid fallout from another municipal graft scandal.

Last year it agreed to pay $1 billion for a 70 percent stake in a sewage and water utility owned by Odebrecht SA, an engineering group ensnared in the Car Wash probe. Prosecutors accused Odebrecht of paying bribes to secure contracts with some of the 186 municipalities where the utility operates.

Odebrecht, which reached a leniency deal with prosecutors, said in a statement it is cooperating with law enforcement and "has created internal controls to detect and prevent unlawful behavior."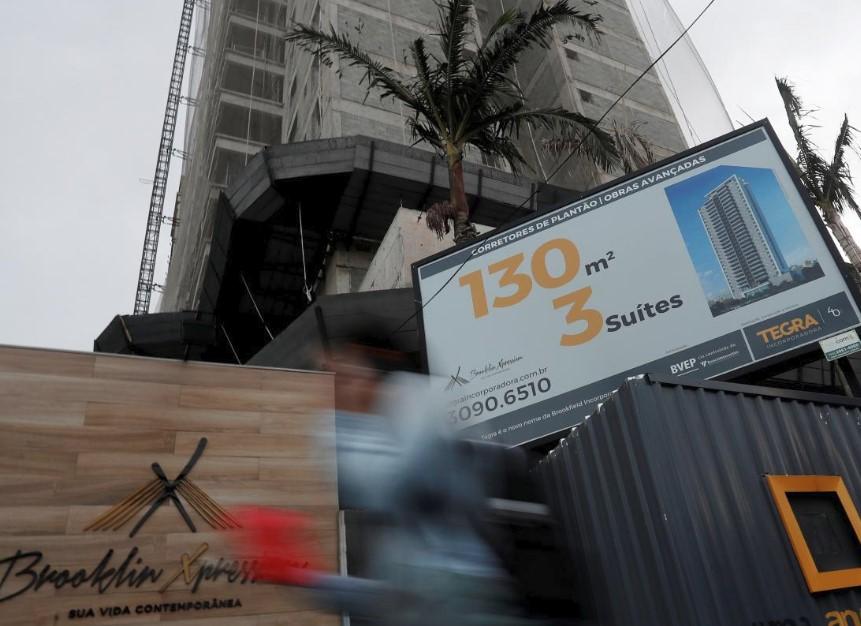 But Brookfield, with its seemingly bottomless pit of capital and resources at its disposal, made sure that it had the legal protection in place to cover itself:
Some 60 lawyers working for Brookfield spent eight months assessing the risks. They arranged for $100 million of the purchase price to be set aside to cover potential liabilities if city governments break off contracts or demand compensation due to alleged kickback schemes.

Since subsidiary Brookfield Business Partners LP (BBU_u.TO) closed the deal in April 2017, none of the municipal contracts held by the company, now called BRK Ambiental, were rescinded and only one is in litigation, according to two people with knowledge of the matter.
At this point, Brookfield's "investment" in Brazil is starting to look like the country could eventually become a wholly-owned subsidiary of the company.
We commented a couple of months ago about the turmoil and unrest in Brazil, writing about how the Army was tasked with "restoring order" in Rio de Janeiro. With public spending on police and social services collapsing amid Brazil's worsening economic crisis, violent crime has crept back up in Rio de Janeiro, a city widely recognized for its favelas - urban hillside slums teeming with violence, drugs and prostitution, according to Bloomberg.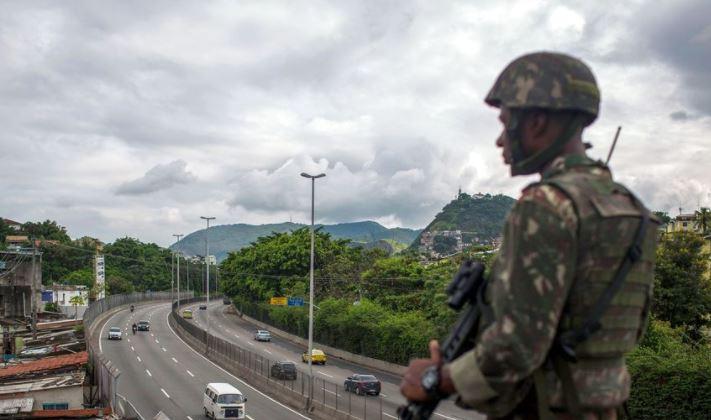 And ahead of an October election where President Michel Temer will try to win his first full term in office, the president is trying to send in the army to seize control of the city's streets and restore order to an increasingly lawless town.
President Michel Temer issued a decree on Friday putting an Army general in charge of Rio's security forces, including the state's civilian police. The intervention, which requires congressional approval, will last until the end of the year, according to the decree.

"Our prisons will no longer be offices for thieves, our public squares party halls for organized crime," Temer said after signing the decree.

"I know it's an extreme measure but many times Brazil requires extreme measures to put things in order."
But as is often the case with Brazilian politics, Temer has a plausible ulterior motive: By sending in the army, he might create enough of a distraction to avoid voting on an unpopular pension bill because Brazilian law conveniently prohibits making constitutional changes during times of military crisis.
Temer told Reuters that the intervention wouldn't halt negotiations over pension reform or stop a vote on the plan, which is deeply unpopular with the country's retirees, who stand to see their benefits cut.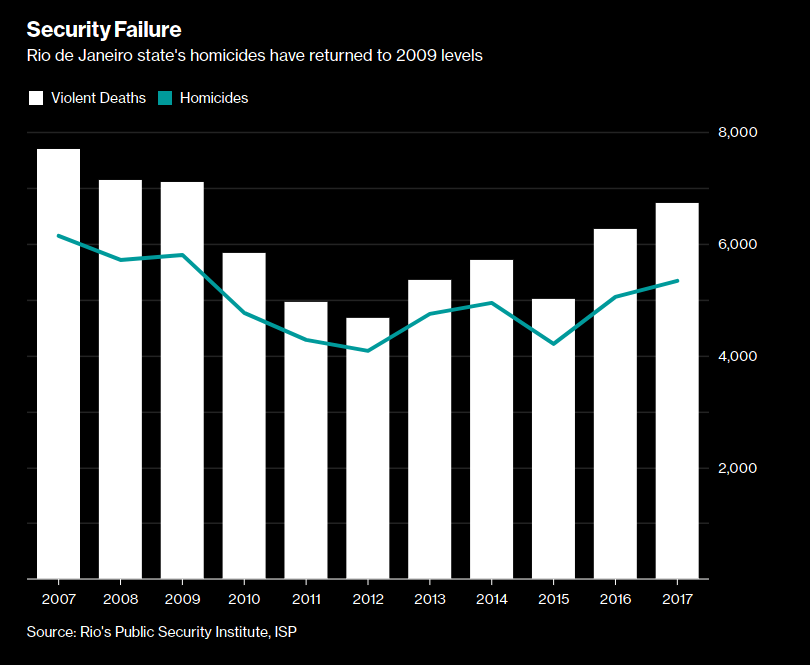 Meanwhile, crime in the city has erased nearly a decade of progress, climbing back to its highest level since 2009. Temer's decision is the first time the military has intervened in public affairs since the former military dictatorship ended in the mid-1980s and the country returned to democracy.
.