After last Thursday's relatively brief meeting in Sochi between Russian President Vladimir Putin and Syria's Bashar al-Assad wherein Putin stressed that it is necessary for all "foreign forces" to withdraw from Syria, there's been much speculation over what Putin actually meant. 
Many were quick to point out that Assad had agreed that "illegal foreign forces" should exit Syria — meaning those uninvited occupying forces in the north and northeast, namely, US troops, Turkish troops and their proxies, and all foreign jihadists — while most mainstream Western outlets, CNN and the Washington Post among them, hailed Putin's request to see Iran withdraw from Syria. 
Whatever non-Syrian entity Putin intended to include by his words, both Syria and Iran gave their unambiguous response on Monday: Iran announced it would stay in Syria at the request of the Assad government.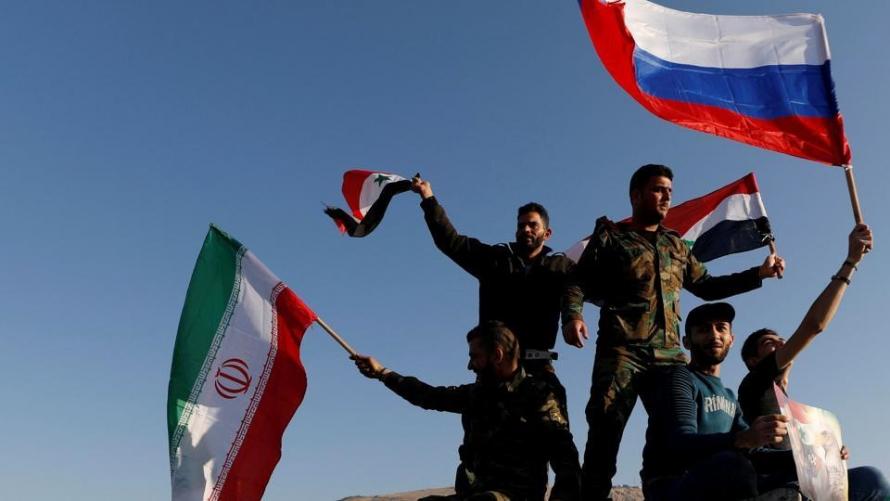 "Should the Syrians want us, we will continue to be there," Foreign Ministry spokesman Bahram Qasemi declared from Tehran, cited by Iran's state-run IRNA news agency. "Nobody can force Iran to do anything; Iran has its own independent policies," Qasemi said, in response to a question referencing the widespread reports that Russia desires Iran to withdraw forces from Syria.  
"Those who entered Syria without the permission of the Syrian government are the ones that must leave the country," he said further in a clear reference to the some 2000 US troops currently occupying Syrian-Kurdish areas in the northeast and eastern parts of the country.   
As we noted in the aftermath of Israel's May 10 massive attack on multiple locations inside Syria which marked the biggest military escalations between the two countries in decades, Russia has appeared content to stay on the sidelines while Syria and Israel test confrontational limits; however, Russia is carefully balancing its interests in Syria, eager to avoid an uncontrolled escalation leading to a direct great power confrontation. 
But increasingly Israel's patience appears to be wearing thin after Prime Minister Netanyahu's oft-repeated "Iranian red line" warning has gone unheeded. In multiple summits with Putin going back to 2015 (the two have met over 6 times since then), Netanyahu has repeatedly stressed he would not tolerate an Iranian presence in Syria and further signaled willingness to go to war in Syria to curtail Iranian influence. 
"Iran is already well on its way to controlling Iraq, Yemen and to a large extent is already in practice in control of Lebanon," Netanyahu told Putin in one especially tense meeting in August 2017, and added further that, "We cannot forget for a single minute that Iran threatens every day to annihilate Israel. Israel opposes Iran's continued entrenchment in Syria. We will be sure to defend ourselves with all means against this and any threat."
Israel's uptick in military strikes on Syria — attacks on sites purported to be Iranian bases housing Iranian assets — have intensified exponentially over the past half-year, nearly leading to an unprecedented breakout of region wide war during the May 10 exchange of fire, wherein Israel claimed to have been attacked by Iranian rocket fire. 
The fact that both Iran and Syria can so openly and confidently announce Iran's intent to stay in Syria means Damascus sees itself in new position of strength after both shooting down multiple Israeli missiles and simultaneously firing rockets into Israeli occupied Golan territory — a response perhaps very unexpected by Israel's leadership which had grown accustomed to attacking the Syrian army and its allies with impunity. 
Meanwhile, Damascus announced Monday that all suburbs around the capital have been fully liberated from al-Qaeda and ISIS terrorists, marking the end of a years long insurgency in and around the capital. As Al-Masdar News noted, "The Syrian Arab Army (SAA) is in full control of Damascus city and its countryside for the first time since the advent of this conflict."
Yet the pattern which has emerged over the past few years has been that every time the Syrian Army emerges victorious or carries overwhelming military momentum, Israel or the US launches an attack. 
#Pompeo's Iran plan is practically a declaration of war. No country with any dignity and self respect would accept the conditions he is putting on #Iran to stop the sanctions campaign that he announced. #Irandeal https://t.co/eVeqOktqzd

— Walid (@walid970721) May 21, 2018
The US for its part issued one of its strongest ultimatums yet to Iran yet via Secretary of State Mike Pompeo, who vowed on Monday that Tehran will struggle to "keep its economy alive" if it does not comply with a list of 12 US demands, including Iranian withdrawal from Syria.
Here is Secretary Pompeo's list of 12 demands from Iran via @GalloVOA pic.twitter.com/3nZ1qM0QUT

— Golnaz Esfandiari (@GEsfandiari) May 21, 2018
Iranian President Hassan Rouhani rejected Pompeo's bombastic demands and vowed to continue "our path," insisting that the US could not "decide for the world."
Rouhani's words, as quoted by ILNA news agency, were as follows: "Who are you to decide for Iran and the world? The world today does not accept America to decide for the world, as countries are independent ... that era is over... We will continue our path with the support of our nation." This continuing escalation of rhetoric will likely only ensure Iran becomes even more entrenched in Syria, but it will be interesting to see how Russia responds diplomatically.
We've already seen Israel's "diplomacy" in the form of repeat missile attacks, but how much will Russia and Iran sit back and take before enforcing their own red lines against Israel and the West?