Weeks before Saudi Arabia is set to lift its longtime ban on women driving, a group of seven women's rights activists has been arrested on treason and espionage related charges — offenses which can bring the death penalty. The kingdom plans to lift the driving ban on June 24th, though significant restrictions will still remain to allow women to drive "in accordance with Islamic laws." 
This comes after the Western public has been subjected to months of propaganda editorializing by the likes of David Ignatius and Thomas Friedman ensuring us the young crown prince Mohammed bin Salman is a "modernizer and reformer" (Friedman penned a hagiographic style essay declaring MbS is spearheading an "Arab Spring" revitalization of the kingdom), and after MbS completed an extended tour across the US which took him from from the the White House to Silicon Valley to Hollywood — all places where he was fawned over as the red carpet rolled out.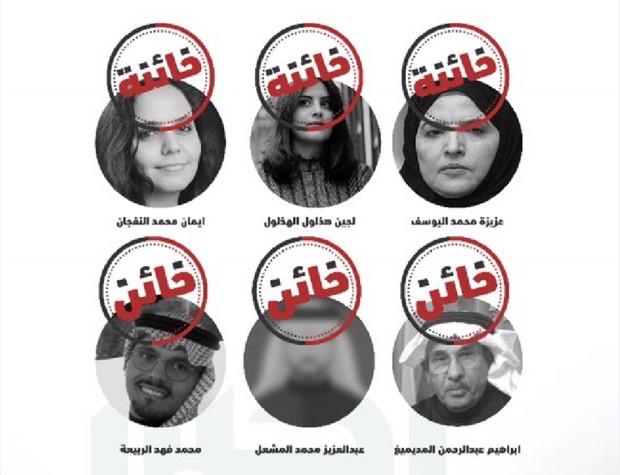 On Saturday Human Rights Watch (HRW) and the Gulf Centre for Human Rights issued a statement indicating the seven activists have been detained since May 15th, and further that they had come to the attention of Saudi authorities as leading voices campaigning on behalf of women driving, and against the male guardianship system in general. They had reportedly been previously ordered by the royal court to cease all contact with foreign media, something which they apparently defied. 
The detained include a prominent Saudi blogger, Eman al-Nafjan, and Lujain al-Hathloul, who had previously been imprisoned for 73 days after driving from UAE into Saudi Arabia. Multiple reports indicate further that the crackdown on women's rights activists may be ongoing, and that charges have reached the level of espionage.
And perhaps most shockingly, the detained activists could face the death penalty, as Middle East Eye reports:
According to Saudi lawyers and judges, the prominent women's rights activists, who were arrested last week and branded as "traitors" by government-aligned media outlets, may by sentenced to death should investigations result in the charge of treason and conspiracy against the state.
The Riyadh-based English language daily newspaper, Arab News, has accused the women of being part of a "spy cell" supported by hostile foreign entities — echoing the claims of Saudi authorities and the official Saudi Press Agency:
Members of a "spy cell," arrested by Saudi Arabia's state security presidency two days ago, sought to "incite strife by communicating with foreign entities hostile to the Kingdom and to establish a false legal organization," according to information received by Asharq Al-Awsat from informed sources.

The sources said most of the cell's suspects claim to have religious obligations and were using human rights as a pretext to violate the country's systems.
The report further accuses the women of using their activist groups as fronts for communications and financial dealings with countries "hostile to Saudi Arabia, to receive financial support in exchange for continuing to incite trouble." Over the past year especially, this has typically been code for interaction with Iran or Shia-linked groups, viewed by the Saudis as desiring to infiltrate and destabilize Saudi society. 
HRW's Rothna Begum told Al-Jazeera that the move ultimately aims to silence critics of the Saudi regime: "While it's not clear why they were arrested, today we have seen Saudi press reports come to suggest that these women are traitors and have been arrested because they are undermining the national unity of the country," she explained.
It appears the women have been charged within the guidelines of current Saudi law, as last November a new anti-terror law (which replaced a prior 2014 law) was put in place which defines specific acts of terror and corresponding sentencing guidelines in an incredibly vague way, and is further broad in its application while allowing for severe consequences for so much as criticizing the king or crown prince.
The kingdom has long aggressively rooted out dissent, arresting and prosecuting individuals for engaging in protest, even if merely on social media, but the November anti-terror law now gives the Saudi regime greater ease in labeling political activities treasonous. The law also brings terror-related cases under the direct administrative oversight of the king — thus the arrests and detentions are sanctioned directly under the authority of the king and/or crown prince.
Late last year HRW provided examples of the types of vague protest related activities that Saudi Arabia can now deem "terrorism": The new law, however, does not restrict the definition of terrorism to violent acts. Other conduct it defines as terrorism includes "disturbing public order," "shaking the security of the community and the stability of the State," "exposing its national unity to danger," and "suspending the basic laws of governance," all of which are vague and have been used by Saudi authorities to punish peaceful dissidents and activists.
As the media continues celebrating the 'reforming prince' and much hyped newly opened cinemas and greater employment opportunities for Saudi women, it appears MbS is playing a double game in enhancing his public image abroad while cleaning house of unwanted critics at home (something made especially clear by MbS' rounding up over 300 royals and other prominent officials to lock them at Riyadh's Ritz Carlton, many of them forced to pay their way out). And the American mainstream is all too happy playing along.
As we recently noted, close US ally Saudi Arabia has executed over 48 people so far this year, half of them related to nonviolent drug charges, according to HRW. Meanwhile the US State Department has remained completely silent, choosing instead to talk solely of Iran and Syria's human rights violations.