Trump's Nobel Peace Prize is suddenly in jeopardy.
Just a few weeks after the US president seemed on the verge of a historic diplomatic breakthrough by getting North Korea to open its borders to the world and end its nuclear program, progress appears to have taken a sharp U-turn, and after several rounds of increasingly harsher verbal outbursts, a senior North Korean official called VP Mike Pence a "political dummy", repeated a threat to call off the planned summit with President Donald Trump and in a flashback to Pongyang's ICBM launch days, warned that Pyongyang could "make the U.S. taste an appalling tragedy it has neither experienced nor even imagined."
As the WSJ reports, "in its most direct language aimed at Washington following a recent rapprochement between the two countries, Choe Son Hui, the North's vice minister of foreign affairs, said if the June 12 talks were called off, the U.S. could instead face off with North Korea in a "nuclear-to-nuclear showdown."
In other words, the US is almost back to square one in dealing with Kim.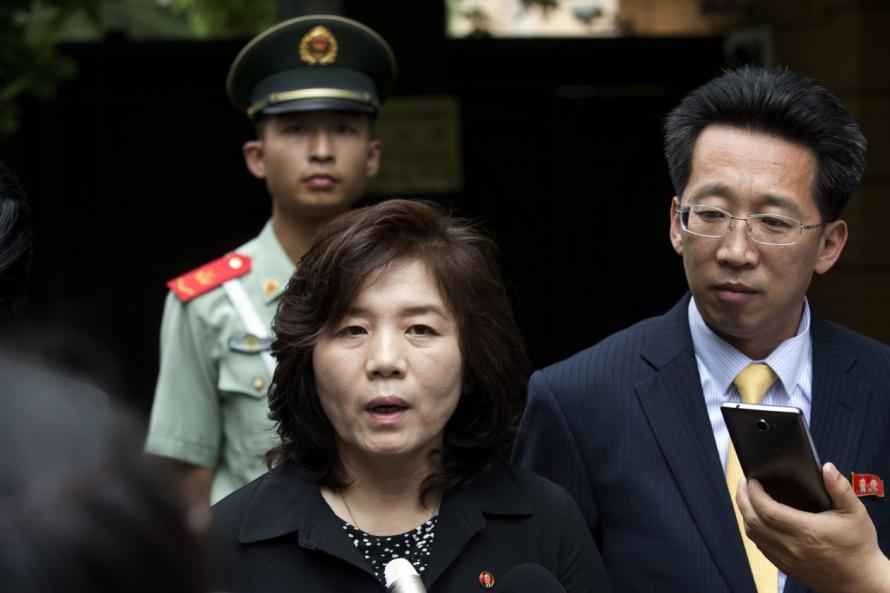 In the past few weeks, tensions between North Korea and the United States have once again been rising after Korea refused to meet the United States' demand of denuclearization, while the reason why Choe called Mike Pence a "political dummy" is in refernce to his Fox News interview earlier this week in which the VP reiterated the administrataion's insistence on denuclearization for North Korea.
She also criticized the vice president for bringing up Libya in the context of denuclearization—a sensitive subject for North Korea, after Moammar Gadhafi was overthrown and killed in 2011, eight years after giving up Libya's nuclear weapons. Mr. Pence said the Libya model would only come about if North Korea failed to denuclearize.
Choe's statement followed "strongly worded statements" last week from other senior North Korean officials aimed at U.S. national security adviser John Bolton and at the South Korean government of Moon Jae-in, who has pushed for dialogue with Pyongyang to avoid a nuclear standoff. The latest outburst also follows yesterday's meeting at the White House between Trump and Moon, who as the WSJ puts it "have both staked their hopes—and their credibility" on a successful U.S.-North Korea summit, which has been planned for June 12 in Singapore.
However, that summit is looking increasingly precarious, especially after a series of ominously worded North Korean statements: Last week, Pyongyang warned the U.S. and South Korea against conducting joint air force drills, and called on Seoul to muzzle defectors who were questioning the North's motives in seeking detente. The North also canceled previously scheduled talks with Seoul after the US refused to call off joiont US-South Korean military drills in the region. Then last ago, a senior North Korean official said that Pyongyang wasn't interested in a summit with the U.S. focused solely on denuclearization and accused Washington of trying to "impose on our dignified state the destiny of Libya or Iraq."
Trump said in his meeting with Moon on Tuesday that he would call off his summit with Kim if the conditions didn't work out, and put the odds of it continuing as planned at about 50-50.
"I don't want to waste a lot of time, and I'm sure he doesn't want to waste a lot of time. So there's a very substantial chance that it won't work out. And that's OK," Mr. Trump said.
Still, Trump had expressed hope that Mr. Kim was sincere about wanting to make a big change in policy: "He has a chance to do something that maybe has never been done before," Mr. Trump said. "If you look 25 years into the future—50 years into the future—he will be able to look back and be very proud of what he did for North Korea, and actually for the world."
Meanwhiole, Pompeo who secretly flew to Pyongyang over Easter to meet with Kim and break the ice between the two nations, remained adamant that denuclearization must be part of any deal with North Korea in some capacity despite the country's refusal to do so. The U.S. has maintained that they will keep military pressure on North Korea until denuclearization is achieved.
So far North Korea does not appear will to make any concessions.
In her Thursday statement published by KCNA, Choe took issue with Pence's Fox News interview in which he suggested that the North sought the summit meeting with Trump; she called Pence's words "unbridled and impudent," and said that "Pence should have seriously considered the terrible consequences of his words."
"As a person involved in the U.S. affairs, I cannot suppress my surprise at such ignorant and stupid remarks gushing out from the mouth of the U.S. vice president," she said and added that if the U.S. continues to offend the North's "goodwill," she would tell leader Kim Jong Un to reconsider the Singapore summit with the U.S.
"It is the U.S. who has asked for dialogue, but now it is misleading the public opinion as if we have invited them to sit with us," Ms. Choe said. "We will neither beg the U.S. for dialogue nor take the trouble to persuade them if they do not want to sit together with us."
And so, with just over three weeks left until the highly anticipated meeting between the two nations, Trump will have to decide whether it will back off its denuclearization demand or take a more aggressive approach with North Korea.  If it is the latter, the US will likely end up using the "Libya model", and instead of winning the Nobel prize, Trump will instead find himself greenlighting a decapitation strike, and potentially launching a new global conflict.