---
Robert De Niro Issues Total Trump Ban From All Nobu Restaurants
President Donald Trump is no longer welcome to Nobu, the upscale restaurant chain co-founded by actor Robert De Niro - who called Trump "Jerkoff-In-Chief" and a "fuc*ing fool" in a profanity-laced awards show tirade in January.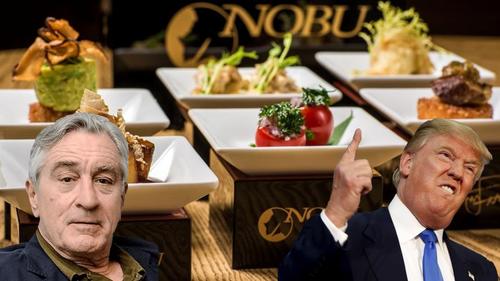 De Niro told the Daily Mail that he would "never let Trump into any of the Nobu restaurants," adding "I don't care what he likes. If he walked into a restaurant I was in - I'd walk out." 
Nobu, a swanky Japanese-Peruvian fusion chain, was co-founded by De Niro and chef Nobu Matsuhisa in 1993 and now boasts over 30 restaurants and hotels around the world.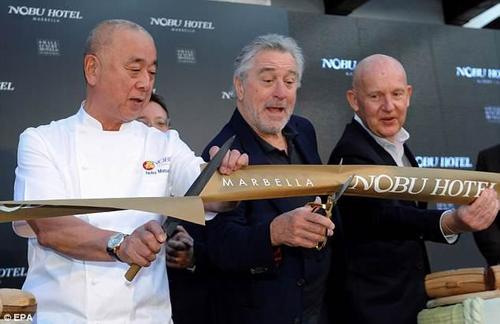 Matsuhisa took a far more peaceful approach - telling the Mail "It's my dream for Trump to sit next to Bob. To make them sushi!" 
De Niro probably won't accept...
"He's a punk, he's a dog, he's a pig, he's a con, a bulls--- artist, a mutt who doesn't know what he's talking about, doesn't do his homework, doesn't care, thinks he's gaming society, doesn't pay his taxes," De Niro said of Trump in 2016. (h/t Business Insider)
De Niro, who doesn't seem to have a military record, also criticized Trump for his lack of service - having been granted five draft deferments; four for college and one for bone spurs in his heel: 
De Niro said of Trump: 'It was fascinating to watch The Post. That story took place nearly 50 years ago, but there are many parallels with today obviously.

'At the time of the story Donald Trump was suffering with "bone spurs". Today the world is suffering from the real Donald Trump.

'This f***ing idiot is the President. It's The Emperor's New Clothes - the guy is a f***ing fool. -Daily Mail
De Niro went on, "Our government today, with the propping [up] of our baby-in-chief - the jerkoff-in-chief I call him - has put the press under siege, trying to discredit it through outrageous attacks and lies." 
So no, Chef Matsuhisa's dream for De Niro and Trump to eat sushi next to each other is probably a longshot.