In a story that is one part "uninformed consumer" and another part "analysts looking to justify an out of control nationwide credit card problem", it was reported today that the American consumer is no longer paying his or her retail store credit card bills from retailers that are going bankrupt, or have gone bankrupt.

Yes, as overall delinquency rates are on the rise, somebody must take the blame other than the Federal Reserve - why not the average consumer who, somewhat rightfully, assumes that once a retailer goes bankrupt they don't have to pay their credit card that was issued to them by the Bon-Ton's and the Toys 'R' Us' of the world. Bloomberg reported:
Store card issuers are struggling with late payments as America's merchants shut brick-and-mortar outlets by the thousands. The closures have been driven by consumers' shift to online shopping, coupled with the retailers' high debt burdens.

The severe delinquency rate -- those 60 days or more past due or in collections -- increased to 4.65 percent in March for private-label retail credit cards, up 57 basis points from last year. Late payments have been rising steadily, on a seasonal basis, since 2013 and are now at the highest level since early 2011, according Equifax data collected in March.
What these consumers don't realize is that the RadioShacks of the world aren't actually the ones that offer them credit, rather these stores work with lenders who are responsible for issuing it. This, of course, means that while the stores themselves may be going under, the lenders that consumers are in debt to are likely still around.
Bloomberg continued:
When retailers shutter their stores, credit card debt lives on.

Not everyone seems to know that. An increasing number of customers aren't paying balances on credit cards linked to bankrupt retailers, Equifax Inc. said Wednesday in a statement.

"Consumers believe that with a store going bankrupt, those accounts are no longer valid and so they stop paying," Amy Crews Cutts, chief economist at the credit bureau, said in a phone interview. "That belief is very misguided because the agreements are not between the companies and the customer, but with the lender."
This is a great story for the Federal Reserve and its supporters. It's a fantastic way to place the blame on the consumer while ignoring the fact that historically low interest rates and skewed monetary policy have led to an ever-growing giant debt bomb, not only in consumer credit but in areas like student loans, that will need to be dealt with eventually.

The article continued:
Card companies have taken measures to protect themselves. Synchrony Financial, the largest private-label card issuer, increased reserves to help cover loan losses last year.

Card holders can suffer if they think the debt will go away with the store. The lenders behind the private label cards continue to report to credit bureaus, according to the Equifax statement. That could hurt a credit report and the ability to borrow on good terms in the future.
We detailed the credit card crisis possibly hitting a fever pitch in early May.
While many celebrated the record high US household wealth in the latest data from The Fed, what most missed was a record $1.0 trillion of credit card/revolving loans, a record $1.3 trillion of auto loans, and a record $1.5 trillion of student loans.
As we previously noted, among these, credit card and auto loans, in particular, have been experiencing accelerating delinquencies, but the very gradual increase in aggregated Net Charge-Offs has allayed any economist concerns about the state of the US consumer. But, a modest scratch below the surface, and a surprising discovery emerges.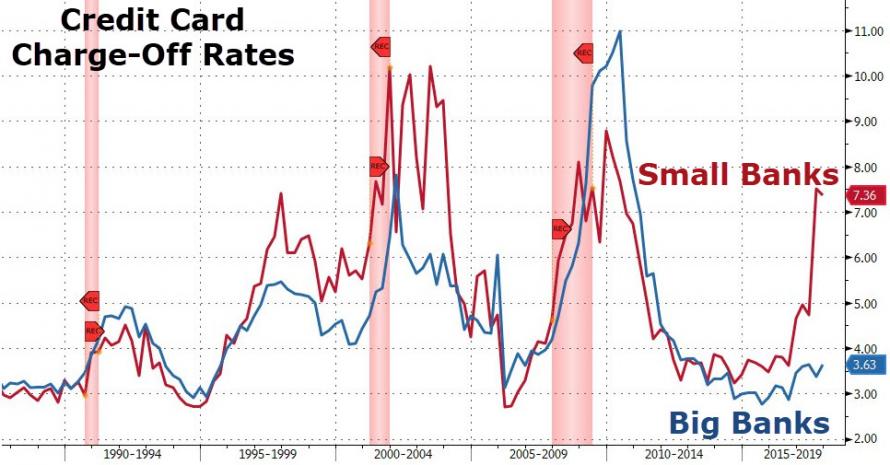 While the larger U.S. banks that dominate credit card issuance have focused on prime and super prime consumers post the Great Financial Crisis (GFC), and have enjoyed a prolonged period of low charge off rates concurrent with the Fed's almost decade long ZIRP (Read more detailed breakdown here.), the charge-off rates among the nation's smaller banks, those outside the Top 100, have seen the charge-off rates soar.
And now, based on this month's consumer credit data from the Fed, which saw an unexpectedly small increase in consumer credit of only $11.5BN, below the $15.2BN expected, and down from $13.6BN last month, it appears this reality is starting to hit home, as March consumer credit rose at the slowest pace since September...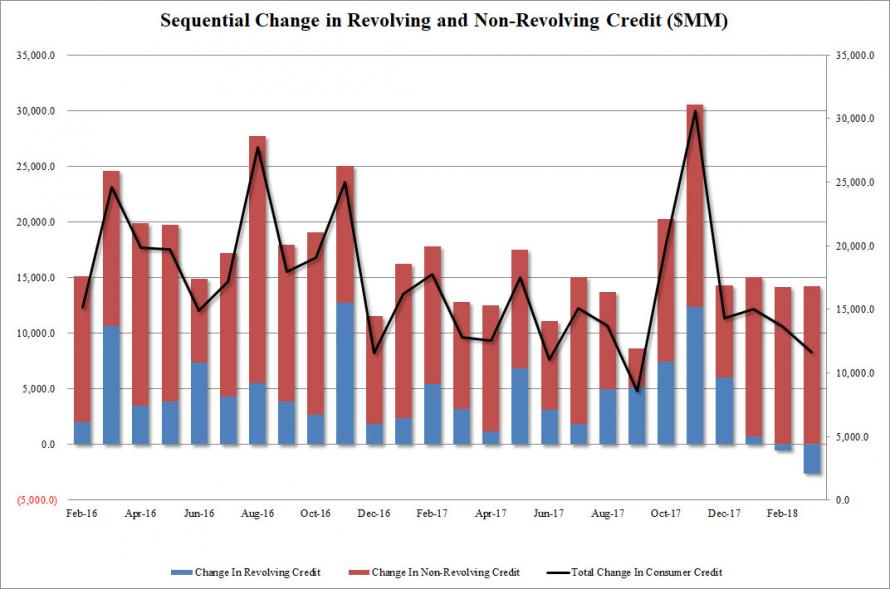 ... as outstanding credit card borrowings unexpectedly declined by $2.6BN, the most since the end of 2012, after a drop of just over $500MM last month.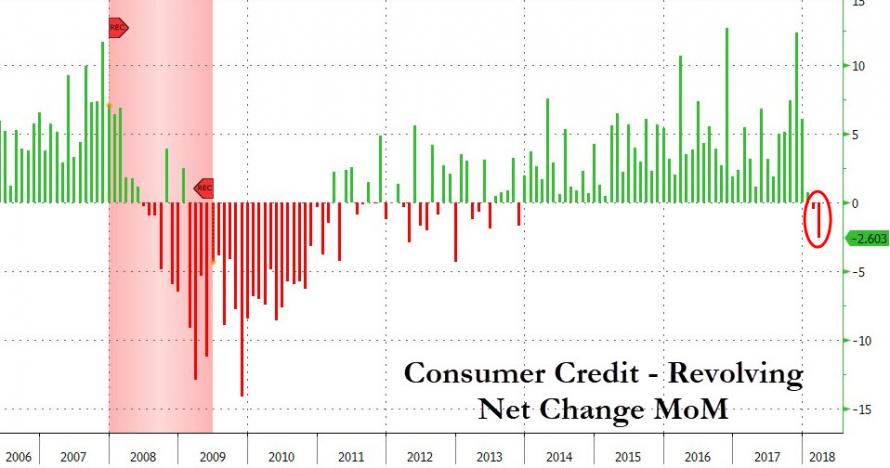 The two consecutive months of credit card deleveraging means that the until recently relentless increase in revolving credit appears to have again hit a plateau. The last time this happened? August of 2008.
And at the end of the day, can you really blame the consumer for thinking that if they owe money for goods purchased at Toys "R" Us that their debt may actually be due to Toys 'R' Us? And hey, we actually have to give a little credit to the consumer for being savvy enough to realize that bankruptcy under our current system looks a lot to them like a "do over" - but it's a situation that the taxpayers wind up sharing the cost of.
Can you blame the consumer for wanting a "do over" after it watched the government hand one to the banks and companies like General Motors?