Since Recep Tayyip Erdogan's election to Prime Minister of Turkey in 2002 (and even more so since his 'election' to President for life in 2014), the Turkish Lira has been on a one-way street to hyperinflation.
The ailing currency has lost over 20% of its value against the U.S. dollar this year as The FT points out that a volatile mix of electoral populism and a rising dollar have pushed the country to the brink of a currency crisis. At the helm is a leader obsessed with growth, who has long dismissed higher rates as a way to make "the rich richer and the poor poorer" and often feuded with the country's central bank.
So when he doubled-down again this morning on his demands that the Turkish people to convert their dollar and euro savings into lira, Turks could be forgiven for being reluctant to do as they are told.
"My brothers who have dollars or euros under their pillow. Go and convert your money into lira. We will thwart this game together," Erdogan said at a rally in the eastern city of Erzurum ahead of parliamentary and presidential elections on June 24.
This follows his demanding the same of them on Friday and comes after the Turkish Central Bank did what many expected it would do long ago: it hiked rates in an emergency meeting, pushing the Late Liquidity Window rate higher by 3% to 16.5%, in a desperate attempt to prevent a currency crisis dragging Turkish bonds and the broader economy with it.
But the Turkish Central Bank (CBRT) faces trouble in all directions, as BlueLay EM strategist Timothy Ash, who slammed the rate hike decision as too late, explains: the credibility of Turkey's central bank has been "shot to hell" and Turkey's policymakers are "far behind the curve."
Over the past month or so CBRT credibility has been shot to hell. Why has the CBRT now done this 3 times, 13/14, 15/16, ie got so far behind the curve. Never learns. May well need to hike on June 7 again depending if this calms the market in the interim. https://t.co/U49au4kyQ7

— Timothy Ash (@tashecon) May 23, 2018
Ash also said that "It seems likely that the economy team and the central bank implored President Erdogan to give them the green light to hike rates."
Which, of course, is the real problem here and the punchline, because recall that the most precipitous phase of the TRY selloff started one week ago, when on May 15 during a Bloomberg interview, Erdogan point blank said that he would "take responsibility for monetary policy", effectively threatening to take over the position of central banker.
"Of course our central bank is independent," Erdogan said.

"But the central bank can't take this independence and set aside the signals given by the president, who's the head of the executive. It will make its evaluations according to this, take its steps according to this. And I believe this will result in very beneficial steps in the future."

"From the moment we move to a presidential governing system, our effectiveness there will be very different," he warned. "We're going to do this so we can be held accountable for the responsibility we've taken."
And now Erdogan, in a speech in the country's eastern Erzurum province, is continuing his attempted at verbal capital controls, just without the actual prison sentence (for now):
"I am asking my nation not to pay attention to rumors and to protect their currency."
Erdogan says that Turkey will "soon deflate the exchange rate bubble."
"We see the game that is being played and are confronting it with the tools at hand," the president says; "we will spoil this game together."
Bear in mind, as The FT notes, the chaos of recent weeks has unfolded ahead of make-or-break elections on June 24 for both the presidency and parliament. Victory could pave the way for Mr Erdogan to remain in power for years and would cement his dream of becoming the most important leader of modern Turkey since its founder, Mustafa Kemal Ataturk.
In fact, the origins of a dramatic week can be traced back to April 18, when Mr Erdogan caught his country by surprise with an announcement that he was pulling forward elections by almost a year and a half. Standing in front of a pair of blood red Turkish flags, the president declared that the turmoil in neighbouring Syria and Iraq meant the country needed to convert as quickly as possible to the new governance system that will come into force after the vote, which will abolish the role of prime minister and radically strengthen the next president's powers.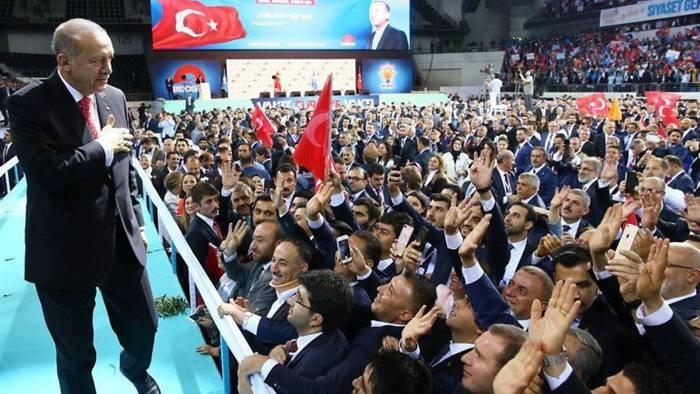 Which means - implicitly - that Erdogan will do "whatever it takes" to get re-elected, which perhaps explains his threat to speculators that "if the finance sector plays games with Turkey's investors and entrepreneurs, it will pay a heavy price."
Phoenix Kalen, an emerging markets strategist at Société Générale, warns that without a change of direction from the political leadership, Turkey was likely to remain trapped in a "recurring nightmare". She adds: "We believe that an opposition win of the executive presidency would spark a phenomenal rally in [the lira]."
Atilla Yesilada, an Istanbul-based analyst with the consultancy GlobalSource Partners, says the ruling party found itself in a trap.
"They have to feed the voters," he says.

"But each step they take to feed the domestic audience spooks foreign investors."
Despite the actions of the central banks and the threats, promises, and cujoling of Erdogan, the lira continued to weaken. On Tuesday, after a warning from the rating agency Fitch put more pressure on the currency, Turks began to share rumours of impending capital controls and rushed to buy gold, which has been doing what gold does... maintaining the wealth of those who hold it...
Tough to argue with a few thousand years of 'being money'.