A day after the largest exchange of rocket fire between Israel and Hamas since 2014, Israel is blaming Iran for supplying both Hamas and Islamic Jihad with advanced surface-to-surface missiles, capable of traveling longer distances to hit targets inside southern Israel.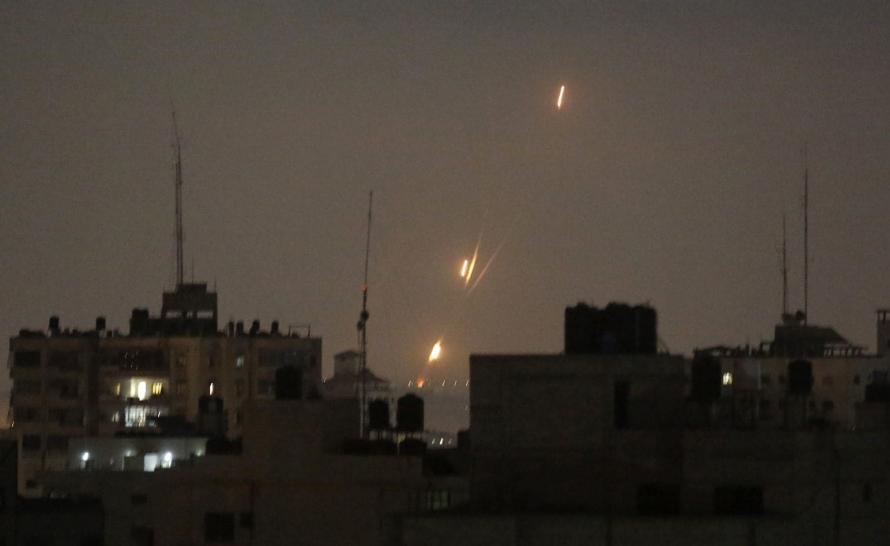 The Jerusalem Post reports based on official Israeli military statements :
Despite Israel's intelligence superiority over terror groups, as well a blockade imposed both by the IDF and Egypt, Hamas and other terror groups in the Strip have restocked their supply of weapons in the four years since the last round of fighting between Israel and Hamas.

The mass-produced Iranian mortar shells used in yesterday's salvos were also used by Islamic Jihad in an attack in January, as well as a barrage 12 mortar shells toward an army outpost in November.
Israeli officials describe Tuesday's Israeli strikes on Gaza as precipitated by dozens of projectiles fired toward Israeli settlements. In total throughout the day the Jerusalem Post estimates that 180 "Iranian-made" 120 millimeter mortar shells were fired by terrorists operating in the Gaza Strip, as well as 107-millimeter rockets, which have a reach of up to ten kilometers inside Israel. 
Israel for its part struck 65 locations across Gaza it described as Hamas terror sites, including what Israeli officials have identified as a massive weapons smuggling tunnel said to reach nearly a full kilometer into Israeli territory.
Footage shows Israeli airforce striking Hamas terror tunnel in Gaza Strip. pic.twitter.com/uyLwAnjhDt

— Josh Caplan (@joshdcaplan) May 29, 2018
Israel has consistently blamed both "smuggling tunnels" and commercial ships as means through which Iran resupplies militant groups within the Gaza Strip — though Israel has had the 25 miles long by few miles wide strip of Palestinian land under near total blockade for years.
During the 2014 Gaza conflict which Israel refers to as Operation Protective Edge, Israeli authorities say they seized a "Klos-C Iranian commercial ship" operating under the Panamanian flag which was filled with Syrian long-range rockets. The Israeli Defense Forces (IDF) subsequently published video showing the boat seizure and the uncovering of the large cache of missiles. 
IDF officials have partly credited the total maritime blockade of Gaza, which human rights groups have denounced as tantamount to a war crime due to medicine and other essential humanitarian supply shipments being prevented from entering the deeply impoverished strip, with drastically reducing the number of projectiles fired from Gaza over the past few years.
Since the morning thousands of military vechiles are being moved to #Gaza border. pic.twitter.com/epkRJYzKxk

— Igal Geiler יגאל גלר (@IgalGeiler) May 30, 2018
Blame for Tuesday's somewhat brief yet very intense round of violence was predictably put on the shoulders of the Iranians by Israeli officials. The Jerusalem Post cites Brig. Gen. (ret.) Yossi Kuperwasser, the former director general of the Ministry of Strategic Affairs and an IDF Military Intelligence division head, as saying Tuesday's violence was "encouraged by the Iranians" — though offering no concrete evidence beyond past references.
General Kuperwasser said it was "another reflection of Iran's frustrations and tensions which is trying to show it can cause trouble and instability," he said, while also implying that IRGC Quds Force commander Maj.-Gen. Qassem Soleimani may have had a part to play in violence over the past months in tandem with Hamas political leader Yahya Sinwar.
The Israeli general said further, "Iran doesn't want stability here. They want to make everyone realize that they are a player and that they should be taken very seriously with a lot of respect and in this way deter people from putting more pressure on them, but it isn't working."
Meanwhile Israeli military vehicles appear to be mustering along Israel's southern border with Gaza, even as a reported Egyptian-assisted Israeli-Hamas tenuous ceasefire has continued to hold through Wednesday. Israel has denied early reports that it reached a ceasefire with Gazan militant groups; however, fighting is widely reported to have ceased by evening Wednesday. 
It's unclear if any casualties resulted from Tuesday and early Wednesday's strikes as none were immediately reported - though the Israelis say a Jewish kindergarten was hit, with no one killed. An emergency UN session is set to meet Wednesday after the US and other western states called for a formal condemnation of recent Hamas rocket attacks.
Violence has soared along the Gaza frontier in recent weeks during which 116 Palestinians were killed by Israeli fire at mass demonstrations for a right of return to ancestral lands now in Israel. Amid international condemnation for its use of lethal force at the mass demonstrations, Israel said many of the dead were militants and that the army was repelling attacks on the border fence.
Palestinians and their supporters, however, say most of the protesters were unarmed civilians and Israel was using excessive force against them