---
Mystery Booms Heard Across Pennsylvania Continue To Baffle FBI, Local Authorities
Authorities in Pennsylvania along with the FBI have been scratching their heads over multiple reports of loud booming sounds in the middle of the night by residents of Bucks and Lehigh Counties.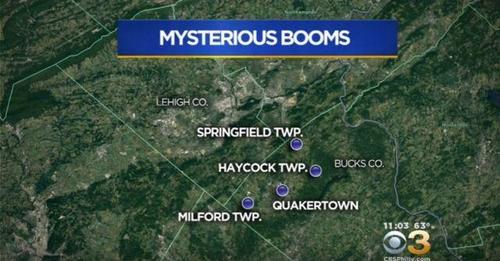 Following a joint investigation with the FBI, the best authorities have been able to come up with for the ominous booms which began on April 2 is that they were caused by an individual setting off "explosions." 
A statement from local authorities reads: 
Since April 2, 2018 over twenty (20) explosions have occurred in the early morning hours (between hours of 0100-0430) in the Upper Bucks County area. Our local, state, and federal Law Enforcement agencies all take these events very seriously and are working dilligently to protect the citizens of our community. Keeping everyone safe is our shared number one priority. Fortunately to date no one has been injured; however, we are attempting to prevent someone from accidentally getting injured by these explosions, including the individual responsible.
THOSE STRANGE BOOMS in Bucks and Lehigh Counties, appear to have been the result of 20 some explosions. That's what State Police are concluding. But they need help to further unravel this mystery. @CBSPhilly pic.twitter.com/bekUpars9U

— Joe Holden (@JoeHoldenCBS3) May 29, 2018
Case closed, pack it up Sherlock.
One resident's account of what happened seems to back up the explosions theory after a boom was heard in Nockamixon Township by resident Nick Zangly, who told the Bucks County Herald "it was one hell of an explosion," who lives down the street from a 4-foot wide by 1-foot deep cavity, which he alleges opened up after the blast.
Zangli said there was "nothing in the hole, which was filled with water because of heavy rain over the weekend." Law enforcement came out Monday to investigate the sinkhole but did not respond to any media requests.
Residents have described the noises as something falling out of the sky or an earthquake. 
"I thought that somebody was making a tunnel or space junk fell out of the sky," said Susan Crompton, who lives in Haycock Township.

"From poachers, gunfire, to explosions to a sonic boom," said Jerry Hertz of the mysterious sound.
KYW-TV said there had been no shortage of theories among residents, but still, no clear answer of the cause.
"It's a rumble, it actually like rumbles the ground like an earthquake would happen but with a loud like boom," Crompton added.

"I've been in the military, I've got experience with explosives, I was a Navy diver and was definitely not a gunshot," Hertz said.
Meanwhile, Mysterious booms are not just limited to Pennsylvania, as there have been local reports from across the country of booms rocking towns from coast to coast. Likewise, officials have zero answers to provide their citizens, it is hard to prepare for an event if it is not yet identifiable.