A Chinese general on Saturday defended Beijing's military build-up in the South China Sea, blasting the "irresponsible comments" made by U.S. Defense Secretary James Mattis, who on Saturday accused  Beijing of threatening its neighbors in the heavily disputed waters and warned China of "consequences" if it continues weaponizing the South China Sea.
"Any irresponsible comments from other countries cannot be accepted," Lieutenant General He Lei told  reporters at the IISS Shangri-La Dialogue, a civilian and military defense summit in Singapore, after Mattis warned that "there are consequences that will continue to come home to roost if China does not find a way to work more collaboratively with nations that have interests in the disputed region." He then clarified that "as long as it is on your own territory you can deploy the army and you can deploy weapons", indicating that to China the "contested" islands are anything but.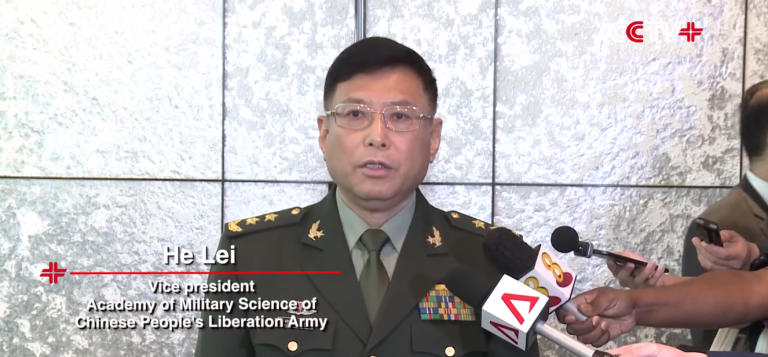 "We see any other country that tries to make noise about this as interfering in our internal affairs," General He said, referring to the Pentagon chief's comments.
Beijing's recent deployment of anti-ship cruise missiles, radar-jamming equipment, and strategic bombers to the disputed islands have dramatically increased geopolitical tensions around the region. In an attempt to counter rising territorial tensions, the Chinese general said Beijing's militarization of the islands were for "national defense" purposes.
"They are for the purpose of avoiding being invaded by others … As long as it is on your own territory you can deploy the army and you can deploy weapons," he said.
For years Washington has agitated Beijing by claiming "freedom of navigation", sailing its military vessels and flying its warplanes around the heavily disputed islands in the South China Sea. Last Sunday, we reported that the U.S. Navy conducted its "freedom of navigation" patrols near the islands to demonstrate the right to sail through the international waters.
"We did not do freedom of navigation for America alone," Mattis said in his speech while referencing the recent freedom of navigation drill. "We do freedom of navigation, give freedom for all nations, large and small, that need to transit those waters for their own prosperity and they have every reason to do so," he added, but what he really meant is that the US continues to engage in ultimately futile attempts to spook China into military submission, even though such overtures are clearly having the opposite ffect.
#SecDef Mattis discusses US leadership and #IndoPacific security challenges during the #ShangriLaDialogue June 2. The #ShangriLa Dialogue, held by the @IISS_org, is an inter-governmental security forum attended by defense ministers and delegates from more than 50 nations. #SLD18 pic.twitter.com/o1VK4UKiSE

— U.S. Dept of Defense (@DeptofDefense) June 2, 2018
Beijing, meanwhile, claims that most of the resource-rich sea, which overlaps claims from Brunei, Malaysia, the Philippines, Taiwan, and Vietnam, belongs to China. To reinforce such claims, Beijing quickly built artificial islands and erected military bases on Parcels and Spratly islands. Regarding trade, more than U.S. five trillion dollars in shipping trade flow through the region per annum.
"China's policy in the South China Sea stands in stark contrast to the openness our strategy promises, it calls into question China's broader goals," said Mattis, accusing Beijing of "intimidation and coercion."

General He made it obvious in his interview that all islands in question are "part of China's territories," referencing historical records to underscore China's claim: "It is undeniable that… there are soldiers that are stationed there and there are weapons that are deployed there. It is a symbol of China's sovereignty," the general said. "The weapons have been deployed for national defense."
General He also called out Washington's "provocative" freedom of navigation tactics as nothing more than the "true root of the militarization of the South China Sea."
"It is those that are shouting about 'the militarization of the South China Sea' who are militarizing the South China Sea,"He added. US military patrols and fly-bys "jeopardize China's security and challenges China's sovereignty," the general explained.
He also pointed out that there have been no military vessels that encountered commercial vessels while sailing through the heavily disputed waters.
"I've never encountered any comments that commercial, military vessels were obstructed when they traverse the South China Sea…There are no problems with freedom of navigation."
From Mattis to General He militant jawboning, followed by China's warning that any tariffs by Trump would kill a trade deal between the US and China, it appears that Sino-American relations continue to stumble, even as the heavily disputed waters in the South China Sea emerge as the next potential geopolitical and military flashpoint. Which, when one considers that according to the RAND Corp, and the IMF, China will surpass the US as the world's leading military superpower some time in the next 2 decades...
... it is hardly surprising that, as Thucydides Trap lays out, it is only a matter of time before armed conflict between the two nations breaks out.
Watch: Chinese Military Official: Territorial Integrity China' s Core Interest