It's not merely that the Iranian national team for the 2018 World Cup will no longer have access to Nike shoes or equipment, it's that their current shoes are actually being taken away from them. 
The announcement set Iranian social media ablaze with anger over the weekend, with many Iranians declaring they would never again buy Nike products: "The sanctions mean that, as a U.S. company, we cannot provide shoes to players in the Iran national team at this time," Nike told NBC News in a statement.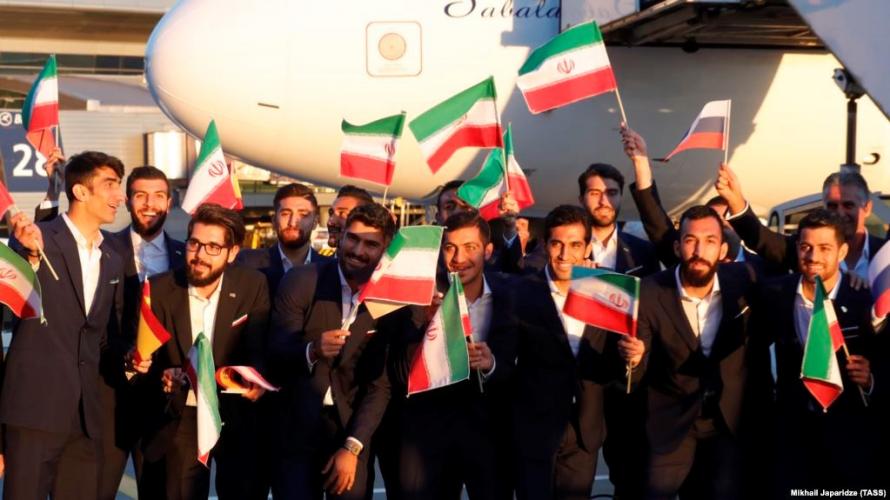 Soon after initial breaking reports of the decision last week, Iranian-American Middle East analyst Holly Dagres noted, "In the wake of Nike's decision to not provide cleats to Iran's national football team, Iranians are pushing a boycott of the US brand using #BoycottNike."
Nike will provide 60% of World Cup players with their shoes as official sponsors when they take the field on June 14 in St. Petersburg, Russia, but says it will confirm to US law citing new U.S. Treasury-enforced sanctions on Iran, and impending White House plans for more. Violators can face punishment of up to $1 million and 20 years in prison, and American banks assisting in business transactions can also be "subject to civil penalties of up to the greater of $250,000 or twice the transaction value," according to the US Department of the Treasury Iran sanctions page.
Now, no Iranian players are allowed to wear Nike shoes or gear after the last minute decision — items which the company had previously provided; however, less than a week away from Iran's first game with Morocco on Friday players are being forced to switch.
Weekend reports indicated the German company Adidas may provide shoes for players forced to switch last minute as recent EU law has sought to shield EU companies from American sanctions on Iran. This includes Swedish-born Saman Ghoddos, who as a star for Sweden's professional Ostersunds FK has long had an individual contract with Nike, but will now be forbidden from wearing them while playing for Iran.
Iranian national team supporters declared they are boycotting Nike:
This is a disgrace, and it's unsportsmanlike. Americans should be ashamed. I hereby refuse to buy @Nike products - please join me. #Iran #TeamMelli #russia2018 https://t.co/3Is7pSwch9

— Sharmine Narwani (@snarwani) June 11, 2018
In the wake of @Nike's decision to not provide cleats to Iran's national football team, Iranians are pushing a boycott of the US brand using #BoycottNike. Someone even started a Facebook page: https://t.co/qDNuLQDMtF

— Holly Dagres (@hdagres) June 8, 2018
.@Nike boycotts #Iran #WorldCup playershttps://t.co/GU5idh6f0p pic.twitter.com/hzWYthWve4

— Nima Akbarpour نیما (@nima) June 9, 2018
Iran's national team coach Carlos Queiroz told reporters outside a practice session in Moscow last week, "Players get used to their sports equipment, and it's not right to change them a week before such important matches." He further called on FIFA to address the matter, saying the last minute nature of the Nike ban will hurt the team. Players typically practice in the shoes they will wear for games in the days leading up to a big match. 
Iranian officials noted that Nike is not actually selling anything, thus there's no formal transaction taking place, and that Nike stuck by the Iran national team in 2014 under Obama White House sanctions. Iran sees the punitive move as driven at the behest of US officials. 
Trita Parsi, the president of the National Iranian American Council, pointed out the following: "I haven't gotten clarity on what legal basis [Nike] is using to say this. They should reference what part of the sanctions they are talking about, since technically they're not selling anything."
The National Iranian American Council further called out Nike's inconsistency in comments made to CNBC: "Nike is dragging politics back into the picture and souring what should be a global celebration. Nike was an outspoken opponent of Trump's Muslim ban that targets Iranians, yet now here they are helping enforce this new shameful policy against Iranians. We hope they will join us in pressing for the Trump administration to reverse course and ensure sports aren't turned into a political tool."
It will be interesting to see both how the Iranians play in what will presumably be Adidas outfitted shoes on Friday, and if American officials seek to pressure the German-based company to comply with US-led international sanctions targeting Iran.