The biggest and potentially most catastrophic battle in terms of civilian casualties has begun in the three-year war between the Saudi coalition and Iranian-aligned Houthi rebels. The assault began early Wednesday after days of the United Nations warning against the operation which also involves the UAE and United States as leading the campaign on the Houthi held port city of Al Hudaydah.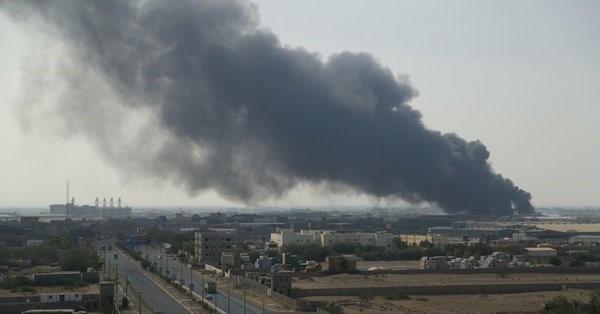 Reuters reports the following breaking updates:
"concentrated and intense" bombing near the port itself.
30 air strikes hit the city within half an hour.
Houthis say they hit a coalition barge
Port is main route to feed 8.4 million on verge of famine
"Some civilians are entrapped, others forced from their homes."
Arab warplanes and warships pounded Houthi fortifications to support ground operations by foreign and Yemeni troops massed south of the port of Hodeidah in operation "Golden Victory".
Ground battles raged near Hodeidah airport and al-Durayhmi, a rural area 10 km (6 miles) south of the city
Though Saudi and coalition authorities have long imposed a media blackout on Yemen which has resulted in little on the ground footage of the war, some early footage of the ground assault has emerged on pro-Saudi social media:
عاجل | فيديو مباشر: بإسناد القوات المسلحة الإماراتية القوات المشتركة تقترب من مطار الحديدة #الحديدة_تتحرر pic.twitter.com/pPBWBkM2dP

— الحديدة مباشر (@HdeidahMubasher) June 13, 2018
Early footage of Saudi-UAE coalition troops mustering outside of the contested port city:
بالفيديو: ألوية #حراس_الجمهورية بانتظار ساعة الصفر لتنفذ العملية الكبرى لتحرير مدينة الحديدة pic.twitter.com/cApG2VDRvT

— حراس الجمهورية (@Huras_Aljmhuria) June 12, 2018
These are the troops that #UAE makes storm today #Houthi-held #Hodeida coast city in west #Yemen. Via @StrategicNews1 pic.twitter.com/zZEzz57KId

— Ali Özkök (@Ozkok_) June 13, 2018
Gulf-aligned media coverage from lead-up to the assault claiming the coalition is thwarting "Iranian weapons" and militants in Hudaydah:
ميناء الحديدة منفذ ميليشيات الحوثي لاستلام الأسلحة والصواريخ الإيرانية
ألوية حراس الجمهورية والقوات المشتركة تقطع شريان طهران في الحديدة وتحدث خسائر فادحة لميليشيات الحوثي في مديرية الدريهمي والحاح pic.twitter.com/f4XZxf8Kbk

— الحديدة مباشر (@HdeidahMubasher) June 9, 2018
Iranian media reports civilians killed and wounded from the start of coalition aerial bombardment:
At least four civilians killed in Saudi air strikes on Yemeni port city of Hudaydah #SaudiWarOnYemen pic.twitter.com/C2LGEmnvd0

— Press TV (@PressTV) June 12, 2018
As we reported earlier this week, the UN and Red Cross evacuated all personnel days before the assault on the major Yemeni port through which 80% of all humanitarian aid to the war-torn country flows. 
The city of half a million people is one of the sole lifelines of support from the outside world, thus analysts are predicting this to be a catastrophe for the country's civilian population in a war which The New York Times notes is already "classified as the world's worst humanitarian disaster" with "more than 75 percent of the population... dependent on food aid".
Doctors Without Borders (MSF) has also suspended operations in parts of the country after a Saudi coalition air raid on a cholera treatment center it supports. Cholera has made a comeback and ravaged the population in the midst of the grinding war and is expected to explode further now that Al Hudaydah port is inaccessible to aid and medical groups.
As many as 250,000 people "may lose everything" in case of a military attack on #Yemen's key port city Hodeidah, as the country's humanitarian crisis remains the worst in the world. Watch @UNOCHA's @JensLaerke brief press in Geneva today. pic.twitter.com/JTHcBpvgZe

— UN Geneva (@UNGeneva) June 8, 2018
The UN has attempted negotiations with both sides to cede temporary humanitarian control over the vital port.
1/4 @MSF #Cholera Treatment Center is a #medical_facility and not a military target. Health facilities have been regularly bombed in #Yemen since 2015, including MSF #Abs hospital, bombed on 15 August 2016, killing 19 people. #notAtarget

— MSF Yemen (@msf_yemen) June 13, 2018
The Saudi-US military coalition currently besieging the country through airstrikes and sea blockade claims Al Hudaydah is a key arms smuggling point through which Iran supplies the Shia Houthis, including sophisticated ballistic missiles which have hit locations inside Saudi Arabia within the past year. 
The US has tried to present itself as trying to stave off humanitarian catastrophe in Al Hudaydah, yet as NPR's Steve Inskeep confirmed while reporting from Yemen earlier this year the US military "has provided targeting information, equipment and aircraft refueling to the Saudi air campaign, which has been widely criticized for being indiscriminate and killing civilians in places like hospitals, funerals and homes."
Secretary of State Mike Pompeo earlier this week framed the US role as desiring "to address their security concerns [Saudis, UAE, and pro-Saudi Yemeni government in exile] while preserving the free flow of humanitarian aid and lifesaving commercial imports," according to a statement.
Yet the Wall Street Journal has characterized the US role in the new operation as actually "deepening" as US intelligence will provide "information to fine-tune the list of targets". So Pompeo's mention of "security concerns" obviously constitute a green light
While this "deepening" role is supposedly to keep the UAE and Saudis on good behavior, its really a propaganda move to give the American role a fig leaf of "humanitarian" motives.
As Moon of Alabama blog noted in the lead-up to Wednesday's assault on Hudaydah port:
The genocide in Yemen is going to start tomorrow. Eight million are already on the brink of starvation. Eighteen out of twenty-six million Yemenis live in the mountainous heartlands (green) which are under control of the Houthi and their allies. They are surrounded by Saudi and U.A.E. forces and their mercenaries. There is little agriculture. The only supply line from the outside world will soon be cut off. The people will starve.
UAE forces are especially reported to be taking a lead role in operations. As we detailed last year, the Saudi coalition has largely relied for its ground operations on UAE officers commanding a largely mercenary forces, with most of the ground troops coming from Sudan. 
Indeed many of the file photos currently featured by the NYT, AP, and others appear to confirm the heavy use of mercenary ground forces from north Africa:
Yemen, devastated by a war that has killed 10,000 people, needs an internationally-backed peace process not a major new attack by U.S.-backed Arab allies on the port of Hudaydah, a vital entry point for humanitarian aid https://t.co/6LqsJ1piau

— NYT Opinion (@nytopinion) June 13, 2018
Meanwhile, the Saudi ambassador to the US, Prince Khalid bin Salman, claims the Houthis have attacked multiple commercial and military ships, according to pro-Saudi Al-Arabiya:
The Houthi militia in Yemen have attacked commercial and military ships, including ships belonging to Saudi Arabia, the UAE, the US, using advanced anti-shipping systems smuggled into Yemen. 
For their part, the Houthis appear to have confirmed their ground forces launched a missile attack on a Saudi naval vessel, according to Middle East based Al Masdar news.
The ambassador further blamed Iran for militarily backing the insurgents: "The liberation of Hodeidah is critical in light of the growing threat that the Iranian backed Houthi militia poses to the maritime security of the red sea, a vital waterway through which about 15% of international commerce passes," he said. 
Because of the complete media and humanitarian blockade on the contested port city, confirmation of the rapidly unfolding events have been hard to come by.
This is a developing story.