A new report out from Edmunds.com makes a striking revelation: used car prices, despite numerous forecasts over the last two years saying they would crash, continue to go up. As Bloomberg reported this morning, Edmunds.com reported that used car prices rose 2.2% on the year:
That sensible, used 2014 Toyota Camry with the gray cloth seats, slate exterior and low miles may still be a good choice. But it'll cost you more than it used to.

And that's good news for car-rental companies, whose shares rallied after Edmunds said used-vehicle prices in the first quarter were the highest on record. Analysts for the car-shopping website found the average transaction price for a used vehicle was $19,657, up 2.2 percent from the same period last year and a 17.6 percent increase from the the same period in 2013.
As a result, rental car stocks all soared. Rental car agencies fare significantly better when the price of used vehicles rise because they often sell their used vehicles after a certain period of time - the rising prices obviously help generate more revenue for companies like Avis and Hertz, which were given a boost this week on the news.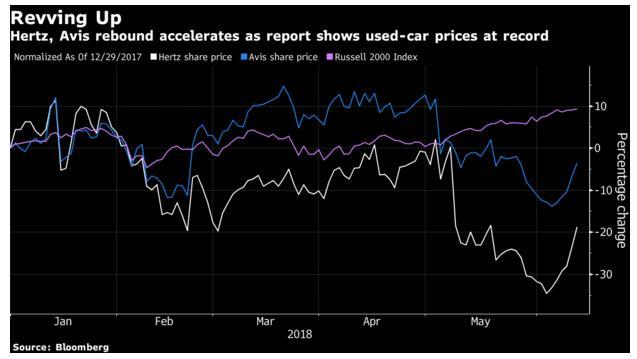 The Bloomberg article continued:
Hertz Global Holdings Inc. surged as much as 11 percent, while Avis Budget Group Inc. gained 5.1 percent. Car-rental companies' profitability can hinge on the value of the vehicles in their fleet, some of which they sell in the used market or at auctions after they've finished with them. Automakers also buy some cars back after a fixed period of time. Correspondingly, used-car website Carvana Co. rose as much as 7.4 percent and was headed for its highest closing price on record.

"With rising fuel costs breathing fresh air into this segment, subcompact and compact cars are finally retaining value again," Ivan Drury, senior manager of industry analysis at Edmunds said in the release. The company attributed the increase in prices to a growing supply of more valuable near-new vehicles coming off-lease and a greater demand for vehicles of all sizes and ages.
However, this is a fascinating turn of events for the used car market. Why? Rising used car prices are at odds with almost every single forecast published over the last 2 years that we could get our hands on for the used car market.
There was, of course, the time that Ford warned in March of 2017 that "used car prices would drop for years". 
In that same month we noted that wholesale used car prices were also getting crushed. According to NADA Used Car Guide, wholesale prices on used vehicles were getting pummeled as far back as February 2017.
Around the same time Morgan Stanley stated that used car prices could fall as much as 50%.
Then in August of 2017 we reported on a used car supply glut that was causing prices to crash the lowest they had been since 2009. We noted then that since the end of 2015, the cost of used vehicles had dropped in all but three months and were roughly 10% off their 2013 high.
Finally, for a more up to date forecast, Moody's has forecast a narrowing, yet still falling price guide for used cars in 2019:
This trend, together with tightening credit standards among lenders, rising interest rates, and attractively priced, high-quality used inventory will cause consumers to seriously consider alternatives to buying new cars, stimulating demand for used vehicles and supporting prices through 2019. Moody's Analytics forecasts that the used car and truck Consumer Price Index will post a year-over-year decline of 1.07% in 2019, slowing from a 3.63% decline in 2017, before prices reach bottom in 2020.
We're sure this delta between forecasts and what is actually taking place is yet another little gift of Central Banking policy, which has thrown all controls and rules out the window. We wouldn't be surprised if the industry "surprises" again and Avis and Hertz shareholders buying this week wind up holding the bag when this inflation catalyzed and debt fueled bubble finally does burst. Or hey, maybe this time it's different...