Police in Sweden are attempting to downplay initial reports of terrorism after a man opened fire on a crowd during World Cup celebrations as the Swedish national team beat South Korea earlier in the day. As the story broke, multiple international headlines suggested a terror attack in progress related to World Cup play, with at least five people wounded in the southern city of Malmo. One man has reportedly died of his injuries in what's being described as a "mass shooting".
A hail of bullets were unleashed by an unknown shooter in a car mid-evening in the downtown Drottninggatan area just as revelers took the streets to celebrate the Swedish national team's 1-0 win against South Korea. 
All 5 victims are being described in European press as "World Cup fans" who were among a crowd exiting area venues that had been screening the soccer match. The shooter (or shooters) may have been targeting a group gathered inside of a coffee shop.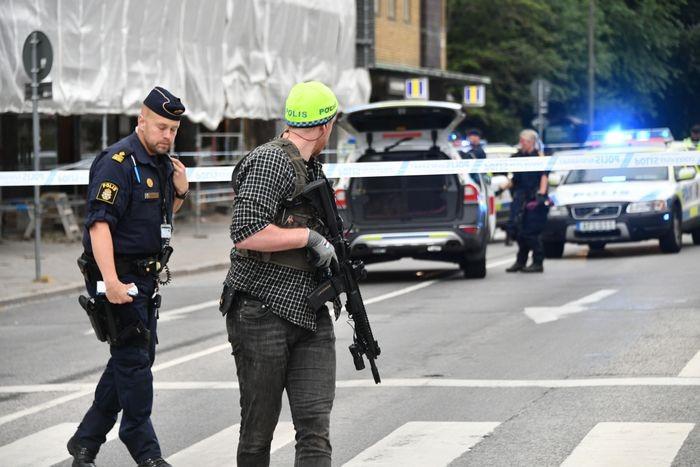 "There are no signs that this is terror-related," said police spokesman Fredrik Bratt, as quoted in EuroNews. "It is probably a shooting between criminal individuals." 
Though as the Daily Mail reports "feuds between criminal gangs fighting over territory have taken place in major Swedish cities in recent years" Swedish media initially described a crime that appears broad and random in nature, designed to cause mass casualties. 
However some local sources indicate some among the victims may include known criminals engaged in gang or organized crime activities. 
#BREAKING: Shooting in #Malmo in Sweden, man fires automatic weapon at crowd celebrating win of Swedish national team pic.twitter.com/CBXrOAWGjw

— Amichai Stein (@AmichaiStein1) June 18, 2018
#Malmo  Several people were apparently wounded by #gunfire in central #Malmo #sweden #shooting pic.twitter.com/xCtJKQVohl

— rita khoury (@ritakhoury10) June 18, 2018
Eyewitnesses told the the Swedish language Aftonbladet newspaper that around 15 to 20 shots were fired in Malmo's downtown area. Malmo is Sweden's third largest city with a population of about 350,000 — but is known for a high murder rate among European cities, and has a reputation as being the most dangerous city in Scandinavian countries. 
Police have cordoned off a large area downtown and say a major investigation is ongoing. A police spokesman said: "There are injured people who have been hospitalized with ambulances and some who have been traveling with private individuals."
How do they know it's not terrorist related if they don't have a suspect yet? It may well not be terror related but they can't rule it out until they have the shooter. #malmo

— Nick Smith (@NickDSmith74) June 18, 2018
Sweden's Sydsvenskan newspaper reports that all among the injured were standing on the sidewalk outside a coffee shop when a car drove up and unleashed automatic fire at close range on the group. Multiple reports also say some among the wounded were rushed away in private cars, which could further suggest an incident involving organized crime. One witness, Jonatan Burhoff, told Aftonbladet he saw wounded people being carried to private cars that drove off "as fast as possible".
The shootings took place close to a police station which allowed for emergency response units to arrive on the scene almost immediately. No suspects were immediately apprehended according to early reports.