The recent bitcoin crash hasn't slowed down the rapid developments in the world of cryptocurrency funds, at least not for 19-year-old Charles Noyes who, despite not being old enough to order a beer, has just made partner at a new crypto currency digital fund alongside two of the biggest names in the crypto space.
Noyes is coming from his former fund, Pantera Capital, where he rose through the ranks from intern to analyst to principal in less than two years. Bloomberg with more:
Charles Noyes, an Orange County, California, native who left high school early in 2016 to attend Massachusetts Institute of Technology, is exiting his job at crypto hedge fund Pantera Capital to help two finance titans start a digital-currency fund. He'll be a partner alongside Fred Ehrsam, co-founder of crypto exchange Coinbase Inc., and Matt Huang, a former partner at venture-capital firm Sequoia Capital, which will be an investor in the new company.

The three-man fund plans to invest in early-stage projects focused on cryptocurrencies, new blockchains and exchanges, said Noyes, who started mining Bitcoin in 2011. The 19-year-old left MIT after one year to join Pantera, where he moved up the ranks from intern to analyst to principal. After less than two years there, he was invited to help Ehrsam and Huang launch the new venture.
As for Noyes himself and his attitude on the move: just like every other 19-year-old trading whiz kid - although considering the price action in recent years, it mostly meant buying bitcoin, buying, and then buying some more on leverage, as he is trying not to "mess up too badly" admitting in only a way that a 19-year-old could:
"Everyone's kind of just accepted that I go do my own thing and hopefully don't mess up too badly," said Noyes, who lives in San Francisco. "I wanted to try my hand at sort of re-architecting the internet in a way that I think is more democratized."
The price of bitcoin has continued to stagnate since the beginning of the year while the regulatory environment for ICOs has been tightening, despite Ethereum recently being ruled not a security.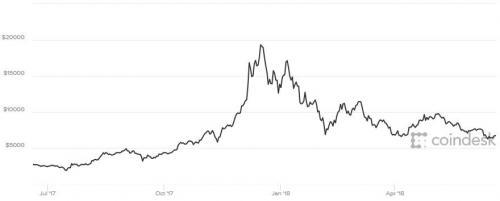 We wrote about this crackdown on ICOs in March of this year, when the SEC repeatedly warned founders of shady initial coin offerings that they must abide by US securities rules, but most were too busy making money hand over fist to listen. As of March, it seems, the agency is finally ready to drop the hammer.
After announcing a handful of limited actions against suspected ICO fraudsters late last year, the Wall Street Journal reported in March that the agency has sent dozens of subpoenas and information requests to the companies and advisers carrying out ICOs, which have already raised nearly $1.7 billion this year. Last year, ICOs raised $6.5 billion despite crackdowns in China and elsewhere.
This has forced some of its biggest advocates, like John McAfee, to dial back their language on ICOs, as we reported this morning:
John McAfee, of McAfee antivirus software fame, is turning his back on ICOs.

Once a promoter of cryptocurrencies and initial coin offerings, McAfee took to Twitter Tuesday to explain why he would no longer recommend ICOs.

Replying to a Twitter user who asked McAfee to "advise on the next best ICO to invest," he wrote that he was "no longer working with ICOs" nor would he recommend them, citing unspecified "threats" from the Securities and Exchange Commission. "Those doing ICOs can look forward to arrest," McAfee continued. "It is unjust but it is reality."
It's unclear if that also means he won't be eating his genitals on live TV if bitcoin doesn't hit $1 million by 2020.
Meanwhile, broad sentiment continues to not be overwhelmingly positive for the crypto space, even though institutions are becoming increasingly more active in the space as corporations and governments are looking to use blockchain tech; also, in all fairness, the value of all digital currencies and bitcoin is orders of magnitude higher than where it was except for just a few brief months at the turn of the year.
And as long as the space can hold up, it should ensure plenty of partner-level jobs for the 19-year-olds to come.