---
Democrats Melt Down Over Supreme Court Vacancy
Progressives from sea to shining sea are having an election-level meltdown over the announced retirement of Supreme Court justice Anthony Kennedy - such as that of former Obama NSC spokesman, Tommy Vietor:
FUUUUUUUUUUUUUCK

— Tommy Vietor (@TVietor08) June 27, 2018
Thanks, Justice Kennedy. pic.twitter.com/2w8EjRwVtU

— Comedy Central (@ComedyCentral) June 27, 2018
Alternate headline: FUCK FUCK FUCK FUCK FUCK FUCK FUCK FUCK FUCK FUCK FUCK FUCK FUCK FUCK FUCK FUCK FUCK FUCK FUCK FUCK FUCK FUCK https://t.co/23wjlvJn5h

— Splinter (@splinter_news) June 27, 2018
The Obama bro's are handling Kennedy's retirement just like you'd imagine the Obama bro's would handle Kennedy's retirement. https://t.co/XRcADO5Jc4

— Nick Short 🇺🇸 (@PoliticalShort) June 27, 2018
These faces remind me of election night pic.twitter.com/4CzZngQhbW

— Dinesh D'Souza (@DineshDSouza) June 27, 2018
The vacancy means that President Trump can appoint a more conservative Justice to the bench, as opposed to Kennedy's more moderate right-of-center stance on many issues.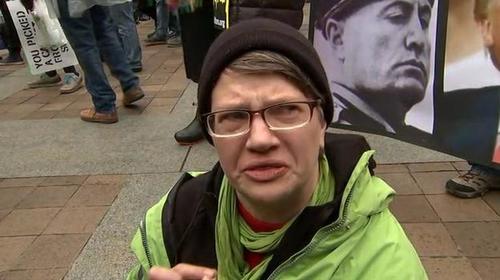 News of Kennedy's retirement was captured during a DNC conference call, prompting audiable reactions from the participants ranging from shock to awe. 
"Ohhhh!" gasped one person.
"Oh my God," exclaimed another.
"Not that he's done us any good on these recent decisions, but he was the one who was usually persuadable," could also be heard. 
How it sounded inside a DNC committee meeting the moment Justice Kennedy's retirement was announced pic.twitter.com/6S9uO2JGzQ

— David Siders (@davidsiders) June 27, 2018
Democratic leader Chuck Schumer (NY) urged the Senate to hold off on confirming Kennedy's replacement until after November's midterm elections. Speaking on the Senate floor, he said that Majority Leader Mitch McConnell should follow the same precedent set by Republicans in 2016 when they refused to weigh in on Merrick Garland (who was not confirmed) for months.
Schumer said that the vacancy is "the most important Supreme Court vacancy for this country in at least a generation," noting that women's reproductive rights and other issues hanging in the balance. 
BREAKING: Sen. Schumer says the GOP should follow the rule they placed on Pres. Obama and not vote on a Supreme Court justice in an election year pic.twitter.com/K7eu7hBekz

— NowThis (@nowthisnews) June 27, 2018
 MSNBC's Chris Matthews did not get a thrill up his leg at the news: 
Chris Matthews went off and told Democrats that they have to fight Trump's Supreme Court nominee or Democratic voters, who are sick of this crap, will overthrow them. https://t.co/0FJohXqGHB pic.twitter.com/lRgbBpHp6r

— Sarah Reese Jones (@PoliticusSarah) June 27, 2018
Others used dramatic grammar:
Fuck. You. Justice. Kennedy.https://t.co/q6Asq83WJL

— Ian Millhiser (@imillhiser) June 27, 2018
Much hot air is rising over America as the outrage grows: 
For starters, abortion rights are more imperiled now than at any time since Roe v. Wade. And there is no reason to think there won't be a rollback of gay rights, either, with Kennedy gone. https://t.co/awg2oC5uYl

— Andrew Cohen (@JustADCohen) June 27, 2018
How very cool of Justice Kennedy to pour kerosene on the current dumpster fire that is America. The Roe v Wade riots should provide fine entertainment for him in his retirement.

— Molly Knight (@molly_knight) June 27, 2018
Justice Kennedy is retiring... well "America" it was nice knowing you! pic.twitter.com/uvBjuceTp6

— Khoa ¯\_(ツ)_/¯ (@khoaphan) June 27, 2018
Conservatives, meanwhile, are predictably gloating: 
Democrats after a socialist wins nomination for a house seat.

[ 14 HOURS LATER]

Democrats after Kennedy's retirement. pic.twitter.com/pA5Cv1Wih3

— Benny (@bennyjohnson) June 27, 2018
OH MY GOSH LOOK AT HIM HE CANNOT EVEN CONTAIN HIS FEELS @SenateMajLdr pic.twitter.com/1gS3kQ7K2q

— Shoshana Weissmann, Sloth Committee Chair (@senatorshoshana) June 27, 2018
I know him pretty well. This face is definitely DEFCON 1 OMG PARTY TIME FACE. https://t.co/BkxdyTrjXx

— Scott Jennings (@ScottJenningsKY) June 27, 2018
*activate smile program* pic.twitter.com/0aQ6cj62eN

— Jack Posobiec🇺🇸 (@JackPosobiec) June 27, 2018
They can't handle the truth. https://t.co/aiOucNiSX2

— thebradfordfile™ (@thebradfordfile) June 27, 2018
That feeling when they tell you it's impossible to change the direction of your country for generations to come... #SCOTUS #MAGA #KAG #WINNING 🇺🇸 pic.twitter.com/eB42Qi6x7m

— Cliff Sims (@Cliff_Sims) June 27, 2018
Justice Kennedy has announced that he is stepping down from the Supreme Court.

This is exactly why a Trump presidency was so important for the future of our nation.

We will control the Supreme Court.
We will preserve our culture.
We will Make America Great Again!#maga

— Corey Jones🇺🇸 (@CoreyLMJones) June 27, 2018
And the always independent Chuck Todd sums it up...
Man, summer is going to suck... it will be ugly; normally nice people will act like idiots... we have a full fledged political circus on our hands... up to the voters to decide what they want...

— Chuck Todd (@chucktodd) June 27, 2018