Less than 24 hours after 81-year-old Justice Anthony Kennedy announced his retirement, effective July 31, from the Supreme Court after a more than 30-year tenure (making him the 14th longest service justice out of 113), rumors about his successor already abound. To wit, Bloomberg reported that President Trump has asked his advisors for their opinions about nominating Utah Senator Mile Lee to replace Kennedy.
To be sure, the selection process is just beginning, and it's likely Trump hasn't yet settled on a favorite, according to Bloomberg. Brett Kavanaugh, a judge on the DC Circuit Court of Appeals, is also being considered (and led online betting markets as the most likely candidate as of yesterday).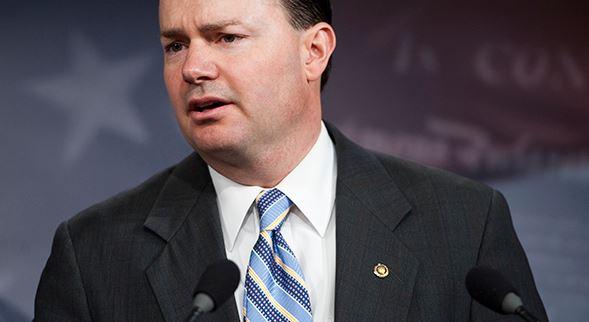 The selection of a Supreme Court justice is vital to the president's legacy: Assuming Trump's nominee is around the age of his previous pick, Neil Gorsuch, he or she will likely serve on the court for decades.
And even with Republicans' slim majority in the Senate, whoever Trump nominates only needs the support of the Republican caucus to make it through the Senate since the Democrats implemented the so-called "nuclear option" - eliminating most fillibusters for presidential nominations - back in 2013.
Importantly, Lee's name was included on a list of potential nominees that Trump released during the campaign, even though Lee initially declined to endorse the president and said he voted for fellow Utahan Evan McMullin as a "protest vote." But while Trump is notorious for holding grudges, he and Lee appear to have patched things up; Lee has been a reliable vote for Trump's priorities.
"I have a good relationship with the president. He and I don't see eye to eye on every issue," Lee said in a Fox News interview on Thursday. "He and I see eye to eye on most things when it comes to the Supreme Court of the United States."
Lee, a religious conservative, has criticized the landmark Roe v. Wade legalizing abortion across the US, and would be expected to try and overturn that decision if he's elevated to the court. However, this quality could complicate his nomination, given that two moderate abortion-rights supporting Republican Senators - Maine's Susan Collins and Alaska's Lisa Murkowski - could take issue with a Lee nomination. 
As of Thursday afternoon, online betting markets have shifted in favor of Amy Coney Barrett, a judge on the US Court of Appeals for the Seventh Circuit, who is currently the front runner.
Barrett's name was also included on Trump's list of 25 potential candidates. Trump said after Kennedy announced his retirement that his nominee would come from that list.
Read the full list below:
* * *
Amy Coney Barrett of Indiana, U.S. Court of Appeals for the Seventh Circuit
Keith Blackwell of Georgia, Supreme Court of Georgia
Charles Canady of Florida, Supreme Court of Florida
Steven Colloton of Iowa, U.S. Court of Appeals for the Eighth Circuit
Allison Eid of Colorado, U.S. Court of Appeals for the Tenth Circuit
Britt Grant of Georgia, Supreme Court of Georgia
Raymond Gruender of Missouri, U.S. Court of Appeals for the Eighth Circuit
Thomas Hardiman of Pennsylvania, U.S. Court of Appeals for the Third Circuit
Brett Kavanaugh of Maryland, U.S. Court of Appeals for the District of Columbia Circuit
Raymond Kethledge of Michigan, U.S. Court of Appeals for the Sixth Circuit
Joan Larsen of Michigan, U.S. Court of Appeals for the Sixth Circuit
Mike Lee of Utah, United States Senator
Thomas Lee of Utah, Supreme Court of Utah
Edward Mansfield of Iowa, Supreme Court of Iowa
Federico Moreno of Florida, U.S. District Court for the Southern District of Florida
Kevin Newsom of Alabama, U.S. Court of Appeals for the Eleventh Circuit
William Pryor of Alabama, U.S. Court of Appeals for the Eleventh Circuit
Margaret Ryan of Virginia, U.S. Court of Appeals for the Armed Forces
David Stras of Minnesota, U.S. Court of Appeals for the Eighth Circuit
Diane Sykes of Wisconsin, U.S. Court of Appeals for the Seventh Circuit
Amul Thapar of Kentucky, U.S. Court of Appeals for the Sixth Circuit
Timothy Tymkovich of Colorado, U.S. Court of Appeals for the Tenth Circuit
Robert Young of Michigan, Supreme Court of Michigan (Ret.)
Don Willett of Texas, Supreme Court of Texas
Patrick Wyrick of Oklahoma, Supreme Court of Oklahoma