The Russian military approved the first state procurement contract for a dozen fifth-generation stealth fighter aircraft, said Deputy Defense Minister of Russia Alexei Krivoruchko on Saturday.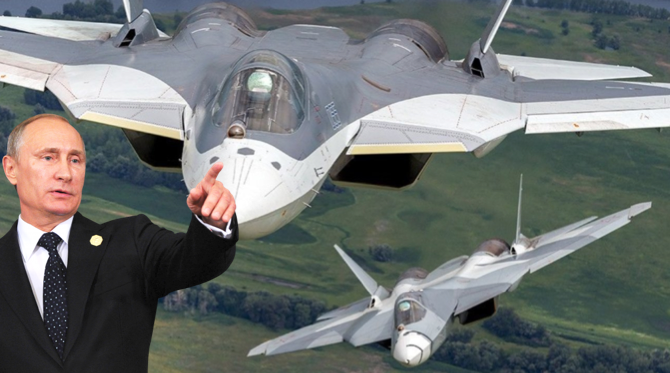 Krivoruchko told reporters that a batch of the Sukhoi Su-57, a stealth, single-seat, twin-engine multirole fifth-generation stealth fighter will be delivered to the Russian military in the near term.
Speaking highly of the work by the Sukhoi aircraft manufacturer on the production of the fifth-generation fighter jet, Krivoruchko added that engineers are concluding the last round of tests on the aircraft's second-stage engines.
The aircraft will be manufactured at Komsomolsk-on-Amur Aircraft Plant, based in Komsomolsk-on-Amur in the Russian Far East, which is the largest aircraft-manufacturing company in the country.
The Su-57 was designed as a heavy air superiority platform and more capable in an air-to-air combat role, The analysis gives advantage to the Sukhoi Su-57 in its speed, altitude, sensors, missile carriage, engagement range, and maneuverability. pic.twitter.com/OcHPvlRnxJ

— Kevin Sky🎖️ (@EmirLouise) June 26, 2018
The Su-57 is a Russian multi-role fighter of the fifth generation, developed by Sukhoi aircraft manufacturer. The jet fighter is designed to fly at supersonic speeds, have super maneuverability, stealth technology, and advanced sensors to challenge the North Atlantic Treaty Organization's (NATO) fifth-generation aircraft.
The first flight of the Su-57 occurred in early 2010 in the Komsomolsk-on-Amur region.
Yury Slyusar, director of the United Aircraft Corporation, informed RIA Novosti that the first batch of SU-57s should be delivered to the Russian military in 2019.
Earlier this year, we uncovered unverified photos and video footage circulating Twitter, showing two new Russian Su-57 stealth fighters landing at Khemimim air base, near Latakia, in northwestern Syria.
Unverified footage claims to show #Russia deployment of two T-50 #PAKFA prototype aircraft to #Syria pic.twitter.com/cvDHwui5ut

— Joseph Dempsey (@JosephHDempsey) February 21, 2018
Footage analysis verifies that the video was indeed taken in Syria as the jets made a landing at Russia's master air base located south of Latakia:
Decían que el video de los Su-57 (AKA #PAKFA #T50) llegando a #Khmemeim #Siria podría ser falso así que hice esto.
Ustedes decidan.#OSINT #RuAF
El video: https://t.co/LrhUCbVFx1
cc @Zmilitar pic.twitter.com/QkwvYxgPDV

— Juanma Baiutti (@juanmab) February 22, 2018
Russia has deployed a wide variety of high-tech weapons to the proxy war in Syria to showcase and test their performance. Most military strategists believe that deployment of the Su-57 to Syria was to directly challenge America's fifth-generation fighter aircraft (Lockheed Martin F-22 Raptor and Lockheed Martin F-35 Lightning II) and let the world know: Russia has fifth-generation fighter aircraft for a fraction of the cost.
Russia is now open for business, and for those in the market for a cheaper stealth fighter, the promo clip of the Su-57 is below: