---
NYT Shuffles "House Of Cards" Journo Who Slept With Congressional Staffer
The New York Times is reassigning a reporter at the center of a federal leak investigation who likened herself to the fictional House of Cards character Zoe Barnes - a young reporter who has an affair with an older member of congress. 
I wanted to be Zoe Barnes...until episode 4. Sleeping with your source- especially a vindictive congressman? #badlifechoice #HouseofCards

— Ali Watkins (@AliWatkins) April 2, 2013
So on a scale of 1 to ethical, how does everyone feel about pulling a @RealZoeBarnes for story ideas? #TOTALLYKIDDING @HouseofCards

— Ali Watkins (@AliWatkins) June 20, 2013
Following a deep internal probe, journalist Ali Watkins, 26, will be transferred to the NYT's main office in New York City - where she will spend her time under a mentor on a new beat, the Times reported on Wednesday.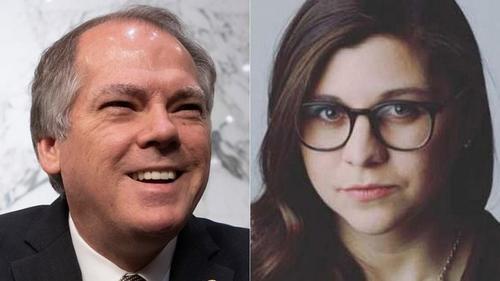 Federal authorities seized Watkins's phone and email records as part of a probe into Congressional leaks, which led to the arrest and indictment of James Wolfe, 57, the longtime director of security for the Senate Intelligence Committee. Wolfe was booked on charges of giving false statements to FBI agents in 2017 about reported contacts with three reporters, according to the Washington Examiner.
Watkins has been covering national security for the Times since December, while her romantic relationship with Wolfe began in 2013 when she was an intern at McClatchy, ended last year. Watkins claims she didn't receive information from the 58-year-old married Wolfe during the affair.
The Times said on Tuesday that it was conducting a review of Ms. Watkins's involvement in the case, including the nature of her relationship with Mr. Wolfe, and what she disclosed about it to her prior employers. Ms. Watkins informed The Times about the prior relationship after she was hired by the paper, and before she began work in December. She has said that Mr. Wolfe did not provide her with information during the course of their relationship.
Journalists are supposed to abide by ethical rules that stipulate they cannot have personal relationships - including romantic relationships - with their sources. But Watkins claims she didn't receive any information from Wolfe while they were together, according to the Times.
DOJ investigators seized emails and phone records belonging to Watkins in what the NYT described as the first instance of the Trump administration seizing the personal communications of a journalist. Watkins was later informed of the seizures in a letter that she received in February, which informed her that "years worth of records for two email accounts and a phone number of hers" had been accessed as part of the investigation.
According to the New York Times, Watkins was approached by FBI agents back in December and asked about the nature of her relationship with Wolfe - questions that she (wisely) declined to answer at the time. Watkins says she was also approached last June by somebody claiming to be a government agent, and who also brought up Wolfe. The man later told her that he was aware of her relationship with Wolfe, and asked if she could help him ferret out leakers. The Washington Post reported this week that the man who approached Watkins was Jeffrey Rambo.
After the encounter with Rambo - which she said unnerved her - Watkins disclosed the nature of her romantic relationship with Wolfe to her editors at Politico.
The Feds say Wolfe lied about the nature of his relationship with Watkins until he was confronted with a photograph of the two of them together. However, Wolfe was in regular contact with multiple journalists who covered the committee, including meeting them at restaurants and bars as well as the office building where he worked. Wolfe pleaded not guilty to three counts of making false statements to a government agency - charges on which he could face up to 15 years in federal prison.