A simple Google search of "malls in default", "mall closing", or the evergreen "retail apocalypse" will result in a bleak list of dozens of mostly midwest and western-USA newspaper and journal stories with headlines like Rushmore Mall facing foreclosure, $100M in upaid loads or Another one bites the dust and Metro area mall headed for a foreclosure sale as owner faces default on $200M loan. 
But a casual drive to your local Sears or Dillard's (or the place where they used to stand) will likely confirm what we've long noted — that while mega malls were once the destination of choice for America's misunderstood youth, they're bound to suffer the same fate as the big hair, hoop earrings and creepy mustaches that once frequented their food courts in the 80s.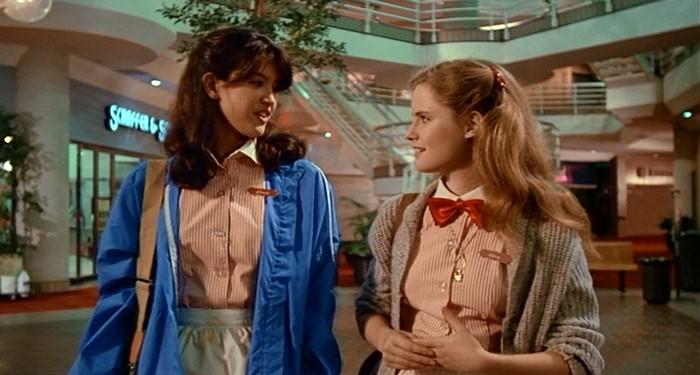 New figures by real estate research firm Reis shows consumer presence in America's once great cultural icon of 80s-90s suburban chic is at a 6-year low, with the the vacancy rate at metro and regional malls around the country hitting 8.6% last quarter (up from 8.4 percent in the prior quarter), the highest since the end of 2012. 
"After withstanding the hundreds if not thousands of store closings over the last 18 months, the neighborhood and community shopping center industry suffered its worst quarter in nine years," the Reis report said. Data from Coresight Research confirms 4,095 store closing announcements and only 1,884 planned openings thus far in 2018.  
The 1990's through 2000's had witnessed developers building at a manic rate, blind to the ways the internet and the rise of e-commerce giants like Amazon would soon radically transform the retail space.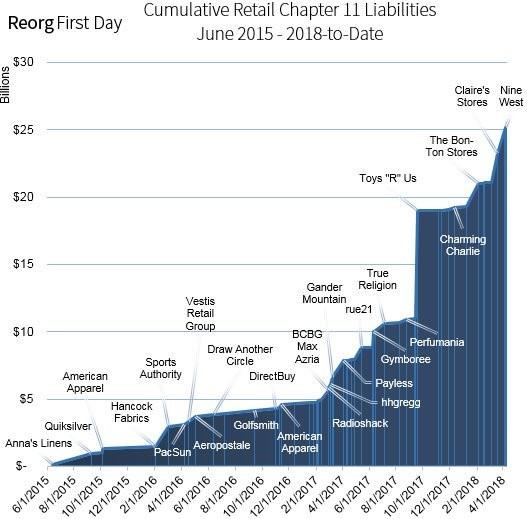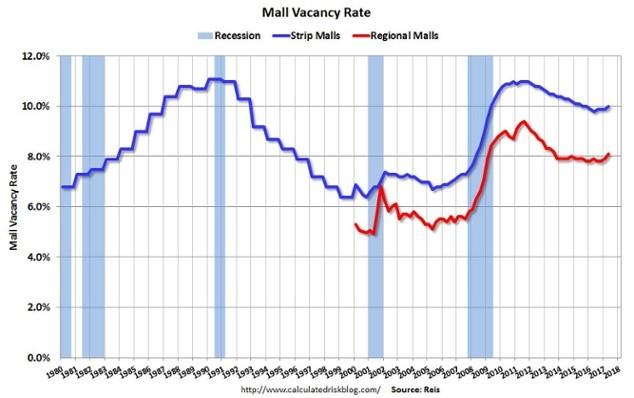 And then the great recession hit, immediately after which retail vacancies peaked at 9.4% by the middle of 2011. Left in the wake were mall staples like RadioShack, Curc The Limited, Payless, Sam Goody, Abercrombie & Fitch, Borders, and the now massive empty retail spaces of Toys R Us, Babies R Us, the Gap, Banana Republic, and many more stores closing by the dozens and hundreds.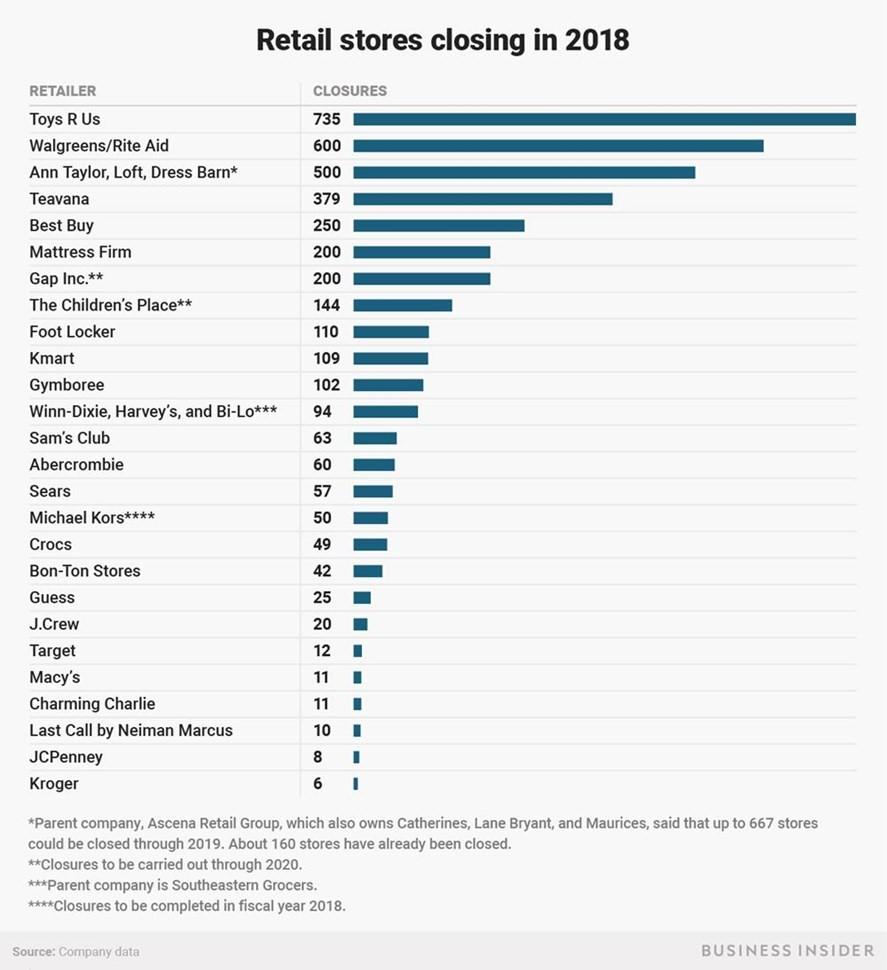 According to Reis. the liquidation of Toy R Us put the most sizable dent in vacancy rates among retailer closings in the last nine years. If malls and strip centers don't sparkle like they did in the 90's, one major element behind the toy giant's decline is indicative of a broader symptom: as we explained spending the majority of your FCF on debt service while ignoring capital improvements and store remodels in the age of Amazon is a doomed long-term business strategy for a bricks-and-mortar retailer.
Building like there's no tomorrow is also: retailers were once rewarded for opening as many stores as possible as if square footage was synonymous with success of a business, and then came one-click shopping and an increasing accompanying consumer aversion to visiting stale and aging storefronts.  
As to strip malls, perhaps always considered the least glamorous segment in retail, new figures show they are taking the biggest hit, with their second quarter vacancy rate reaching 10.2% resulting in 3.8 million square feet of empty space. Vacancies increased in 55 of the 77 metropolitan areas studied by Reis, numbers not expected to improve in the near future, as a recent report from Credit Suisse has predicted that 25 percent of U.S. malls will close by 2022 — some 275 shopping centers in the next five years.
So what if anything is filling these spaces? Real estate investment trusts like Simon Property Group and Unibail-Rodamco-Westfield and are taking advantage of the fire sale property deals to work with pop-up shops and service-oriented tenants like gyms, salons, urgent care clinics, even grocery chains and entertainment venues such as the restaurant-arcade hybrid Dave & Buster's. As for who may aoon be the new anchor tenants in the world's most obese nation? Who else: restaurants.