U.S. Secretary of State Michael Pompeo hit back at a harshly worded North Korean statement which called the United States "gangster-like" and "cancerous" while insisting that Pyongyang would not accept U.S. demands to fully denuclearize before the isolated regime receives sanctions relief.
"The US is fatally mistaken if it went to the extent of regarding that the [Democratic People's Republic of Korea] would be compelled to accept, out of its patience, the demands reflecting its gangster-like mindset," Pyongyang warned.
Pompeo brushed off North Korea's statement, according to Bloomberg - insisting that Kim Jong Un hasn't backed off a commitment to give up his nuclear weapons.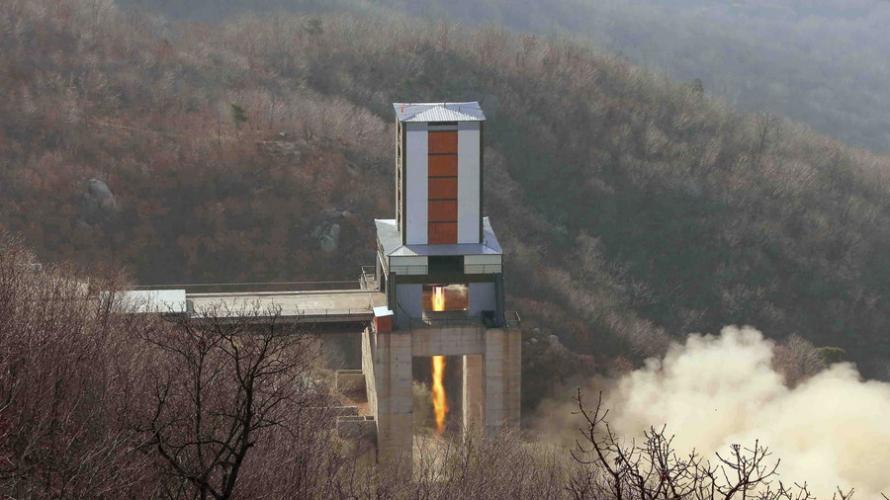 "I was there for the event, I know actually what precisely took place," Pompeo told reporters in Tokyo Sunday, after traveling there to meet with Japanese Foreign Minister Taro Kono and South Korean Foreign Minister Kang Kyung-wha after two days of talks with a top aide to Kim in Pyongyang. "When we spoke to them about the scope of denuclearization, they did not push back," said Pompeo, adding "North Korea reaffirmed its commitment to complete denuclearization."
Important talks today with PM Abe, FM Kong & FM Kang. The US #ROK & #Japan stand together to achieve the final, fully verified denuclearization of #DPRK as agreed to by Chairman Kim. @usembassytokyo @StateDept pic.twitter.com/L9FpR6muzD

— Secretary Pompeo (@SecPompeo) July 8, 2018
North Korea also reinforced earlier promises "to destroy its missile engine test site," sad Pompeo, while the officials in Tokyo discussed the what full denuclearization entails - adding "There will be a verification connected to the complete denuclearization."
Hours before North Korea issued their statement, Pompeo said that progress had been made "on almost all of the central issues" between Washington and Pyongyang. 
After Tokyo, Pompeo then flew to Vietnam - which he used as an example of what's possible in terms of normalizing post-conflict relations following a mending of relations which began in the mid-80s following the Vietnam war. 
Retweeted Secretary Pompeo (@SecPompeo):

Thank you, FM Kang, for making the trip to #Tokyo . Together with #ROK & #Japan we'll maintain regional stability while continuing economic pressure on #DPRK #friendsalliespartners pic.twitter.com/Y58c5gGGcK

— Chantell Dawn Snyder (@ChantellDawnSny) July 8, 2018
"It's yours if you'll you seize the moment. This miracle can be yours. It can be your miracle in North Korea as well," he said, adding that being "alongside the United States" will benefit the regime economically. "We follow through on American promises," Pompeo told business executives in Hanoi, according to the Washington Post. 
As we reported on Saturday, relations with Kim Jong Un may be on the verge of collapse after the latest round of discussions with Mike Pompeo - warning that it its "firm, steadfast" resolve to give up its nuclear programs may falter. 
North Korea's state-run KCNA news agency said the result of talks with the delegation headed by the US Secretary of State was "regrettable", as a result of the US insisting on complete, verifiable and irreversible denuclearisation, which however should hardly come as a surprise at this stage in negotiations, after Kim explicitly agreed to just that four weeks ago.
In the statement released hours after Pompeo departed Tokyo after meeting with Kim Yong Chol, a senior aide to North Korean leader Kim Jong Un, a North Korean Foreign Ministry spokesman accused the US is trying to unilaterally pressure Pyongyang into abandoning its nuclear weapons by insisting on unilateral complete, verifiable and irreversible denuclearisation (CVID), and said trust between countries is in a "dangerous stage", while adding that North Korea still trusts President Donald Trump.
A few weeks ago, Trump declared there was no more threat from NK. Today, North Korea described interactions with Sec of State Pompeo as "regrettable" and said there is a push to force unilateral denuclearization. Trump's response to the latter? Attack news outlets at home. https://t.co/gPuU8he5vD

— Maggie Haberman (@maggieNYT) July 7, 2018
North Korea accuses the Trump administration of making the "cancerous demands from previous administrations that blocked all dialogue processes." https://t.co/LyWdxMcZ9A pic.twitter.com/e32ML5zmbY

— Daniel Dale (@ddale8) July 7, 2018
"We had anticipated the U.S. side would come with a constructive idea, thinking we would take something in return," said a North Korean spokesperson. 
"But through the high-level talks, the trust between the DPRK and the United States is facing a dangerous situation where our resolve for denuclearisation, which has been firm and steadfast, may falter."
He added that the "fastest way" to achieve a nuclear-free Korean peninsula was through a phased approach under which both sides took steps at the same time, a position which is largely a non-starter for the Trump administration.
As a result of the unexpected divergence in views, Pompeo, who did not meet with Kim on this trip, could point to no concrete achievement from the talks aside from an agreement for the two sides to meet around July 12 in Panmunjom, the border village between the two Koreas, to discuss returning the remains of U.S. soldiers from the 1950-1953 Korean War, Bloomberg added.
Pompeo's visit was the highest level meeting between U.S. and North Korean officials since Trump and Kim Jong Un held their historic summit in Singapore on June 12. Pompeo has been under pressure to deliver a more concrete disarmament plan after the two leaders signed a vague 1-1/2 page document that didn't provide a timetable for dismantling North Korea's nuclear arsenal.
For now, any firm denuclearization plan will have to wait even as the risk that all progress achieved so far in bilateral negotiations collapses.
Why? Because recall that China was the real puppetmaster behind the Trump-Kim summit... and suddenly Beijing is not very happy with Trump (for obvious reasons), which means that China's response to Trump's trade war may emerge in the realm of diplomacy as Xi does everything he can to undo any/all progress achieved in talks between Trump and Kim, potentially sending relations between the US and North Korea back to square one.