---
Bizarre, Creepy Video Of Peter Strzok Smirking Goes Viral
While Peter Strzok's marathon Congressional testimony was full of bickering, chaos and drama - mostly between members of the House Judiciary and Oversight committees - a clip of the disgraced FBI agent's seemingly giddy reaction after answering a question is creeping people out. 
Completely real. I personally recorded it from my tv. I was so shocked when I saw it and played it back. I only cut the first part of the arguing. This is the full recording I captured. I couldn't believe it. pic.twitter.com/fL3Ji16qP1

— Holly Bowie (@Hollybowie) July 13, 2018
Some have suggested that Strzok's reaction was "Duper's delight" - a hidden smirk that slips out at an inappropriate moment when a liar celebrates a successful manipulation. 
When you see Peter Strzok exhibit clear "duper's delight" you just know...#NotAllSociopathsAreSerialKillers#PeterStrzok

— TheModernMarilyn💋 (@GlamGabber) July 12, 2018
People are thoroughly creeped out:  
This guy has to be the creepiest person in America. OMG pic.twitter.com/gLWvwCiXIJ

— Donald Trump Jr. (@DonaldJTrumpJr) July 13, 2018
eter Strzok does a good Wiggle Wiggle Wiggle though. pic.twitter.com/G8ccaMwl2a

— thatbotmike (@thatbotmike) July 13, 2018
#StrozkHearing #Psychopath
pic.twitter.com/ewXy90LNQ2

— Ed ☯️ Humilitatem (@DowdEdward) July 13, 2018
Like a horror movie where the heroine sees her friend's face morph into demon. "Devil's Advicate." Great movie. Al Pacino as devil reminds me of Strzok in that clip. https://t.co/JwT06thCTm

— Brooks A. Mick (@SailFree) July 13, 2018
Strzok contorted his face into a wide variety of unsettling expressions: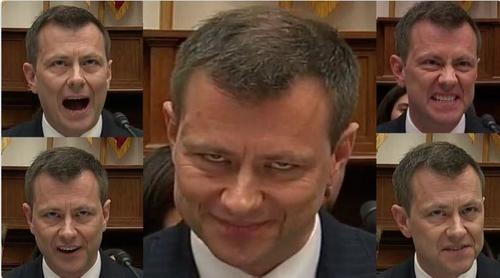 This face says it all: "F- Congress, F- America, F- the President, and F-you!" #Strzok #DemocratsAreDangerous pic.twitter.com/WsFPD6nLV6

— James Woods (@RealJamesWoods) July 12, 2018
"The Devil's Advocate" Creepy AF! 😳🤐👿 #Strzok #StrzokHearing #StrzokFace #MAGA #WalkAway @CassandraRules @RealJamesWoods @dbongino @RyanAFournier @TheJordanRachel pic.twitter.com/czmHvhRi4m

— #DemExitToTrump (@tikitakistuff) July 13, 2018
But no, this guy's seething hatred of Donald Trump didn't seep into his investiagtion...