---
Ecuador Reportedly Preparing To Hand Assange To UK In "Coming Weeks Or Days"
Ecuador is preparing to hand over WikiLeaks founder Julian Assange to the UK in "coming weeks or even days," RT editor-in-chief Margarita Simonyan reported, as political support and sympathy for Assange's predicament have more or less evaporated since the arrival of an administration that largely views Assange as an inherited problem, and would like more than anything to finally be rid of him. "My sources tell [Julian] Assange will be handed over to Britain in the coming weeks or even days," Simonyan wrote in a recent tweet which was reposted by WikiLeaks. "Like never before, I wish my sources were wrong," she continued.
Editor-in-chief of RT: "My sources tell me that @JulianAssange will be handed over to the #UK in the next weeks or days. Like never before I wish that my sources are wrong'' https://t.co/rvN3ne3ifd

— WikiLeaks (@wikileaks) July 20, 2018
Earlier this week, reports surfaced in the UK media that high level talks were happening between UK and Ecuadorian officials to try and remove Assange from the embassy.
Foreign Office Minister Sir Alan Duncan is said to be spearheading the diplomatic effort. Sources close to Assange said he himself was not aware of the talks but believed that America was putting "significant pressure" on Ecuador, including threatening to block an IMF loan, if he continues to stay at the embassy. The Times report comes just weeks before a visit to the UK by the newly-elected Ecuadorian president, Lenin Moreno, who has labeled Assange a "hacker", "an inherited problem" and a "stone in the shoe."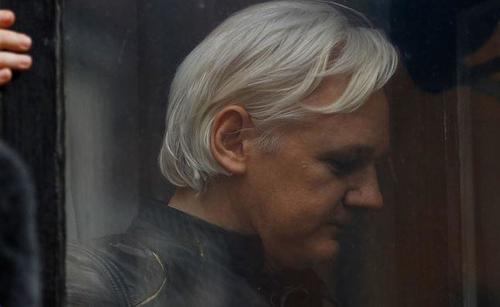 Hostilities to Assange's presence in the embassy have been climbing for weeks. In late March of this year, the Ecuadorian government suspended Assange's communication privileges with the outside world and cutting off his Internet access. That crackdown followed Assange's decision to speak out about the Spanish government's treatment of the Catalan independence movement.
Assange has been holed up in the embassy since 2012. Though Sweden long ago dropped its request that Assange be extradicted, he is still struggling with legal issues in the UK: Earlier this year, a UK court declined to reverse his arrest warrant for violating his bail terms when he initially took refuge at the embassy. Wikileaks has released thousands of diplomatic cables belonging to the US, and US officials, including Attorney General Jeff Sessions, have said Assange's arrest is a "priority."
As things stand, appears Assange will almost certainly be arrested once turned out of the embassy. But as that fate looks increasingly certain, it's important to remember that a UN panel determined that Assange's stay in the embassy amounted to "arbitrary detention" but it wasn't enough to change his fate.
Furthermore, as we pointed out earlier this week, US imported a record amount of crude from Ecuador last week (a massive unprecedented surge all of a sudden), which begs the question...was there a payoff?