Following a July 12 report from the Financial Times that senior Pakistani finance officials were drawing up options for Pakistan's new prime minister Imran Khan to seek an IMF bailout of up to $12 billion,  U.S. Secretary of State Mike Pompeo warned against providing an International Monetary Fund bailout for Pakistan's new government that includes funding to pay off Chinese lenders.
In an interview on CNBC on July 30, Pompeo said the United States looked forward to engagement with the government of Pakistan's expected new prime minister, Imran Khan, but said there is "no rationale" for a bailout that pays off Chinese loans to Pakistan.
"Make no mistake. We will be watching what the IMF does," Pompeo said. "There's no rationale for IMF tax dollars, and associated with that American dollars that are part of the IMF funding, for those to go to bail out Chinese bondholders or China itself."
As we reported last month, Pakistan's urgent need for the emergency cash comes as a result of a currency crisis that saw a devaluation of the Pakistan Rupee, as Pakistan burned through a third of its reserves in the past year...
... forcing the central bank to institute soft capital controls and increasing the amount of red tape needed to access dollars. It has also presented the new government with its biggest challenge to date. Many analysts have recently said they expect that another IMF bailout, the second in five years, will be needed to plug an external financing gap.
Also notably, much of this carnage accelerated since the start of January which coincided with Pakistan's decision to ditch the dollar (following Trump's remarks) and get closer to China.
"SBP has already put in place the required regulatory framework which facilitates use of CNY in trade and investment transactions," the State Bank of Pakistan (SBP) said in a press release late Tuesday, ensuring that imports, exports and financing transactions can be denominated in the Chinese currency.

"The SBP, in the capacity of the policy maker of financial and currency markets, has taken comprehensive policy related measures to ensure that imports, exports and financing transactions can be denominated in yuan," Dawn news, Pakistan's most widely read English-language daily, announced while quoting the SBP press release.
Furthermore, as we reported in December, Pakistan has been contemplating the move since last month's formal launch of the Long Term Plan for the China-Pakistan Economic Corridor (CPEC), signed by the two sides on November 21. The CPEC is a flagship project of China's Belt and Road initiative - the 3,000 km, over $50 billion corridor which stretches from Kashgar in western China to Gwadar port in Pakistan on the Arabian sea.
We concluded our article by asking, even before the IMF news hit, "Will China step up?"
Well, today's China did just that, because as Bloomberg reports today, Boeing has agreed to a reported $2 billion loan just days after the election of a new Pakistani premier, and just days after Pompeo stressed that an IMF funded bailout of Pakistan is not acceptable to the US.
As Bloomberg notes, while cricketing legend - and new Prime Minister - Imran Khan attempts to form a coalition government, China has stepped up to reinforce a geopolitical alliance that shapes the South Asian nation's policies toward the U.S. and India. The announcement caused Pakistan's rupee to jump the most in nearly a decade as Khan takes power with an economy in chaos.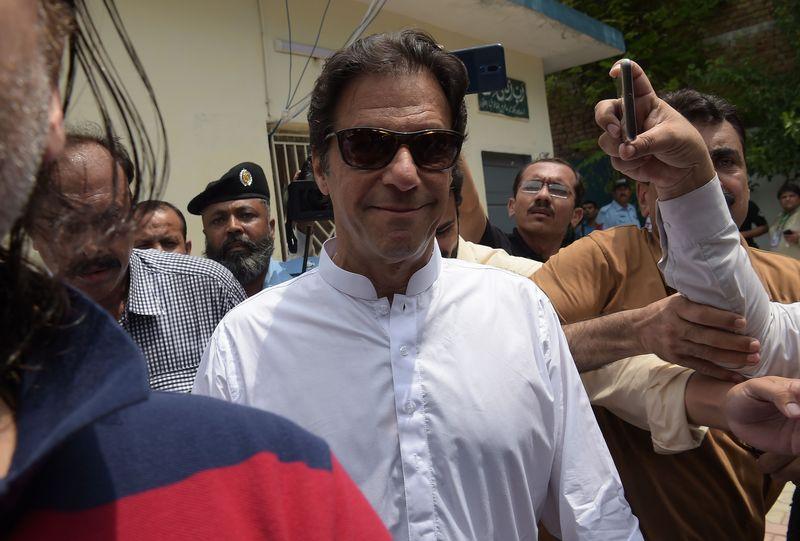 The friendly gesture speaks volumes to Pakistan's ongoing pivot away from the US - whose President Trump has cut military aid to Islamabad - and overwhelming reliance on China as a source of financial, diplomatic and military support.
To be sure, Khan may not have a choice because as Bloomberg also notes, Pakistan's powerful military has continued to push its civilian counterparts for close ties with China in order to ensure the flow of more than $60 billion in loans for the China-Pakistan Economic Corridor infrastructure projects.
"There is a deep, far-reaching political consensus in Pakistan for a continued strong partnership with Beijing," said Michael Kugelman, a senior associate for South Asia at the Woodrow Wilson Center in Washington. "This is especially true now, with Pakistan's relationship with America facing an uncertain future."
Khan, who recently was elected prime minister, was quickly to state where his allegiances lie:
"Our neighbor is China, we will further strengthen our relations with it," Khan said as he declared victory in a televised statement. "The CPEC project which China started in Pakistan will give us chance to bring in investment to Pakistan."
China was likewise laudatory: on July 30, Geng Shuang, a spokesman for China's foreign ministry said China welcomed the new government. Khan "will likely try to balance the U.S. and China, but China and Pakistan are mutually dependent," said Wang Yiwei, director of Renmin University's Institute of International Affairs in Beijing. "He won't be able to change that."
Aside from the usual geopolitical considerations - where China is seeking to significantly expand its Asian sphere of influence and Pakistan is a critical spoke in the plan due to its location - there is another reason why the two nations are close: Pakistan has become one of China's top weapons clients.
Ultimately, Pakistan has no choice: it has to pick in ally in the superpower race between the US and China, and the country has picked the latter. Michael Kugelman, a senior associate for South Asia at the Woodrow Wilson Center in Washington, said that "Pakistan needs powerful friends, and China is one of the few that Islamabad can depend on -- Khan knows this, and he'll do what's necessary to ensure that the China-Pakistan relationship remains strong."
It also means that Mike Pompeo has nothing to worry about when it comes to an IMF-funded bailout.
Over the weekend, Karachi's Express Tribune newspaper was the first to report that Beijing authorized a $2 billion loan to help Islamabad. At the same time, the Islamic Development Bank, a multilateral lender based in Saudi Arabia, also activated a three-year $4.5 billion oil-financing facility.
This is not the first time China has opened its wallet toward Pakistan: according to Bloomberg calculations, the amount of Chinese loans given to Pakistan over the last 13 months alone comes close to the IMF's last loan of $6.2 billion. It is these debts to China that triggered Pompeo to state he would work against Khan's new government getting IMF funds to pay off Chinese loans.
The new Chinese loan will help Pakistan shore up falling foreign exchange reserves, said Najam Rafique, director of the Islamabad-based Institute of Strategic Studies. He added that Khan leans toward boosting ties with China.

"China isn't a distant power, it's a neighbor," Rafique said. Khan "will be trying to improve and build upon what's already in process."
This is probably is good news for Mr. Pompeo: it means the IMF's funds are safe and sound, and instead as the US continues to lose power and influence across the globe, and especially in Asia, it is China that is now becoming the world's lender of last resort.