Following revalations from Politico that Senator Dianne Feinstein (D-CA) employed a Chinese spy for 20 years - identified as her driver by the San Francisco Chronicle in a subsequent article and filed under "no big deal" by the MSM, the Daily Caller's Peter Hassan has a new theory; descriptions fit longtime aide and former Feinstein office director, Russell Lowe. 
All the details of a former, longtime Sen. Dianne Feinstein staffer who's accused of relaying information to Chinese intelligence services while working for the California Democrat point to Russell Lowe, a Daily Caller News Foundation investigation has determined.

Lowe worked for 20 years in Feinstein's San Francisco office, where he was a staff liaison to the Asian-American community before leaving approximately five years ago. All those details match up with the descriptions of the Chinese spy Feinstein reportedly employed. -Daily Caller
"Chinese intelligence once recruited a staff member at a California office of U.S. Senator Dianne Feinstein, and the source reported back to China about local politics," reported Politico on July 27, which described the staffer as "a liaison to the local Chinese community" who was secretly "reporting back" to Chinese intelligence agencies.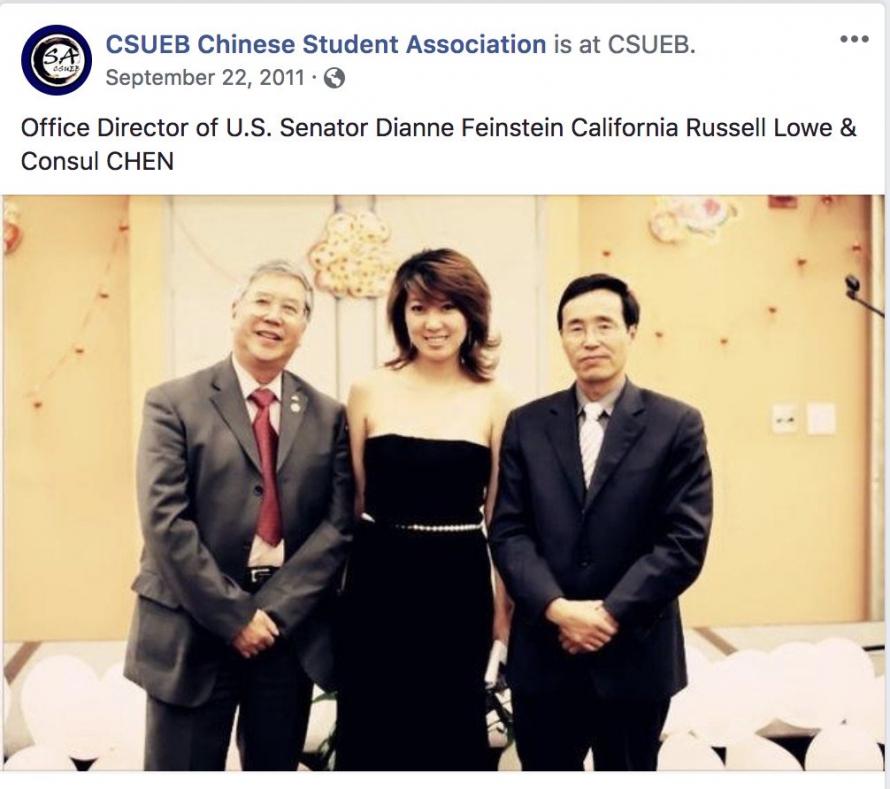 The Chronicle's reporting added that the former staffer worked for Feinstein for 20 years, and "attended Chinese consulate functions for the senator," before being fired five years ago. And as Hassan notes, "All of those details point to Lowe, who was listed on Feinstein's payroll as an "office director" in 2013, according to records maintained by the Sunlight Foundation."
Lowe joined then-San Francisco Mayor Ed Lee and other California politicians at a farewell reception hosted by the Chinese consul in March 2013.

Lowe and six other attendees "awarded proclamations in recognition of Consul General Gao's contributions to the friendly cooperation between China and Bay area cities," according to the consulate's event recap.

By 2014, Lowe was gone from Feinstein's staff. When he spoke at an April 2014 conference on Chinese investment in the United States, he was introduced as a "former assistant to Senator Feinstein." -Daily Caller
Awarding procamations and attending Chinese consulate functions in place of the Senator doesn't exactly sound like a driver's job. In fact, Twitter researcher @almostjingo has compiled quite a bit of information on Lowe, including;
#RusselLowe has known @SenFeinstein for way more than 20 years, here he is helping register voters in the 1970's as Feinstein's assistant. https://t.co/TSB8esRprN

— Rosie Perpetually Potentially Sensitive (@almostjingo) August 6, 2018
IMPORTANT Lowe is the name listed on distribution list of government material for Feinstein, this is a report from Department of Defense housing in 1997. pic.twitter.com/20X6fedmp5

— Rosie Perpetually Potentially Sensitive (@almostjingo) August 6, 2018
Some new names, always look at the spouse. So #RussellLowe is a trained engineer, photojournalist, community organizer and aide to Feinstein 2007. pic.twitter.com/9NSYHBoFoT

— Rosie Perpetually Potentially Sensitive (@almostjingo) August 7, 2018
A bio of Lowe from a Feb. 2017 event he participated in reads as follows: 
Since President Nixon went to China in 1972, Russ has followed the development of China, its people and leaders.

He recently retired after 26 years as a senior staff of the United States Senate. 5 years with Senator Alan Cranston and 21 years with Senator Dianne Feinstein of California. He was the Office Director of the Senator Feinstein's San Francisco office and State liaison for Asian and Asian American affairs. Russ has provided many seminars for visiting Chinese officials.

Russ first went to China in 1975, then in 1979 and several more times in the 80's and early 90's on US-China trade related activities. Since 1997, he has visited China every year for a month at a time.
In 2017, South Korean news publication Hankoryeh described Lowe as "a Chinese-American who spent 20 years as the aide to Dianne Feinstein," after Lowe visited the publication's officer in Seoul along with former Democratic California Rep. Mike Honda - who lost a 2016 election to progressive challenger Ro Khanna.
While Feinstein refuses to name the spy, she claims he had "no access to sensitive information," and fired him as soon as the FBI notified them of their concerns. 
(1/2) The FBI told me 5 years ago it had concerns that China was seeking to recruit an administrative member of my Calif staff (despite no access to sensitive information). I took those concerns seriously, learned the facts and made sure the employee left my office immediately. pic.twitter.com/qpVyPanpJk

— Sen Dianne Feinstein (@SenFeinstein) August 4, 2018
 That said, as Breitbart noted on Saturday: 
"Think about Diane Feinstein and what she had access to," security analyst and former FBI agent Jeff Harp told KPIX. "One, she had access to the Chinese community here in San Francisco; great amount of political influence. Two, correct me if I'm wrong, Dianne Feinstein still has very close ties to the intelligence committees there in Washington, D.C.

Other Feinstein staffers also had links to foreign intelligence. A former Feinstein staffer who worked on the Democratic Senate Intelligence Committee hired former British spy Christopher Steele and Fusion GPS after Donald Trump was elected president to "expose Russian interference."
That former staffer is former FBI investigator Daniel J. Jones - who was revealed in an April House Intelligence Committee report footnote to have spearheaded an ongoing, private investigation into Trump-Russia claims is being funded with $50 million supplied by George Soros and a group of 7-10 wealthy donors from California and New York.
This effort was originally revealed in February and reported on by The Federalist, after a series of leaked text messages between Senator Mark Warner (D-VA) and lobbyist Adam Waldman suggested that Daniel J. Jones - an ex-FBI investigator and former Feinstein staffer, was "intimately involved with ongoing efforts to retroactively validate a series of salacious and unverified memos published by Christopher Steele, a former British intelligence agent, and Fusion GPS."
In short, Jones is working with Fusion GPS and Christopher Steele to continue their investigation into Donald Trump, using a $50 million war chest just revealed by the House Intel Committee report. Also recall that Feinstein leaked the Congressional testimony from Fusion GPS co-founder Glenn Simpson.
Who knows what else Feinstein, the second-wealthiest serving senator, has got her fingers in?