---
Guided Bomb Fragments At Site Of Yemen Bus Airstrike Trace Back To Lockheed Martin
A prominent Yemeni journalist who throughout the war has been instrumental in getting images and information out of the country ahead of Western journalists has photographed and examined fragments from one of the exploded missiles found at the site of the US-Saudi coalition airstrike on a school bus in Yemen, which left as many as 50 people dead and 63 injured — the vast majority of which were children. 
The image of the missile fragment, believed to be among those that scored a direct hit on the bus full of children traveling through Dahyan market in Saada province last Thursday, was uploaded by Sanaa-based Hussain Albukhaiti and quickly spread online over the weekend. It appears to be a US-made MK-82 guided bomb produced by Lockheed Martin.
Ben Norton, an American journalist among the first to track down publicly available government contract information showing the MK-82's likely origins, said of the bomb fragment imagery: "Yemeni journalists found this fragment of the bomb Saudi Arabia dropped on a school bus full of children in Yemen. It's a US-made MK-82 guided bomb, which has been used in previous attacks on Yemeni civilians. The cage code on the bomb is Lockheed Martin's."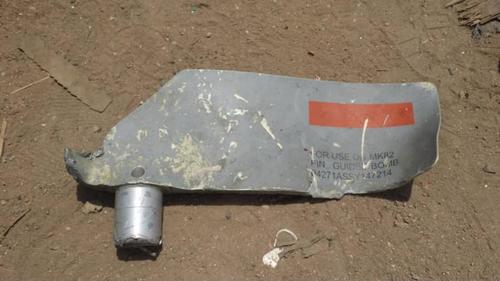 The MK-82 is a 500-pound air dropped guided bomb which US Air Force and military publications previously touted as "causing the least amount of collateral damage" — US defense contractors have over the past few years sold the MK-82 to Saudi Arabia under contracts worth tens of millions of dollars. 
The CAGE Code, or Commercial and Government Entity Code, is a number assigned to suppliers of various government or defense agencies which provides a standardize method to track military items to a given facility at a specific location. According to one defense contracting consultation site, The Department of Defense's Defense Logistics Agency, (DLA) assigns the five-character ID and uses alpha numeric identifier is assigned to entities located in the United States and its' territories.
Ben Norton says the Cage Code on the fragment reportedly found at the site traces to US government contractor Lockheed Martin.
The code on the panel fragment in the photograph reads: 94271.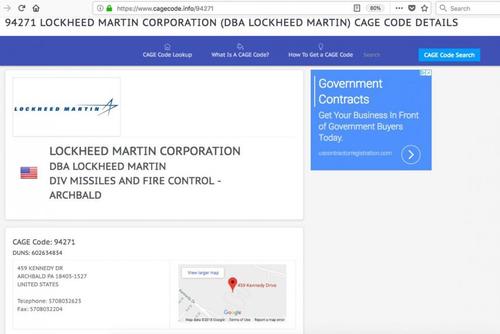 Ben Norton further tracked down specific contracts through 2016 and 2017 showing that Lockheed Martin/General Dynamics is the key supplier of the MK-82 500-pound bombs to the Saudi military (in 1997 General Dynamics acquired Lockheed's Armament Systems and Defense Systems productions divisions).
The separate contracts are collectively worth over $60 million and were approved by US Army Contracting Command. 
The US government has repeatedly sold MK 82 bombs to Saudi Arabia, which it is using to kill Yemeni civilians.

Here are separate 2016 and 2017 DoD announcements on General Dynamics contracts for Saudi Arabia and other countries:https://t.co/ksCg2msyOPhttps://t.co/27SFQgezEG pic.twitter.com/TpDlQs0JKe

— Ben Norton (@BenjaminNorton) August 11, 2018
In 2016 the Saudi coalition, of which both the US and Britain play a lead role, used the US-made MK 82 guided bombs to attack a funeral in Sanaa, Yemen's capital city, which killed over 140 and wounded at least 500 more. 
At that time The Intercept identified external bomb fragment markings found in the debris to track it to the United States. 
📸s by @karemo_5
The school bus children n #Saada hospital many of them in intensive care due 2 #Saudi #UAE direct strike hit on the bus n Dhahiaan market using #US #USA made laser guided bomb type MK82 (1st pic📸👇)
51dead inc 40children
Can @nikkihaley @statedeptspox see this! pic.twitter.com/cI2xO5yQvR

— Hussain Albukhaiti (@HussainBukhaiti) August 11, 2018
During the State Department's daily press briefing at the end of last week, spokesperson Heather Nauert was asked point blank by Associated Press reporter Matt Lee, whether the US condemns the attack.
It resulted in a drawn out testy exchange, but Matt Lee laid out the case for direct US complicity in the attack on the bus packed with children: "The Saudis obviously are the ones who conducted this, but they do that with weapons supplied by the U.S., with training supplied by the U.S., and with targeting information, targeting data, supplied by the U.S. How can something like this happen?" he said.
Not only did Nauert refuse to say the US condemned the attack, but wouldn't so much as agree to simply call for an independent investigation into the incident (she called only for a Saudi-led inquiry) which killed at least 29 children and has resulted in the United Nations launching an independent probe. 
Evidence that a US-made bomb killed 30 kids on the Yemeni bus. Who will present this to US, Saudis and the UN?https://t.co/WNn3NnpN97 pic.twitter.com/Sg5U0zAXmI

— Stephen Snyder (@StephenProducer) August 12, 2018
Previously last week, just before the horrendous attack on the school bus, Nauert had unambiguously stated the Saudi coalition's ongoing airstrikes on Yemen are legitimate and justified.
The Saudis for their part called the incident part of a "legitimate military operation" soon after it happened, ultimately blaming Shia Houthi rebels who control the region.
In April of 2016, Bruce Riedel, a 30-year CIA officer and senior fellow at the Brookings Institute, told a conference audience, "If the United States and the United Kingdom, tonight, told King Salman [of Saudi Arabia] 'this war has to end,' it would end tomorrow. The Royal Saudi Air Force cannot operate without American and British support."
Bruce Riedel of the Brookings Institute: "if the United States of America and the United Kingdom tonight told King Salman that this war [on Yemen] has to end, it would end tomorrow because the Royal Saudi Air force cannot operate without American & British Support". pic.twitter.com/XQTcLlNKJn

— Louis Allday (@Louis_Allday) August 12, 2018
Last week's coalition airstrike on the bus elicited rare bipartisan outrage among a handful of congress members, including from Senator Chris Murphy (D-Conn), who said in a statement, "The Saudi/UAE/U.S. bombing campaign is getting more reckless, killing more civilians, and strengthening terrorists inside Yemen. We need to end this - NOW."
The Pentagon has long tried to present its role in the conflict as attempting to stave off humanitarian catastrophe in Yemen, yet as even NPR confirmed while reporting from inside the country earlier this year the US military "has provided targeting information, equipment and aircraft refueling to the Saudi air campaign, which has been widely criticized for being indiscriminate and killing civilians in places like hospitals, funerals and homes."