One week ago, when discussing the "source of China's next debt crisis", namely the recent explosion in Chinese household debt which over the past year has soared by over 40% even as credit growth across other debt categories remained relatively stable...
... and which was on the verge of surpassing the nation's corporations as the biggest source of credit demand, we highlighted the one financial sector that has recently emerged as most at risk in China's economy: online peer-to-peer lenders who collect money from retail investors and dispense small loans to consumers, usually without collateral, putting the loans at risk of a default with zero recovery.
We pointed out that outstanding loans on P2P platforms rose 50% just last year to total Rmb1.49 trillion ($215 billion) - making the size of China's P2P industry far bigger than in the rest of the world combined - and due to their lack of collateral, interest rates often are as high as 37%, with additional charges for late payment.
P2P, in which platforms gather funds from retail investors and loan the money to small corporate and individual borrowers, promising high returns, started to flourish nearly unregulated in China in 2011. At its peak in 2015, there were about 3,500 such businesses.
But after Beijing launched a campaign several years ago to defuse debt bubbles and reduce risks in the economy (a campaign which recently reversed once the Trump trade war started getting hot), including the country's enormous non-bank lending sector, cracks began to appear as investors pulled their funds.
As a result, the peer-to-peer lending channel not only got clogged up, but went in reverse. In a recent article, the WSJ reported that a string of Chinese internet lenders have already shut their doors in recent weeks, stranding investors as the economy slows and regulators tighten controls over an unruly side of the fintech sector.
Across China, more than 200 internet-based fund managers since late June have either shut down, closed parts of their operations or are reeling from cash crunches, missing executives and other problems, according to industry tracker Wangdaizhijia.
The tide began to turn even more forcefully against the sector ahead of a late June deadline for new stringent registration regulations. With a slowing economy making it difficult for some companies to pay back loans, many lenders decided to simply shut down. Meanwhile, investors, already souring on the sector, began pulling out funds, further pinching the lending platforms, and as Reuters reports, since June, 243 online lending platforms have gone bust, according to wdzj.com, a P2P industry data provider. In that period, the industry saw its first monthly net fund outflows since at least 2014.
And, as we noted last week, it was only a matter of time before social unrest spread as Chinese investors who had funded these usually small, unregulated P2P operations, found they had lost all their money demanding a bail out.
That's precisely what happened... except for one thing: Beijing was already one step ahead of the protesters.
Take the case of Peter Wang: as Reuters reports, Wang was asleep at his home in Beijing last Monday when police officers arrived before dawn to detain him, saying he had helped organize a protest planned for later that day. Peter wasn't alone, and across Beijing, others who had lost money investing in China's online peer-to-peer (P2P) lending platforms - including some who had traveled from half way across the country - got similar visits from police.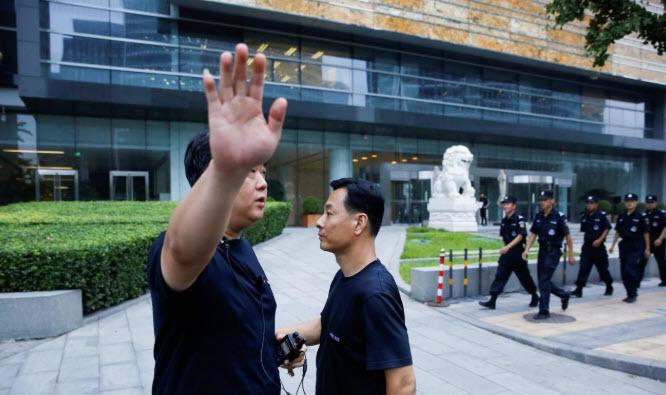 Why the crackdown?
Because by the time they were released, the demonstration they had planned using social media chat groups had fizzled amid a massive security response around the China Banking and Insurance Regulatory Commission (CBIRC) headquarters in the heart of Beijing's financial district. Those protesters who did show up were in for a surprise: instead of demanding that the government bail out the hundreds of collapsed P2P companies, they were forced onto buses and carted away to Jiujingzhuang, a holding center for petitioners on the outskirts of Beijing, according to two Reuters sources.
"Once the police checked your ID cards and saw your petition materials, they knew you are here looking to protect your rights. Then they put you on a bus directly," said Wang, who works at an auto repair shop, and who is a perfect representative of China's prevailing ideology that a government bailout of any investment is a fundamental "right."
Wang did not give up and after his detention he joined a separate, smaller protest in a different part of Beijing. "There was no channel to solve any problems. All they care about was preventing any disturbance."
* * *
The latest burst of anger, which led to the planned protests, flared up ahead of a June 30 deadline for companies to comply with new business practice standards, which are still being finalised, and as noted above, many P2Ps shut down rather than face tougher regulations, Zane Wang, chief executive of online micro-loan provider China Rapid Finance told Reuters.
That caused panic in the broader market. Investors tried to pull funds from P2P companies, causing liquidity problems for many smaller operators, Wang said, although larger ones are faring better. "Some platforms might become a winner out of this, and some platforms, probably a large portion of the platforms, might not be able to make it," he said.
Naturally, to avoid an even bigger panic, no mainland Chinese media - official mainstream papers or more independent-leaning publications - reported the attempts to protest in China's capital. The media blackout took place as China's propaganda machine swung into action as Beijing sought "to reassure people that the Chinese economy and financial markets are healthy" despite a trade war with the United States and steep declines in the value of stock prices and the yuan.
As part of the government's crackdown, many would-be protesters "were forced to give fingerprints and blood samples and prevented from traveling to Beijing. Some were even removed from Beijing-bound trains ahead of the protests, said a Shanghai-based P2P investor who lost 1.3 million yuan." She declined to be named out of fear for her safety.
What is surprising, is just how worried about the prospect of widespread social unrest Beijing was: even after the demonstrations were effectively snuffed out, hundreds of security personnel patrolled around CBIRC's office, "highlighting authorities' sensitivity to any form of social instability" according to Reuters.
It has reason to be worried: on Sunday, Xinhua reported that the government has proposed 10 measures to reduce risk in the P2P sector, including a strict ban on new P2P companies and online finance platforms, and a blacklist under China's social credit rating system for those who don't repay their loans. This means that P2P investors will soon suffer tens of billions in more losses (although it may well end up being good news for those who borrowed money from the insolvent P2Ps as there will be nobody left to collect).
* * *
This is not the first time China was burned on P2P platforms, which traditionally lend to customers that might be deemed too risky for a commercial bank, which has resulted in liquidity crises when too many investors demand their funds at once if loans appear to be going south.
The most famous case of P2P fraud is Ezubao - a $7.6 billion Ponzi scam involving more than 900,000 investors - which we described in early 2016, and which led to a similar forceful government crackdown after the public demanded a full bailout.  While none has come close to the scale of Ezubao's collapse, there are currently more than 100 publicly listed Chinese companies that are involved in P2P, and 32 of those own more than 30% of a P2P company, according to a July research report by CITIC Securities.
Wxacerbating the problems facing the P2P industry, China extended by two years a separate June 30 deadline for an online finance clean-up campaign. But rather than calming matters, it created more uncertainty, market watchers said as CITIC Securities estimated that - under the campaign - only about 100 platforms out of 1,836 would be able to meet even today's regulatory standards and obtain a license. Less than 50 would thrive.
This would amount to hundreds of billions in investor losses, and not even an army could prevent the social outcry that would result.
Meanwhile, the market is starting to price in the worst, and shares of some of the Chinese P2P companies listed in the U.S. have plunged. China Rapid Finance shares have lost 73% in 2018, while Yirendai slumped 71%. PPDai dropped 44%, and Hexindai is down 27%. 
And as if to ensure that the peer-2-peer bank run in China gets worse, Tang Ning, founder and chief executive officer of CreditEase, the majority owner of P2P lending platform Yirendai, told Reuters that he was concerned that the "industry-wide panic" would escalate.
He urged regulators to "act with a sense of urgency" to protect good P2P companies while punishing bad players to avoid harming China's financial system and economy.

"Otherwise, it will be 'winter' for the industry. All companies will be hit, both illicit and compliant. Everyone will lose and that's a situation no one wants to see," said Tang. "Small businesses will lose an important, or the most important source of funding. That's not only hurting the financial system but also the real economy."
As for individual investors such as the abovementioned Peter Wan - who was so sure it is his "right" to be bailed out by the government - the pain is acute. He and his family had invested 7 million yuan - their life savings, with which they had planned to use to buy a home at the end of the year - in two P2P platforms that have shut down.
"They recovered none of their investment."