---
US Household Debt Hits Record $13.3 Trillion
Total household debt hit a new record high, rising by $82 billion to $13.29 trillion in Q2 of 2018, 3.5% higher than a year earlier according to the NY Fed's latest household debt report. It was the 16th consecutive quarter with an increase in household debt, and the total is now $618 billion higher than the previous peak of $12.68 trillion, from the third quarter of 2008.  Overall household debt is now 19.2% above the post-financial-crisis trough reached during the second quarter of 2013.
Mortgage balances—the largest component of household debt—rose by $60 billion during the second quarter, to $9.00 trillion. Credit card debt rose by $14 billion to $829 billion; auto loan debt increased by $9 billion in the quarter to $1.24 trillion and student loan debt hit a record high of $1.41 trillion, an increase of $2 billion in Q2.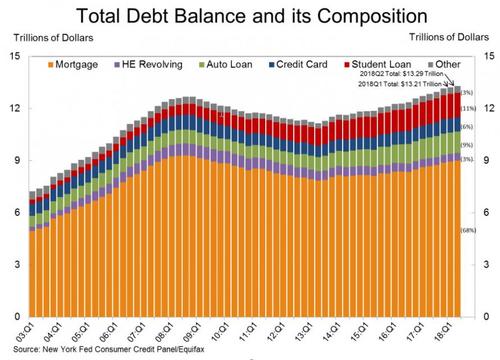 Balances on home equity lines of credit (HELOC) continued their downward trend, declining by $4 billion, to $432 billion. The median credit score of newly originating mortgage borrowers was roughly unchanged, at 760.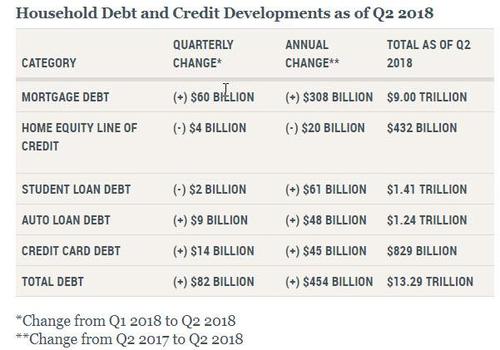 Mortgage originations edged up to $437 billion in the second quarter, from $428 billion in the first quarter. Meanwhile, mortgage delinquencies continued to improve, with 1.1% of mortgage balances 90 or more days delinquent in the second quarter, versus 1.2% in the first quarter.
Most newly originated mortgages continued went to borrowers with the highest credit scores, with 58% of new mortgages borrowed by consumers with a 760 credit score or higher.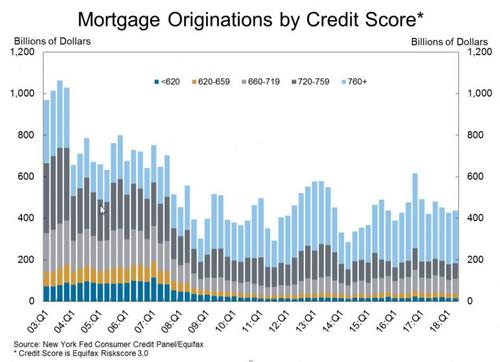 Outstanding student loan debt was mostly unchanged in the second quarter and stood at a record $1.41 trillion as of June 30. Auto loan balances also hit an all time high, as they continued their six-year upward trend, increasing by $9 billion in the quarter, to $1.24 trillion. Meanwhile, credit card balances rose by $14 billion, or 1.7%, after a seasonal decline in the first quarter, to $829 billion.
Despite rising interest rates, credit card delinquency rates eased slightly, with 7.9% of balances 90 or more days delinquent as of June 30, versus 8.0% at March 31. The share of consumers with an account in collections fell 23.4% between the third quarter of 2017 and the second quarter of 2018, from 12.3% to 9.4%, due to changes in reporting requirements of collections agencies.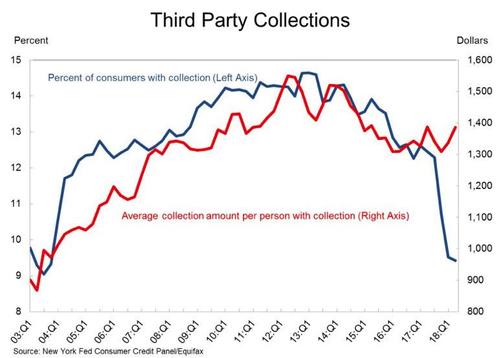 Meanwhile student loan delinquencies remain stubbornly just above 10%, a level they hit 6 years ago and have failed to move in either direction.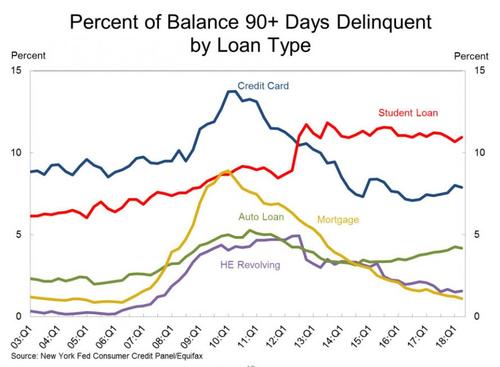 In some good news for the student loan debt seriously delinquent student loans, those 90 days or more behind, declined in the second quarter to 8.6% from 8.9% in the prior quarter.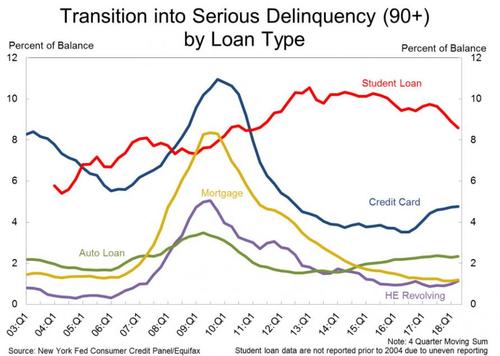 "Aggregate household debt grew for the 16th consecutive quarter in the second quarter of 2018," said Wilbert van der Klaauw, New York Fed senior vice president.
"While overall delinquency rates have remained stable at relatively low levels, transition rates into delinquency have fallen noticeably for student debt over the past year, reflecting an improved labor market and increased participation in various income-driven repayment plans."