A powerful 7.3 earthquake struck Sucre, Venezuela on Tuesday at 5:31 p.m. local time on Tuesday, at a depth of 76 miles according to the USGS. 
Felt #earthquake (#sismo) M7.0 strikes 204 km E of #Barcelona (#Venezuela) 19 min ago. Please report to: https://t.co/uqczZBbtPj pic.twitter.com/Fs6tWuu9cu

— EMSC (@LastQuake) August 21, 2018
M7.3 earthquake today along the northern coast of Venezuela is one of the largest ever recorded earthquakes along the boundary between the Caribbean & South American plates.
There was an M7.7 quake to the west in 1900 but this will have preceded detailed instrumental recordings pic.twitter.com/e9HY0inE9E

— Stephen Hicks (@seismo_steve) August 21, 2018
CARACAS, Venezuela -- USGS: Magnitude 7.0 earthquake shakes Venezuela; buildings evacuated in Caracas.

— Dayton Daily News (@daytondailynews) August 21, 2018
#LIVE | Terremoto M7.3 afecta en #Venezuela, localizado a 22 kms al Suroeste de Iripa, con una profundidad de 123.2 Kms. El 21.08.208 ( vídeo desde Caracas) por Edison Oca. #Massive #temblor #Sismo #Earthquake #zabedrosky pic.twitter.com/jrZugogdh3

— ⚠David de Zabedrosky🌎 (@deZabedrosky) August 21, 2018
The USGS estimates a 43% chance that up to 100 people are dead, and a 19% chance of up to 1,000 fatalities. No word from the town of Carúpano, which sits 23.9 miles from the epicenter and has a population of 112,000.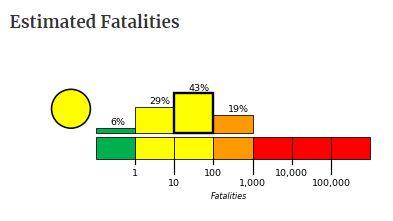 Venezuela interior minister Nestor Reverol, speaking on state television, said the earthquake was felt in states including Bolivar, Monagas, Delta Amacuro and Nueva Esparta. No victims have been reported so far. 
According to  tracking organization EMSC-CSEM, residents hundreds of miles away reported "Unbelievably long and strong quake. Worst I ever felt. Must have lasted about 2 minutes." 
[VIDEO] #Sismo en #CiudadTiuna, #Caracas, se sintió fortísimo. Vecinos en alerta en la planta baja. Todo en calma. pic.twitter.com/WY6jMd5gF7

— Érika Ortega Sanoja (@ErikaOSanoja) August 21, 2018
WATCH: A 7.3 Magnitude Earthquake Strikes Northern Venezuela.pic.twitter.com/j65UfK1ane

— Breaking911 (@Breaking911) August 21, 2018
Venezuela'da 00:31''de yaşanan 7.3 şiddetinde ki deprem kameralara böyle yansıdı#TrinidadandTobago #earthquake #deprem #evacuation pic.twitter.com/s7WxGk4hhp

— Veli Hasan Kavut (@velihasankavut) August 21, 2018
TERREMOTO EN VENEZUELA | Así se sintió el fuerte temblor en Maturin, Edo. Monagas, Venezuela. Muchos salieron corriendo aterrorizados para la calle. pic.twitter.com/4PpgPMIh3J

— Yusnaby Pérez (@Yusnaby) August 21, 2018
#Sismo en Venezuela: Some damage from Trinidad from 7.4 magnitude earthquake which occurred this afternoon. pic.twitter.com/aH6lYo7q4U vía @anumetservice

— Luis Vargas (@Meteovargas) August 21, 2018
A resident of Christchurch, Barbedos - 280 miles away wrote: "Heard drapes moving n then felt bed gently moving. It was very very gentle. But I felt it. Christ church Barbados."
A resident of Georgetown, Guyana 420 miles away reported: "Came suddenly and increased in intensity..was in my room studying and my lamp and shelf started to shake..it was felt by everyone..lasted for 3 minutes"
Saat:00:31'de Venezüella'da yaşanan 7.3 şiddetinde ki deprem marketin güvenlik kamerasına böyle yansımış.#Trinidad #earthquake #deprem #Venezuela pic.twitter.com/VzDZejKJXe#earthquake

— Veli Hasan Kavut (@velihasankavut) August 21, 2018
Breaking: tremors felt in Caracas. Some people, including me, have evacuated buildings. pic.twitter.com/dgNVSPP92F

— Cody Weddle (@coweddle) August 21, 2018
#BREAKING: USGS: Magnitude 7.3 earthquake shakes Venezuela; buildings evacuated in Caracas. pic.twitter.com/Ep1Ll1TI95

— Amichai Stein (@AmichaiStein1) August 21, 2018
The quake was reportedly felt as far away as Columbia's capital 650 miles away, and comes as Venezuela conducted a 95% devuation of its currency over the weekend amid an economic crisis.
amazing photo from @business... people are literally trashing their #bolivar
as #Venezuela carried out a 95% devaluation of its currency over the weekend amid an historic economic crisis. pic.twitter.com/OYa5SGLFGm

— Hilary (@queenofchartz) August 21, 2018