Throughout the course of his campaign, President Trump relied heavily on the notion that he would create more balanced trade for the United States that would result in more domestic manufacturing and more domestic jobs. Unfortunately, the intricacies of the revised trade agreement Trump is working to put in place could do just the opposite, according to a new Bloomberg article.
Even worse, many of the newly proposed automobile industry provisions come at the very same time that global growth for automobiles, usually perpetually catalyzed by American manufacturers, is hitting a major slowdown, as we reported just hours ago.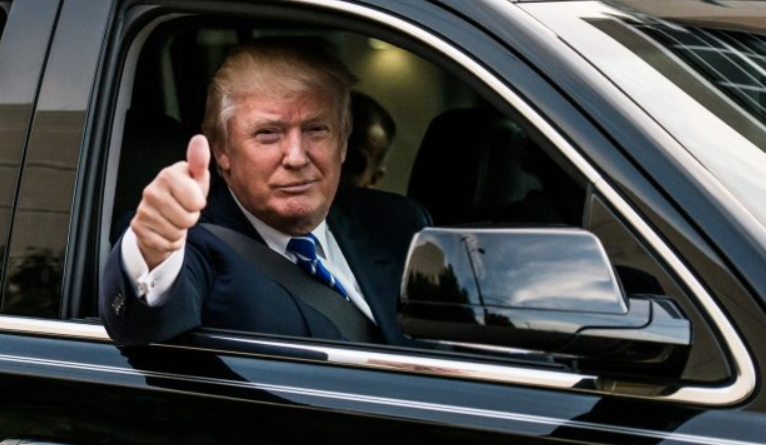 The agreement that President Trump was making progress on earlier this week still needs to be approved by Congress and already has critics from both sides of the aisle. Mickey Kantor, who helped usher in NAFTA in under Bill Clinton as his trade representative told Bloomberg "It will cost us jobs," continuing that Trump was doing it "mainly to fulfill a political philosophy rather than create jobs."

Similarly, from the other end of the political spectrum and with an eye on the financial impact, Goldman Sachs told Bloomberg that they "...do not expect the revised terms to have substantial macroeconomic effects in the U.S. if they do take effect."

However, President Trump continues to insist that he is rebuilding the country with his proposed changes. This theme helped garner him a lot of votes across the Midwest in 2016, after layoffs at some U.S. firms like Carrier Corporation and Ford, that took place while Trump was campaigning.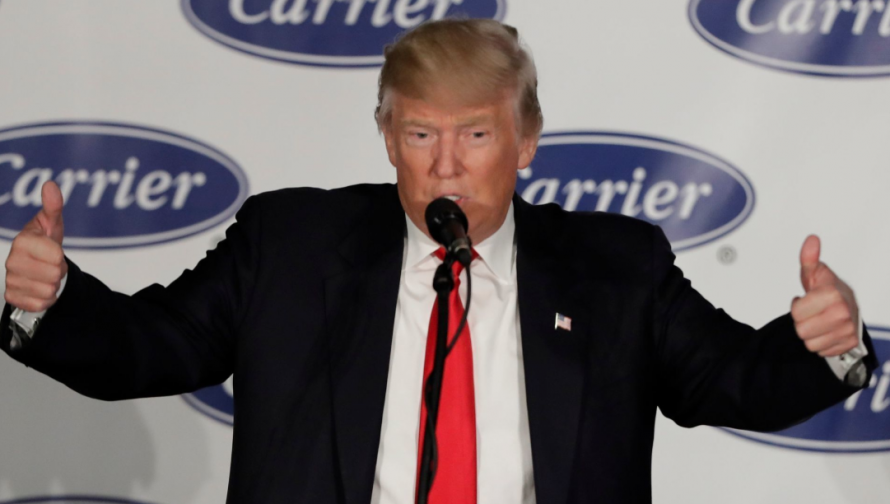 On the other side of the coin, Kevin Hassett, the head of Trump's Council of Economic Advisers, disagrees with Goldman Sachs' analysis:
Kevin Hassett, the head of Trump's Council of Economic Advisers, says that the White House's own modeling shows that when the new Nafta goes into effect it will create "many, many thousands of manufacturing jobs" and reduce a trade deficit with Mexico that in goods was worth about $70 billion last year.

"Any way an economist would model this you end up with a big positive shock to manufacturing jobs in the U.S.," he said in an interview, predicting a flood of capital spending on new plants.
Worth noting is that Trump's plans are very heavily reliant on the automobile industry - where the administration would hope to see a majority of the plan's rubber hit the road. A lot of Trump's proposed changes are to encourage automobile manufacturers to purchase and produce more in the United States. For instance:
The main reason to believe that, administration officials say, is the new package of auto content rules that are designed to encourage companies to locate more plants in the U.S. and source more parts from within North America rather than places like China and Thailand.

The new rules will within three years raise the percentage of a car that has to be produced in North America to enjoy its duty-free benefits to 75 percent from the existing 62.5 percent.

The key innovation included is a requirement that 40 percent to 45 percent of that content be made by workers earning at least $16 per hour.
But the counterpoint to the automobile industry changes is that the plan also moves the goal posts for the parts of a vehicle it applies to, when a new car is produced. For instance, the 75% of the vehicle that needs to be produced in the US now can come from the entire vehicle, instead of just a specific list of parts. Also, companies are going to be allowed to include their research and development spending and certain SG&A-type costs related to their headquarters into the mix.

Expert Kristin Dziczek, from the Center for Automotive Research, pointed out that many cars that are already being manufactured in North America already exceed the new requirements and new wage floor.
"I don't think it shifts things a whole lot right now,"  Dziczek told Bloomberg. 
The situation looks to be similar in Mexico, where Economy Minister Ildefonso Guajardohas stated that 70% of Mexican auto exports to the US already meet requirements.

Trump's critics will try to make the point that this "new NAFTA" will actually have the opposite of its intended effect. They argue not only that it will raise the cost of cars for consumers, but also that it will act as motivation for people to not produce vehicles in the United States.
Business leaders also made sure to note to Bloomberg that Canada needs to be a part of any new deal. The reception from the business community to this deal has also reportedly been tepid, at best. The Trump administration plans on trying to get the backing of automobile labor unions, which they believe can help them secure support from the Democrats in Congress. So far, labor leaders have stated that "more work needs to be done" while remaining on the sidelines.

Robert Scott of the Economic Policy Institute, who works closely with labor unions told Bloomberg "There are a lot of people who have been working very hard on the renegotiation of Nafta, but I don't think that's going to bring jobs home in vast numbers. I just don't see it."
In addition, this revised labor plan all comes at a time when global sales of automobiles are reported to be slowing the most they have since the financial crisis. 
The auto market in China, for instance - where new-car sales fell 5.3% to 1.59 million in July - compared with the year-earlier period has also slowed due to worsening trade tensions.  For the full year, sales are forecast to grow 1.2% over last year, according to LMC Automotive, down from a 13% growth rate in 2016 and 2.1% in 2017.
At the same time, demand for American vehicles, which generally has acted as a universal global catalyst, has also topped out, largely due to higher prices and higher loan rates, but perhaps also due to rising nationalistic sentiment amid a "don't buy American" media wave.
Demand is also starting to wane in Europe, sliding to "prerecession" levels. Many American car companies had already struggled to maintain profitability in Europe where the slowdown in demand is exacerbating the bottom line.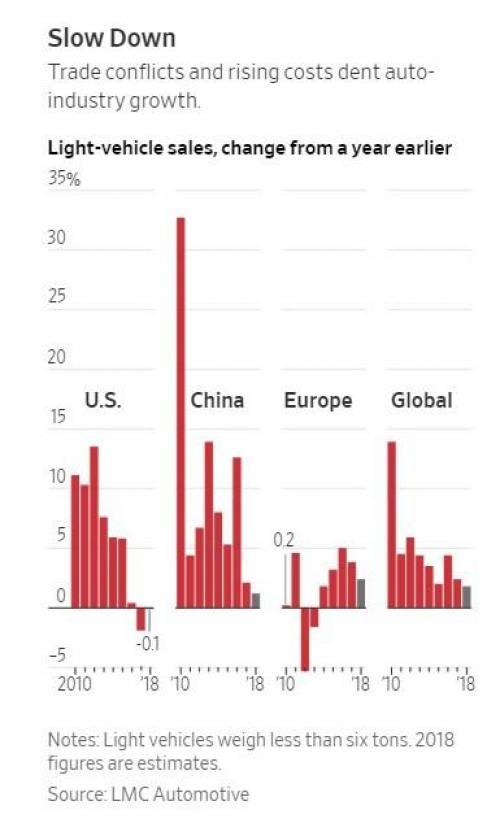 Despite the potential political pushback and the extremely complicated nature with which Trump would need to secure votes for such a deal, Trump's US Trade Representative continues to believe that blue skies are ahead. 
"I'm not going to worry about the votes at this point," he told Bloomberg. His "...expectation is that it will pass overwhelmingly."