Russia's defense ministry has confirmed another US intercept of its aircraft as two of its long-range bombers flew in international airspace over the Arctic Ocean and near Alaska. 
Two American F-22 jets were reported as approaching and then shadowing a pair of Russian TU-95MS nuclear-capable bombers in an incident also confirmed by North American Aerospace Defense Command (NORAD).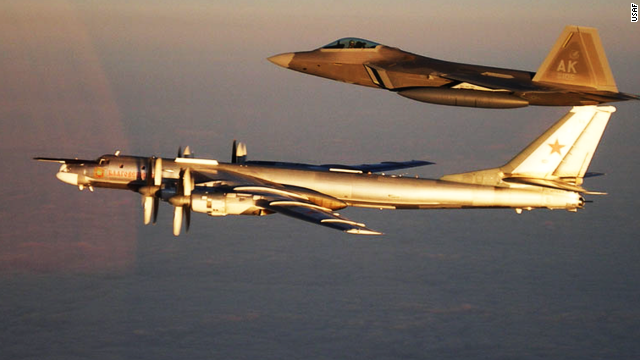 A NORAD spokesman said the bombers were detected flying near the Aleutian Islands, describing to the Free Beacon on Friday that "Two Alaskan-based NORAD F-22 fighters intercepted and visually identified two Tu-95 'Bear' long-range bomber aircraft flying in the Alaskan Air Defense Identification Zone, south of the Aleutian Islands."
The NORAD spokesman would not disclose how far the Russian bombers were from the west coast of Alaska, citing security reasons, but confirmed the F-22's shadowed the bombers until they left NORAD's identification zone. "At no time did the Russian bombers enter Canadian or United States sovereign airspace,"  the official said. 
The Russian Defense Ministry put out its own statement on Friday, which reads: "The Russian Air Force's Tu-95MS strategic bomber aircraft have carried out scheduled flights over neutral waters in Arctic Ocean as well as the Bering and Okhotsk Seas." And indicates that "The aircraft were escorted by two US Air Force F-22 fighter jets on certain legs of their route". 
Previously this year in May there was a similar incident where American fighter jets intercepted Russian TU-95's off the Alaskan coast at somewhat close range, but it was reported at the time that the American jets didn't come closer than 100 meters, and shadowed the bombers for up to 40 minutes. 
According to the Russian Defense Ministry its long-range bombers frequently carry out what it describes as "routine patrols" over the Arctic and the Atlantic, and the Pacific Ocean, but that the Russian bombers operate "in strict compliance with international regulations without violating foreign borders."
But its possible this week's incident wasn't merely routine patrolling as the Free Beacon notes that it "coincided with large-scale military exercises now underway in the Russian Far East called Vostok-18 and were likely part of the exercises that have been underway since late August."
As part of the exercises, on official speculated, the bombers could have been practicing cruise missile strikes on U.S. missile defenses in Alaska. They are capable of carrying nuclear warheads, specifically the nuclear-tipped KH-55 long-range cruise missile with a max range of up to 1,841 miles.