---
Brazil's Bolsonaro Lost 40% Of Blood After Knife Attack By Crazed 'Socialist'
We previously detailed the shocking stabbing incident involving Brazil's far-right candidate for president Jair Bolsonaro - called "Brazil's Donald Trump" due to his at time eccentric behavior and policy suggestions - during a parade in the city Juiz de Fora Thursday. Bolsonaro's had suffered severe blood loss and arrived to the hospital "almost dead" according to his family, but his situation has stabilized as he remains in intensive care. 
Significantly, only one month ahead of a presidential election in Brazil, the man commonly described in local media as "Brazil's Donald Trump" and who was a presidential front-runner and current congressman will take at least two months to recover from the serious wounds, according to medical staff treating the presidential candidate. 
Hospital director Eunice Dantas told reporters on Friday that Bolsonaro had lost about 40 percent of his blood, or more than two liters, resulting in his being in shock upon arrival after the knife penetrated 12cm (4.7in) into his abdomen. Doctors now report him to be "in excellent clinical condition" after emergency surgery. 
Jair Bolsonaro está mais forte do que nunca e pronto para ser eleito Presidente do Brasil no 1° TURNO!
Deus acaba de nos dar mais um sinal de que o bem vencerá o mal!
Obrigado a todos que nos deram força nesse momento muito difícil!
Brasil acima de tudo, Deus acima de todos! pic.twitter.com/iijlCFBhE1

— Flavio Bolsonaro 177 Senador_RJ (@FlavioBolsonaro) September 7, 2018
Citing medical sources, Reuters reports of Bolsonaro's medical status after he suffered the deep wound to his lower stomach:
Congressman Bolsonaro, who has enraged many Brazilians for years with controversial comments but has a devout following among conservative voters, could take two months to fully recover and will spend at least a week in hospital, said Dr. Luiz Henrique Borsato, who operated on the candidate.

"His internal wounds were grave and put the patient's life at risk," Borsato said. The challenge now is preventing infection that could result from the perforation of Bolsonaro's intestines, he said.
He's since tweeted that he's doing well and recuperating; however, in a video message ot his supporters Bolsonario acknowledged he had been in "intolerable" pain and had "never hurt anyone".
Numerous videos on social media showed Bolsonaro, who has promised to crack down on crime in Latin America's largest nation, being stabbed with a knife to the lower part of his stomach. At the moment of the attack, Bolsonaro was on the shoulders of a supporter, looking out at the crowd and giving a thumbs up with his left hand. According to Folha, Bolsonaro's liver - which was perforated by the stabbing - suffered a "grave injury."
Police have arrested 40-year-old Adelio Obispo de Oliveira, and say they are currently investigating his mental health. He reportedly told police he was "on a mission from God" and has been described as a socialist. 
Immediately after the attack he was beaten by angry supporters of the 63-year old presidential candidate before being taken into custody.
Video footage of the attack has since gone viral, and Brazilian media reports the political process ahead of the upcoming presidential election is in tatters and remains uncertain.
*Graphic video warning* The leading Presidential candidate in Brazil, Jair Bolsonaro, was stabbed at a campaign event. He's a right wing candidate leading in polls to win the Presidency who's been protested by the far left. Clearly an act of terrorism. pic.twitter.com/EAJqL3kv7P

— Robby Starbuck (@robbystarbuck) September 6, 2018
The suspected attacker, Oliveira, was reportedly a member of the left-leaning PSOL party from 2007 to 2014. And multiple reports further note that just prior to the attack he posted messages criticizing Bolsonaro and praised the socialist government of President Nicolas Maduro in Venezuela.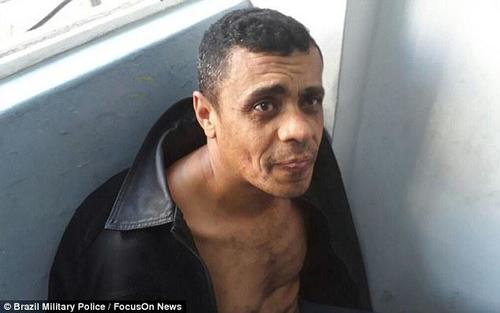 According to local media reports, Pedro Augusto Lima Possa, the suspect's lawyer said his client has confessed to the knife attack.
Possa said, "Adelio confessed and claimed responsibility for the attack. But he said he had not intended to kill [Bolsonaro]."
"He said he acted due to political and religious reasons, against Bolsonaro's prejudices," Possa added in separate statements to Bloomberg. "He acted without anyone else's participation nor on anyone's order."
And consistent with media reports presenting the attacker as mentally disturbed, a local news interview revealed the following, per Bloomberg:
In the video posted on local news websites, de Oliveira says no one but "God above" ordered him to carry out the attack.

In recent years, the attacker had begun talking to himself, responding out loud to television political news, and presenting disturbing ideas to relatives, his niece Jussara Ramos told BuzzFeed. Possa declined to comment about his client's mental health.
The incident comes after a tumultuous period in Brazilian history that saw a president impeached 2 years ago and the still popular former president Luiz Inacio Lula da Silva jailed and barred from running in the election. It is the most unpredictable election since Brazil's return to democracy in 1985 with a highly splintered field of candidates.
According to the latest Ibope poll, Bolsonaro had 22% of first-round vote intentions, more than 10% points ahead of his closest rivals. Former Environment Minister Marina Silva and left-wing candidate Ciro Gomes each have 12 percent while former governor of Sao Paulo, Geraldo Alckmin, has 9%. Fernando Haddad, the likely substitute for Luiz Inacio Lula da Silva, has 6%, although it remains unclear how much of Lula's vote, which was in the 30% range, would transfer over to Haddad now that Lula has been barred from running for president.
Bolsonaro has relied heavily on social media and rallies across the country in a grass roots populist oriented campaign, thus his inability to take to the streets and give speeches could greatly impact the results.
President Temer, an unpopular leader, is not standing for re-election, and millions of voters remain undecided.

Mr Bolsonaro is expected to have a strong first round but lose a run-off to leftist Ciro Gomes, environmentalist Marina Silva or ex-Governor of Sao Paulo Geraldo Alckmin, according to leading research company Ibope. — BBC 
However, Flavio Bolsonaro, the candidate's son, made a surprise statement on Friday, saying "the attack was a political boost".
Indeed with Bolsonaro's story of surviving this vicious attack now spread across the globe, and with an outpouring of sympathy from Brazilians, many of which are still on the fence regarding the upcoming election in October, this could be the very thing that pushes him over the edge to victory.