Amidst extreme tensions ratcheting up over the past days as Russian and Syrian forces have initiated their final assault on al-Qaeda held Idlib, the presidents of Iran, Russia, and Turkey are meeting in what's broadly described as a "high stakes summit" in Tehran on Friday. 
Pressure is high after Thursday evening statements by a top State Department envoy on Syria, who told reporters, "There is lots of evidence that chemical weapons are being prepared." The envoy, Jim Jeffrey, doubled down on prior promises that "Assad would be guilty" for any future chemical attack in Syria. 
But it seems what appears to be a coordinated White House effort at calculated pressure to deter the Syria-Russia operation in Idlib is having an effect. An early statement from the summit carried in Iran state media says Iran, Russia, and Turkey have agreed that the Syria conflict can only end through "negotiated political process" and not through military means. 
Turkey's President Recep Tayyip Erdogan reportedly pushed for a cease-fire plan at the summit, warning that the massive Idlib battle would be "a bloodbath" and will be a serious national security threat to his country, and further warned of a "humanitarian catastrophe" unfolding.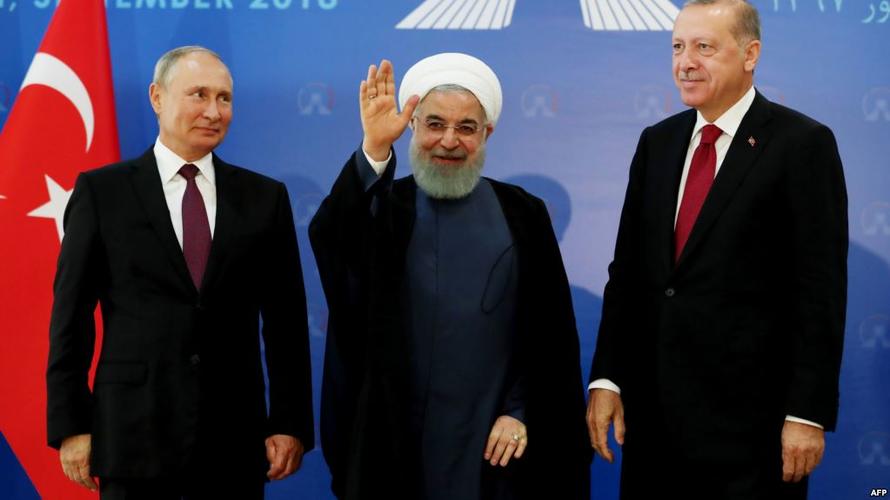 However Russian President Vladimir Putin underscored Syrian sovereignty and Assad's "right" to regian control over territory currently held by terrorists. This, in line with President Assad's prior promises to "regain every inch" of Syrian national territory before the war. 
"Idlib isn't just important for Syria's future, it is of importance for our national security and for the future of the region," Erdogan said during formal statements at the Friday summit. "Any attack on Idlib would result in a catastrophe. Any fight against terrorists requires methods based on time and patience," he added, saying "we don't want Idlib to turn into a bloodbath." He concluded "We must find a reasonable way out for Idlib."
Putin responded, "We should think together over all aspects of this complicated issue," while asserting, "We should solve this issue together and (we should) all realize that the legitimate Syrian government has the right and eventually should be able to regain control of all of its territory."
Putin hinted at being open to a ceasefire, nothing "a cease-fire would be good" but suggested that it ultimately wouldn't hold. He also warned that according to Russian intelligence insurgents in Idlib are planning "provocations," possibly including chemical weapons. 
Iran's president Hassan Rouhani demanded an immediate withdrawal of US troops, telling his Russian and Turkish counterparts, "we have to force the United States to leave," but didn't detail exactly how this would be done. 
"The fires of war and bloodshed in Syria are reaching their end," Rouhani said, and reaffirmed alongside Putin that terrorism must "be uprooted in Syria, particularly in Idlib."