update 2: The situation in the southern Iraq city of Basra is continuing to escalate after rioters burned down the city's sprawling Iranian consulate, and amidst unconfirmed rumors that the local American consulate may be under threat, though said to be under heavy guard by Iraqi national forces. 
During the night hours Friday protesters have reportedly stormed an oil facility and are holding two staff workers hostage. The incident is unfolding at the West Qurna 2 oilfield, which is run by the Russian multinational energy company Lukoil. 
According to a breaking Reuters report:
Protesters entered a water treatment facility linked to the West Qurna 2 oilfield, managed by Lukoil, and held two Iraqi employees hostage on Friday, according to a Lukoil source and a source with Basra's energy police.
The precise identities of the hostages or the particular group holding them is still unknown at this point. Lukoil is a Moscow-based corporation.
Reuters continues:
West Qurna 2 oilfield lies 65 km (40 miles) north-west of Basra - a city hit by days of protests. The field produces 390-400,0000 barrels per day and a disruption of three days would be enough to completely shut down the field, the Lukoil source added.
Iraqi authorities in Basra have declared a city-wide curfew as well as a state of emergency. 
Meanwhile, Iraq's highest-ranking Shia cleric, Grand Ayatollah Ali al-Sistani, on Friday condemned the violence, which has left multiple protesters dead and scores wounded in clashes with security forces, and after buildings across the city have been torched. 
But Sistani also expressed solidarity with their grievances, saying that Iraqis "no longer tolerate more government failures in providing basic services."
* * *
update: Stunning footage has emerged of the Iranian consulate in Basra, Iraq burning after a mob of anti-Iran protesters stormed it near dusk on Friday.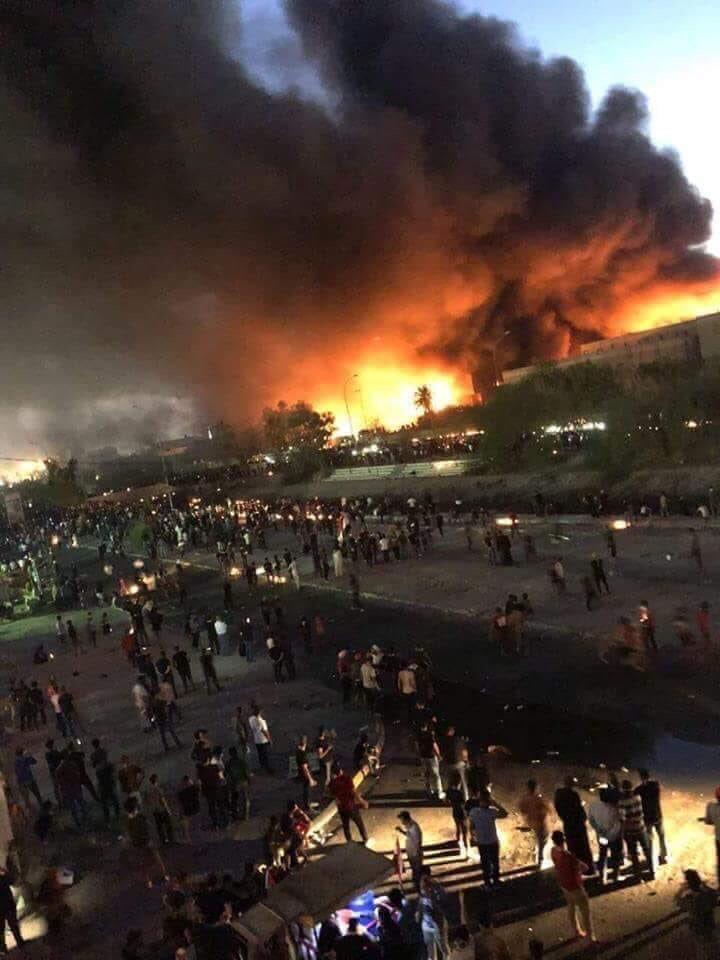 The flames appear multiple stories high and several explosions can be observed amidst the massive blaze:
Breaking : Major development, Iraqi Protesters torch the Iranian consulate in Basra. #breaking #iraq #iran pic.twitter.com/aUihJMk3EO

— Steven nabil (@thestevennabil) September 7, 2018
There are reports of at least one dead and two dozen injured in clashes with local police as more footage of the giant consulate blaze continues to emerge.
#BREAKING: Video recorded just 45 minutes ago shows that the #Iraq|i protesters managed to set fire in #Iran's consulate building in #Basrah. However protesters doesn't want to damage #US consulate anymore, but it is heavily protected while Iranian consulate wasn't.#BasraProtests pic.twitter.com/sfAi9uZgXT

— Babak Taghvaee (@BabakTaghvaee) September 7, 2018
* * *
On Thursday evening Iran's consulate in Basra was placed under siege by a throng of demonstrators after a 24-hour period in which a dozen local Shia militia HQ offices and buildings were torched across the city. Mass protests and riots have grown in the city since Monday. 
The same night in Baghdad, regional sources indicate at least three mortars targeted the US embassy in Baghdad's protected 'green zone' landing near the gate but not causing significant damage. The events were part of a worsening sectarian crisis across the country in which pro-Iran Shia forces have vowed to expel "foreign occupying forces" — however in the Sunni-majority southern city of Basra, Sunni groups have been engaged in mob reprisal attacks. 
Moments ago as evening descends on Iraq, Al Arabiya and other regional sources report a large group of demonstrators have now stormed the Iranian consulate at the end of Thursday overnight and daylong Friday protests.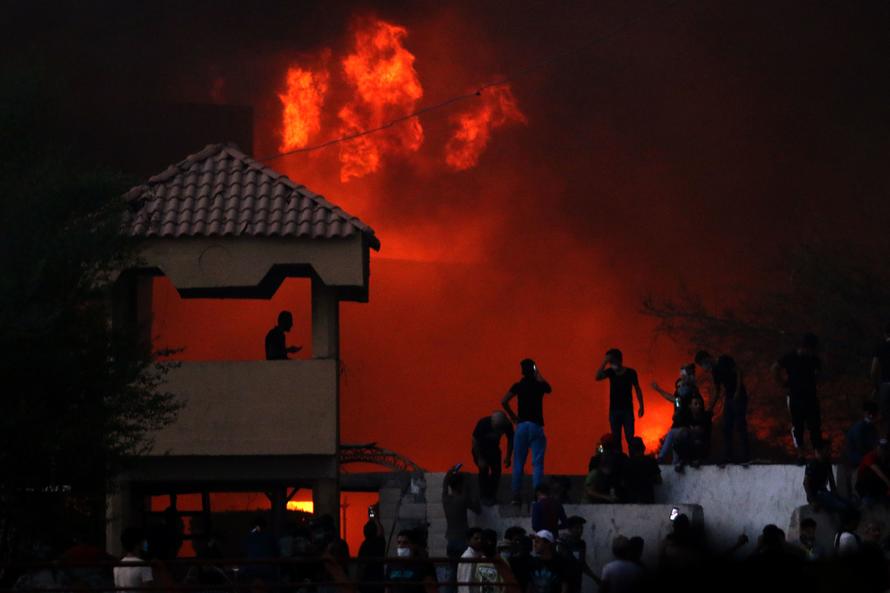 Reuters confirms the consulate was overtaken by the mob near dusk local time: "The consulate is in the upscale neighborhood of al-Barda'iya, southeast of the city center," according to early reporting. 
متظاهرو #البصرة العراقية يهتفون أمام القنصلية الإيرانية : "#إيران برا برا والبصرة حرة حرة"#البصره_تهتف_ضد_ايران #العراق pic.twitter.com/YVenD2ZMDa

— الأكثر مشاهدة (@TopSaudiNews2) September 7, 2018
Early unconfirmed video circulating among regional sources show that the consulate is on fire. 
The below are the first unconfirmed photos of the burning Iran consulate to emerge: 
Major developments: 🔴 Iraqi protesters burn down the Iranian consulate in Basra #breaking #basra #iran #iraq pic.twitter.com/F5oJEBOggM

— Steven nabil (@thestevennabil) September 7, 2018
#BREAKING: Just 30 minutes ago hundreds of people of #Basra who have armed themselves with sticks, batons & small weapons announced that they are going to attack #Iran|ian consulate in #Basra & will set it on fire. Mortar attack at #Baghdad's Green Zone might be related. pic.twitter.com/TdTTC9iBai

— Babak Taghvaee (@BabakTaghvaee) September 6, 2018
Men wielding sticks and small weapons were filmed making their way toward the consulate Thursday overnight. Chants could be heard in front of the consulate, saying "Iran out, Basra remains free".
Earlier in the week as Iraqi government buildings came under attack Iran formally requested that Baghdad send extra security personnel to guard the consulate. Prior local reports suggest there was a beefed up security presence; however, crowds of demonstrators appear to have swelled during the night. 
developing...