On the same day that The White House said it has begun coordinating a second meeting between President Trump and Kim Jong Un after the North Korean leader sent a "very warm, very positive letter" requesting a follow-up summit to their earlier sit-down in Singapore on June 12, John Bolton revealed key details of previously undisclosed exchanges with the North ahead of the talks. 
Bolton revealed that Kim Jong Un offered to dismantle his nuclear weapons program within two years when he met with South Korean President Moon Jae-in during their first meeting last April. But when pressed by the South Korean side, he quickly caved and reluctantly agreed to one year, according to Bolton's account.
His remarks came during what's being described as the national security advisor's first major speech since joining the Trump administration at an event hosted by the conservative Federalist Society at a Washington, D.C., hotel.
As Bolton related it, Kim backed down upon Moon's issuing a counterproposal for the North to denuclearize within a year.
"He said we can do it in two years," Bolton said in the speech at the Mayflower Hotel. "Moon Jae-in said to Kim Jong-un — and President Moon told this to President Trump —Moon Jae-in said, 'Well, why don't we do it in one year.'"
Kim then agreed, Bolton explained, and as South Korea's Yonhap News describes of the speech, Bolton indicated "that caused him to remark in the past about pushing for denuclearization in a year."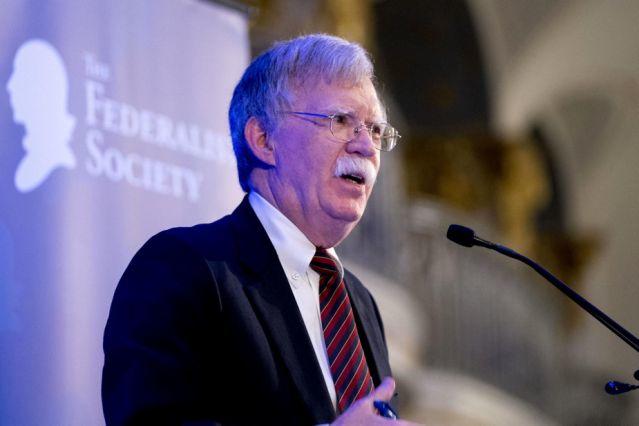 "I thought they could do it even more quickly than that, but one year is not bad," Bolton said. "We're still waiting for them."
In the months after Moon and Un's historic meeting Bolton repeatedly angered North Korea by public comments in the media, specifically during a CNN interview in May where he suggested that North Korea must "commit to denuclearization" to help it "become a normal nation."
Bolton is also widely considered a key critical voice who influenced Trump's cancelling Secretary of State Mike Pompeo's planned trip to Pyongyang last month, citing lack of progress on denuclearization. 
During Monday's speech Bolton also described, "In meeting with Kim Jong-un in Singapore a few months ago President Trump tried to hold the door open to Kim Jong-un and his regime." He said, "If they would denuclearize as they committed to do in Singapore, they could have a very different kind of life in North Korea."
"We're still waiting for them," says Bolton of North Korea denuclearization. He said Kim Jong-Un has committed to denuclearize in 1 year. Says Pres Trump still holding open the door for NK denuclearization, but can't make them walk through it.

— Mark Knoller (@markknoller) September 10, 2018
"Now the possibility of another meeting between the two presidents obviously exists, but President Trump can't make the North Koreans walk through the door he's holding open," Bolton added.
He followed with, "They're the ones that have to take the steps to denuclearize and that's what we're waiting for."
Bolton later told reporters the two leaders could meet "sometime this year," but that such a scenario remains "entirely...hypothetical," according to The Hill.
Meanwhile on Monday White House press secretary Sarah Sanders confirmed that Trump had received "a very warm, very positive letter" from Kim Jong Un, and described, "The primary purpose of the letter was to request and look to schedule another meeting with the president, which we are open to."
The White House statements also followed Trump's recognizing and thanking the North for taking conscious steps to show willingness to continue to engage with Washington, for the first time celebrating its founding anniversary military parade with out inclusion of long-range ballistic missiles. 
All of this is yet more evidence suggesting that Trump is firmly in the driver's seat in terms of dialogue with North Korea.