After it was revealed in a weekend New York Times piece that the Trump administration held multiple meetings with "rebellious officers" inside Venezuela's army to consider launching a military coup against the country's socialist dictator Nicolás Maduro, we cited a former Latin America diplomatic official quoted in the Times who aptly described, "This is going to land like a bomb" in the region.
The astounding revelation — though perhaps familiar-sounding when considering the historical string of coups and CIA covert interventions across the 20th century from Cuba to Nicaragua to Chile — comes just over a month after a bizarre assassination attempt involving two C-4 explosive laden drones which detonated near Maduro as he gave a televised speech during a military parade in Caracas.
In the aftermath of the story, Venezuela has announced plans to hold a massive march on Tuesday against Washington's now confirmed attempts to meddle in the country's internal affairs. 
Sure enough, over the weekend the NYT revelation was the focus of Venezuela's parliament: The United States "acknowledges having met at least three times with military coup leaders to carry out a coup," said Diosdado Cabello, speaker of the ruling Constituent Assembly, according to the AFP. 
"The presidential assassination that was stopped was led by the United States. Is there anyone who has any doubt?" Cabello posed before an angry assembly. And at a separate event hosted by the ruling United Socialist Party of Venezuela (PSUV), Cabello asserted the August 4th drone attack in Caracas was the result of American-backed coup attempts against the country's leadership. 
Cabello further described this week's upcoming march as a huge "anti-imperialist demonstration" which will send a united signal to Washington. 
Making an official statement on Twitter, Foreign Minister Jorge Arreaza condemned what he described as "absolutely unacceptable and unjustifiable that US government officials participate in meetings to encourage and promote violent actions of extremists."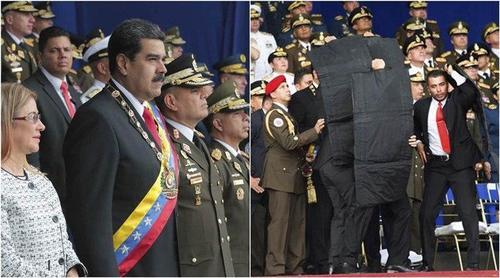 The NYT report detailed several secret meetings between the Trump administration and Venezuelan military officers to talk about potential coup plans, but according to Times sources "the coup plans stalled". The meetings were reportedly spearheaded by someone simply described as a "career diplomat".
Eleven current and former American officials spoke to the NYT for the story, which also involved interviews with a top former Venezuelan military commander that took part in the plotting. 
The White House has not responded to the bombshell report and allegations, only saying in a statement it continues to seek to engage in "dialogue with all Venezuelans who demonstrate a desire for democracy" in order to "bring positive change to a country that has suffered so much under Maduro."
The country has suffered from hyperinflation and severe shortages of basic staples amidst general economic collapse and several rounds of US sanctions to boot. 
Last May Nicolas Maduro won a second six-year term in an election that Washington officials slammed as a "sham" and "neither free nor fair".