The forint and Hungarian stocks weakened on the news that Hungarian Prime Minister Viktor Orban has been hit by an unprecedented European Union censure for which his government now faces the threat of sanctions by fellow EU member states. 
On Wednesday members of European Parliament voted on the move as a result of what EU lawmakers say is a breach of the European bloc's values and laws and eroding democratic standards, and amidst accusations Hungary is now an "autocracy". The rebuke was passed by 448 votes to 197.
Meanwhile Orban bit back ahead of the EU censure vote, saying before Parliament the planned move "insults the honor of the Hungarian nation" and was "a slap in the face"; and the controversial prime minister further cast the whole charade is an attempt to "blackmail" Hungary into bowing to EU pressures to soften its hard line stance on the migrant issue.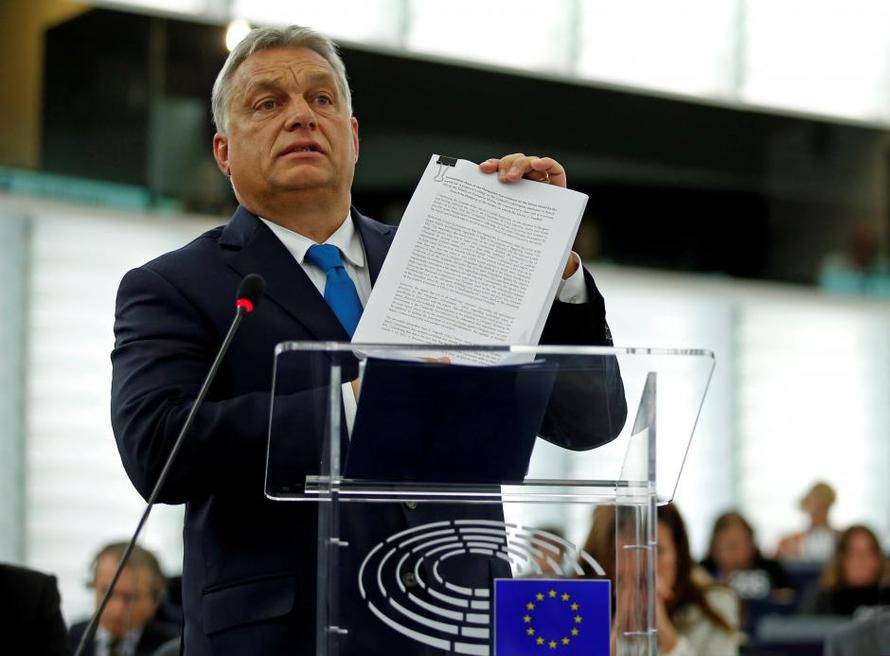 The rare disciplinary rebuke, which many expected, comes as Hungarian leadership has been complaining about migrants while remaining under intense pressure to accept them. 
The decision puts Hungary under the same "Article 7" action as Poland, in which fellow EU states probe whether the censured and accused countries breached particular EU rules and more vaguely defined "values". Ultimately the process could result in Budapest's EU voting rights being suspended — unlikely, considering all other 27 EU nations would have to agree. 
On Wednesday Hungary's currency declined upon the news, leaving the US dollar up 0.6 per cent on the day, buying 281.2 forint, per FT. The country's main stocks gauge also were down 0.28 percent in session lows.
Since coming into power in 2010, Orban has refused to take in asylum seekers arriving in Europe and has been seen as bullying his own courts and media into submission. 
As Bloomberg reports, members of his own right Christian Democrats have increasingly split under the pressure, as momentum builds to expel anti-migrant far right influence across EU states:
Numerous members of Europe's  Christian Democratic faction, which includes the Fidesz party of Orban, abandoned him in the roll-call vote that became a litmus test with EU Parliament elections looming next May. That expanded support for the move against Hungary from Socialists, Liberals, Greens and the post-communist left.

...Guy Verhofstadt, leader of the Liberals in the chamber, said Orban was bent on wrecking the EU in tandem with the likes of populist Italian Deputy Prime Minister Matteo Salvini and the goal of the proposal against Hungary was to "stop this nightmare."

The split within the assembly's Christian Democrats casts doubt about Fidesz's future in the group and raises the prospect of new European alliances as French President Emmanuel Macron urges pro-EU forces to unite against nationalists, who gained ground most recently in Swedish elections on Sunday.
Meanwhile the prospect of actual sanctions and suspension of voting rights for Hungary remains slim in terms of the high procedural hurdle that must result, which would effectively make Hungary a pariah state in the union.
Article 7 is applied if an EU member state presents a "systemic threat" to the bloc's values, which Hungary was adjudged to have done in a report by Green MEP Judith Sargentini earlier this year.
At this point, with Article 7 proceedings begun, all the other EU nations will now need to agree unanimously to punish Budapest. Such consensus has never been achieved, meaning that Article 7 has never been actually fully implemented, and is not likely this time either.
Former UK leader Nigel Farage, who recently called the proceedings against Budapest "a show trial," had previously commented, "Thank God there is at least one European leader prepared to stand up for his principles, his culture, his nation and his people in the face of such extreme bullying."