Courtesy of Phil at Phil's Stock World
No, we won't.
I hate it when authors make you read the whole article (and look at all the ads) before answering the question posed in the title so I'm cutting to the chase and saying that no, the Dow will not hold onto 26,000 because the average Dow stock is overpriced by a fair margin, with the average p/e of a Dow stock now sitting at 23.37 vs. the historic average of 18.2.  Of course the Dow is still behind the S&P (24.20) and the Nasdaq (25.75) but that's because Apple's (AAPL) outsized earnings are bringing the average down considerably.
"But Phil", you may say, "earnings we sooooo good, weren't they?"  I would answer you as Einstein would and tell you everything is relative and that last year, against last year's earnings, the Dow's p/e ratio was 20.24 and now it is 23.74 against this year's earnings so you are paying 17.2% more for each Dollar of earnings than you were paying last year. That's a lot! That's stock market hyperinflation...
As you can see from the S&P chart (couldn't find a Dow chart), we've only paid a higher multiple than this just before the great crash of 2000 but we also paid much, much more before the 50% collapse so there may still be room to run at the top - before the inevitable happens.
Taking out Apple makes for a very ugly picture on the Dow since AAPL made $11.5Bn last quarter vs $78Bn for the other components and that means AAPL alone is 15% of the Dow's total earnings and MSFT and JPM are also around $10Bn in earnings so over 1/3 of the Dow's earnings made by just 3 companies.  So, if you want to buy AAPL or JPM or MSFT and pay a good multiple - more power to you.  The problem is that ETF buyers drive up the price of ALL the components when they are chasing the performance of just a few.
Still, AAPL is in the Dow and it is still a good buy - even at $223 as that's a $1.1Tn valuation but they earn $55Bn a year and that's growing so p/e about 20 for AAPL is 20% below the Dow's average and today, at 1pm, Apple will release the next generation of iPhone, iPods, iWatches and who knows what else.
We'll be doing a Live Trading Webinar at the time, so join us for the fun! 
$1.1Tn is the GDP of Mexico, which makes AAPL the 15th largest country on Earth.  Spain is $1.3Tn and Australia is $1.4Tn and Russia and South Korea are $1.5Tn so, if we're concerned about the movement of Russian troops we should be equally concerned about what gadgets AAPL will be deploying around the World as well!
Apple also has $250Bn of CASH!!! in the bank.  That's enough money to buy Finland ($251Bn), Chile ($277Bn), Egypt ($235Bn), Vietnam ($223Bn) or Portugal ($217Bn).  If they hurry up, they can still get Iceland ($24Bn) as a bonus!  That's right, AAPL makes as much money in a single quarter of profit as Jamaica's ENTIRE GDP ($15Bn) - that's kind of crazy!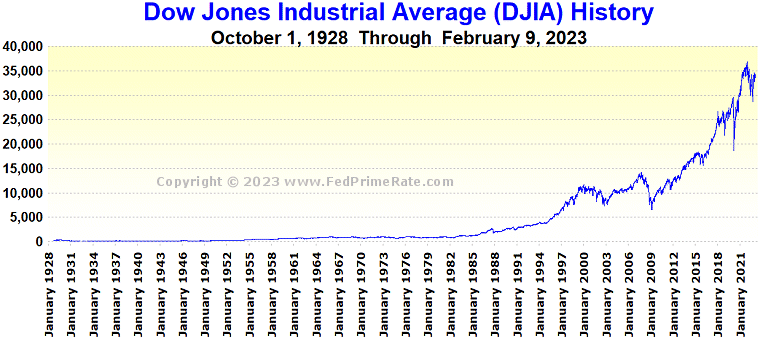 So, there's nothing wrong with SOME of the Dow components but ALL of them are not worth what you are paying and 26,000 is where we expect to begin to encounter heavy resistance as it's the weak retrace of the run from 10,000 to 30,000 and we never even had a proper consolidation at 20,000 - so that's still in play.
Our 5% Rule™ looks for consolidations as base-lines and the last one we had was quite a while ago, at 16,000, which was 100% above 8,000, which is where we bottomed out in the first decade of this century.  From 16,000, 24,000 is where we should have paused and we did for a moment, but not enough to make the consolidation Gods happy and that means there's never been enough volume to establish proper price discovery for the entire move over 24,000, where we were in June.
If the Dow (or other indexes) was merely reflecting the growth in GDP or the growth in earnings - we wouldn't be having this discussion but there's no need to even draw you a chart of the growth in GDP - you KNOW it's miles and miles behind where the Dow is.  So, if the earnings aren't growing that fast (Dow is up 20% since last year) and the GDP isn't growing that fast (3%) - why on Earth would you expect the Dow to keep growing this fast or, for that matter, at all?
Over time, either earnings and GDP have to improve drastically or the Dow will have to correct to match a more realistic view of where the economy and earnings are at the moment.  Don't focus on the high-flyers, even AAPL is only 15% of the Dow and 4% of the S&P and 17% of the Nasdaq and, if you want to bet on AAPL - bet on AAPL - just don't go throwing away your money betting on stocks that have undeservedly been dragged higher with it.
That's like betting on the glider and not the plane it's attached to.  They may track for a while but, once they separate - the glider can only go down.
You can short the Dow Futures (/YM) below the 26,000 line with tight stops above - that's a fantastic reward/risk play or you can play the Dow Ultra-Short ETF (DXD) long at $29.85 and the Oct $28 calls are only $2, which is just 0.15 premium for a 37-day play - very reasonable if you want to lock in some gains!