---
More Dramatic Footage Published Of Russian War Games, Including Bering Sea Operation
With Russia's Vostok-2018 war games are now in full swing, reaching its mid-point Friday, and set to conclude September 17, more dramatic footage of the epic size of the military exercise has been released through official state sources. This included video of a major Friday naval operation on the Bering Sea — the vast but strategically key expanse of water separating Alaska and Russia. 
The military exercise kicked off in Russia's far east on Tuesday, involving 300,000 troops and close to 40,000 military vehicles. It's been billed as the most expansive war games on Russian soil since 1981 under the Soviet Union.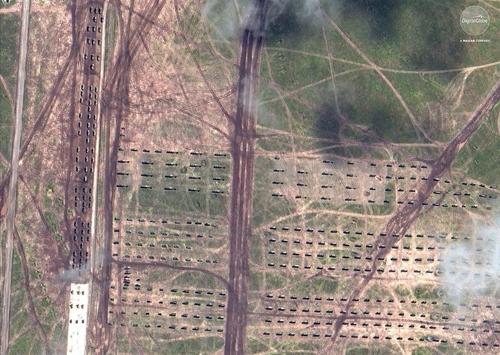 It further includes 1,000 aircraft, two Russian naval fleets and all airborne units, along with a contingent from China, and a Mongolian troop deployment. 
PRC camp: thousands of Chinese & Mongolian troops, hundreds of tanks and vehicles rolling into position for ground and air assault at Vostok 2018 war-games in Russia pic.twitter.com/8JLvCXP8ez

— Murad Gazdiev (@MuradGazdiev) September 13, 2018
And to be expected the Russian Ministry of Defense (MoD) is keen to advertise to the United States and the West — with which Moscow has been experiencing soaring tensions especially this week as new severe tensions have been announced by the White House — just what Russian firepower, warships, and air power can do to an enemy on the battlefield. 
#FOOTAGE #EXCLUSIVE Watch the scenes of large-scale firing of Uragan Multiple launch rocket systems within one of the episodes of the #Vostok2018 maneuvers pic.twitter.com/Gl2kEsIz9I

— Минобороны России (@mod_russia) September 14, 2018
On Thursday President Vladimir Putin personally inspected the war games, and said in a  speech to soldiers that he would bolster and strengthen the Russian army with a "new generation of weapons and equipment," according to Reuters.
Putin reviews Vostok-2018 drills pic.twitter.com/gr4110T1B9

— RT (@RT_com) September 14, 2018
And Friday the Russian navy conducted exercises in the Bering Sea which simulated a major rescue operation. The MoD subsequently released footage of the Northern Fleet's Vice-Admiral Kulakov destroyer and the Alexander Obrakovsky landing engaged in the drill. 
#ВИДЕО Отряд боевых кораблей и судов обеспечения Северного флота в рамках маневров #Восток2018 провел учение по поисково-спасательному обеспечению в Беринговом море https://t.co/nCpM3UK3bm #СеверныйФлот #ВВО #Корабли #Восток2018 #Маневры #БоеваяПодготовка pic.twitter.com/ezimMLveYp

— Минобороны России (@mod_russia) September 14, 2018
Valery Gerasimov, chief of Russia's general staff, had previously described some of strategic maneuvers to be employed in the games: "There are plans to practice massive air strikes, cruise missile training, defensive and offensive operations, raids, and bypass maneuvers."
#ВИДЕО В рамках маневров #Восток2018 моряки Тихоокеанского флота провели морскую операцию по проводке и сопровождению отряда кораблей и судов в Охотском море https://t.co/pWb1NGiLHd #ТихоокеанскийФлот #Корабли #ГРКРВаряг #Маневры #БоеваяПодготовка pic.twitter.com/wbGMpllD6A

— Минобороны России (@mod_russia) September 14, 2018
Meanwhile in the eastern Siberian territory of Zabaikalsk, hundreds of paratroopers jumped from planes and other troops fast roped from helicopters.
#ВИДЕО Кадры высадки тактического десанта и массового десантирования подразделений ВДВ России на полигон Цугол в рамках активной фазы маневров «Восток-2018»#Минобороны #ВВО #ВДВ #Десантинки #Цугол #Восток2018 #Маневры #БоеваяПодготовка pic.twitter.com/PXyveesvkj

— Минобороны России (@mod_russia) September 14, 2018
The MoD also released clips of missiles being fired from its sophisticated S-300 long-range surface-to-air missile system and its Buk medium-range missile system, which are among the systems operational in some parts of Syria where Russian military assets are stationed.
#VIDEO Anti-aircraft units jointly with army air defence crews of the Central and Eastern military districts trained to repel an air strike at the #Telemba training ground https://t.co/6hH80FYy4h #RusMoD #AirDefence #S300 #S400 #Missiles #Vostok2018 #MAneuvers #CombatTraining pic.twitter.com/Lf4zeyXz2P

— Минобороны России (@mod_russia) September 14, 2018
Meanwhile, the US-funded official news source VOA News has cited experts who dispute the Russian defense ministry's much touted numbers on total troop deployment.
"Numbers and figures for these kinds of exercises are typically what we might call to be true lies, in that they're statistical lies whereby the Russian army's General Staff tallies every single unit-formation that either sends somebody to the exercise or has some tangential command component in it," said Michael Kofman, Russia and Eurasia security and defense analyst at the Kennan Institute, as cited by VOA.
"This basically means that if a brigade sends one battalion, then they count the whole brigade," he explained. "So these numbers are not entirely fictional, but you have to divide them by a substantial amount to get any sense of how big the exercise actually is."
"And they typically revise the numbers after the fact," Kofman added. "For example, originally after Vostok 2014, they said that they had 100,000 participants, and then I guess they decided it wasn't impressive enough, because they later posted an official figure of 155,000." However, more precise numbers are expected to be settled after Vostok-2018.