Syrian state media reports that several Israeli airstrikes have targeted Damascus international airport, and that Syrian air defenses have been activated, attempting to shoot down the incoming missiles. 
Various journalists in the region are also reporting that locals in Damascus heard multiple loud explosions during the Saturday evening hours.
Syrian state-run SANA posted this update: "Syrian air defenses confront Israeli missile attack on Damascus International Airport, shooting down a number of enemy missiles."
#Syria-n state media reports yet another attack on #Damascus International Airport, in what it says is an #Israel-i strike.

— Nabih (@nabihbulos) September 15, 2018
Damascus sources say the attack has been thwarted, with missile defense systems intercepting several Israeli missiles according to early reports. 
בסופו של דבר המשטר מדווח על תקיפה של ישראל, שהוא כמובן סיכל, בנמל התעופה הבינלאומי של דמשק pic.twitter.com/8dMRbinwDe

— Guy Elster (@guyelster) September 15, 2018
Pro-government media accounts have posted early unconfirmed video that appears to show a missile intercept of an incoming projectile near Damascus International Airport.
The incident comes as tensions between Syria and the West have been at their highest in months as the Syrian Army and its Russian ally prepare for a major offensive on Idlib.
#BREAKING: #Syria|n Arab Air Defense Force has launched a Surface to Air missile at an unidentified target over #Damascus International airport just 20 minutes ago. Here are its videos. #Israel|i Air Force may have deceived them again using a target drone to draw their attention. pic.twitter.com/CSMfBomemf

— Babak Taghvaee (@BabakTaghvaee) September 15, 2018
State-run SANA has released photos that purport to show its defense systems intercepting an inbound attack.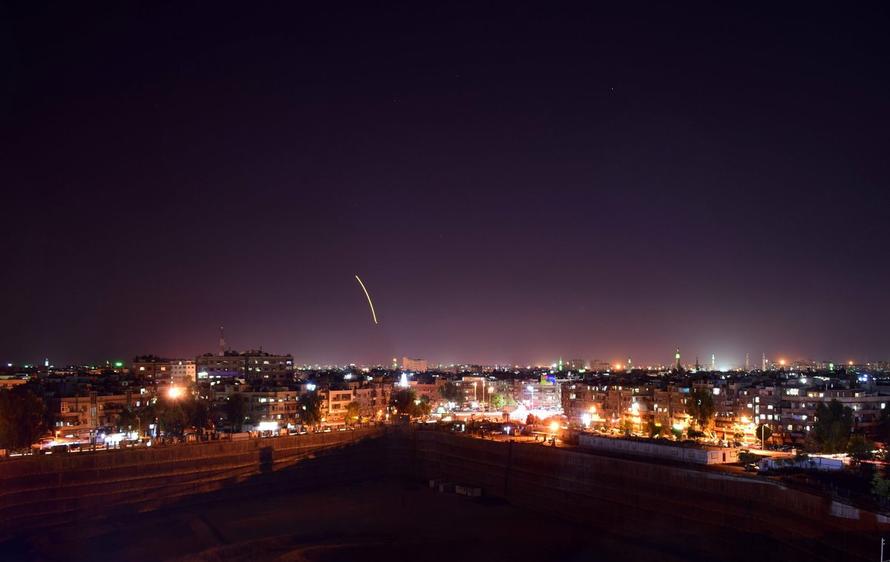 The extent of any potential impact on or near the Damascus airport is unclear, however, previously SANA reported that "explosions were heard in the surroundings of Damascus International Airport."
Regional journalists have speculated that the target was likely an Iranian weapons store house, which is something Israel has claimed to have targeted in prior similar airstrikes. Syrian opposition site SOHOR reports Israel targeted "recently imported" Iranian weapons and military equipment. 
During the moments the air strikes took place, a major event called the International Fair of Damascus was being held in the vicinity of the airport.
Also important to note that close to Damascus International Airport which was just targeted by supposed Israeli missile strikes is the location where the Damascus International Fair is being held and attended by tens of thousands of visitors pic.twitter.com/fDaKbkb7Zt

— Danny Makki (@Dannymakkisyria) September 15, 2018
Government sources say the annual commercial exhibition, the largest of its kind in the country, attracts nearly half a million visitors including top local and foreign officials.
The international fair had been held every year since the 1950's, but was canceled in 2012 due to the war; however in resumed in 2017 with expanded fair grounds along the highway between the Damascus city center and the international airport. 
Syrian air defenses have intercepted several Israeli missiles over Damascus International Airport today. pic.twitter.com/hWB3iiK4I1

— Military Advisor (@miladvisor) September 15, 2018
A report this month cited Tel Aviv sources who confirmed that Israel's Air Force has conducted 200 attacks on locations inside Syria over the course of the past 2 years alone, according to Reuters.
Developing...