During his Tuesday UN General Assembly address President Trump held nothing back in terms of excoriating the socialist pariah state of Venezuela and leader Nicolas Maduro.
"Not long ago, Venezuela was one of the richest countries on Earth," Trump said. "Today, socialism has bankrupted the oil-rich nation and driven its people into abject poverty."
Trump continued, "Virtually everywhere socialism or communism has been tried, it has produced suffering, corruption, and decay. Socialism's thirst for power leads to expansion, incursion, and oppression. All nations of the world should resist socialism and the misery that it brings to everyone."
The US president blamed Venezuela's collapsed economy and worthless currency, which has created a humanitarian crisis resulting in some 2 million citizens fleeing the country in recent years on the "Maduro regime and its Cuban sponsors".
But a usually defiant Maduro, who didn't attend the UN Assembly in New York for fear of his safety, slammed the speech via Twitter, stating in Spanish, "The empire points to us because it knows that we are on the socialist road to economic recovery." He shot back at Trump: "And no one will stop us in our efforts to achieve self-sustainability." 
Also in response to Trump's speech, Venezuela's foreign minister Jorge Arreaza said Venezuela was a sovereign country and will continue to exercising the right to choose its own path. "It's not the problem of the United States," Arreaza said during a UN news conference in response to Trump's listing a litany of the small Latin American country's pressing problems. 
Maduro has further called Trump's mention of more sanctions to come against Maduro's wife and his inner circle an "imperialist" intervention by "oligarchs".
The U.S. Department of Treasury's Office of foreign Assets Control indicated that it had imposed sanctions on Venezuela's first lady, Cilia Flores, along with Defense Minister Vladimir Padrino Lopez, Vice President Delcy Rodríguez and Communications Minister Jorge Rodriguez. The U.S. Treasury further confirmed the seizure of a Florida-based Gulfstream jet worth $20 million that belongs to Rafael Sarria, a powerful former Venezuelan official close to Diosdado Cabello, president of Venezuela's National Constituent Assembly.
But Trump's speech didn't stop with theorizing on the dangers of socialism and its failures in history, but the president used the momentum to take direct aim and Maduro, and went so far as to hint at regime change.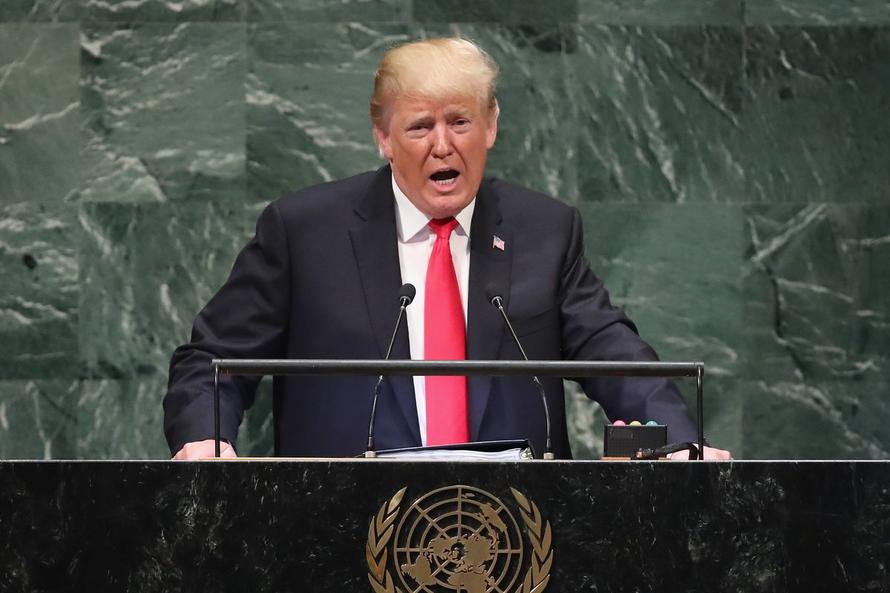 "It's a regime that frankly could be toppled very quickly by the military if the military decides to do that," Trump said. He even brought up the August 4th drone attack which Venezuela has branded a failed assassination attempt on Maduro, who was addressing a military parade at the time. 
"You saw the how the military spread as soon as they heard a bomb go off way above their head," Trump said. "That military was running for cover. That's not good."
Trump seemed to be encouraging military coup in the country from the podium of the UN Assembly, saying he wouldn't telegraph his actions like his predecessor: "I don't like to talk about military. Why should I talk to you about military?" he said. "Obama — he used to say exactly what he was going to do, and then it would be 10 times tougher to do it. I don't do that."
On the same day as Trump's UN address, a bipartisan group of senators including Marco Rubio (R-Fla.) and Bill Nelson (D-Fla) introduced the "Venezuelan Humanitarian Relief, Reconstruction and Rule of Law Act of 2018."
The bill calls for yet more U.S. sanctions on Venezuelan officials and includes plans for working with other Latin American nations to level their own sanctions against Venezuela. It will further provide $40 million more in humanitarian aid for neighboring countries absorbing refugees and seeking to navigate the crisis. 
Co-sponsor Rubio said in a statement, "As the corrupt Maduro regime adopts a Cuba-style dictatorship and engages in crimes against humanity, including the use of forced starvation against its citizens for political coercion, it is vital for the United States and our partners to provide direct humanitarian aid to the Venezuelan people." He continued in language that echoed Trump's speech: "Maduro's socialist legacy has devastated a once-rich nation and vibrant economy."
All of this brings up the question: is the Trump White House preparing more direct action to foment coup in Venezuela? 
A New York Times story from early this month confirmed the administration had previously established a "clandestine channel" involving coup plotters targeting President Nicolás Maduro - a plan which officials say was never ultimately pursued.
And it was further revealed this week in a bombshell report by Axios that the White House has prepared for multiple scenarios involving dramatic military escalation that could trigger US invasion of the small Latin American country.
Among the scenarios outlined in the report include the potential for the US military responding to a  Venezuelan military assault and takeover of the US embassy in Caracas, or a massacre of 1,000 civilians which could trigger an America military response on humanitarian grounds. 
Will historians one day look back on Trump's United Nations speech and consider that moment the beginning of the end for the Maduro regime? It's looking like Trump is indeed seizing the momentum.