Just hours after we reported that a judge was seeking further explanation on the fairness of the settlement between Elon Musk and the Securities and Exchange Commission, a tweet from Elon Musk's Twitter account openly mocked the government agency. In a Tweet by Musk just after 4PM EST, he referred to the SEC as the "Shortseller Enrichment Commission".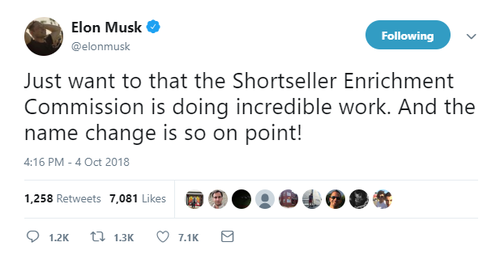 When called out about the typo (of leaving the word "say" out in between "to" and "that"), Musk doubled down on his comments, seemingly saying about the SEC, that it's "their mission" and "what they do".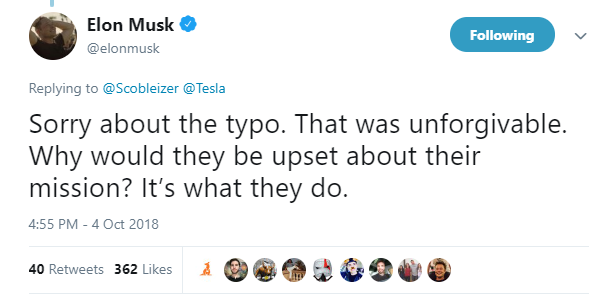 He then went on to tell a concerned long investor to "hang in there" and that everything was going to be "fine". Musk also decided to start handing out more detailed investment advice, instructing market participants when they should and should not buy Tesla stock.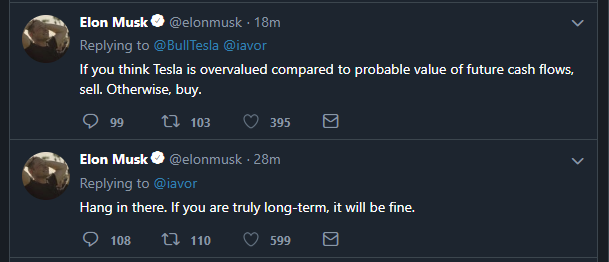 He also stated that "so long as a company makes great products, it will have great value".

As a reminder, one of the conditions of Elon Musk's proposed settlement with the SEC was that he was to have all of his tweets vetted by the company before he put them out. The settlement required "Tesla Inc. to put in place a system to monitor his public communication." 
As some on Twitter have already pointed it, Musk seems like he would already be in violation of his settlement, had it of been binding at this point.
Musk, with his recent twitter "short-seller" shenanigans, is in clear cut violation of Paragraph 13 of his agreement with the SEC.

Either (1) he's out already, or (2) he just went full-tilt while jumping on the table and demanding both the SEC & also his own $TSLA board move. pic.twitter.com/OMBexa64HU

— luis carruthers (@orthereaboot) October 4, 2018
So did Musk just jeopardize the terms of his settlement? As we also noted earlier, Musk's agreement with the SEC still has not been finalized as a judge is awaiting further details before signing off on it. 
Following Musk's tweet, Tesla shares fell 2.4% to $275 in after hours trading on concerns that Musk might again be in jeopardy with the SEC, threatening the considerable "Musk premium" that has for years been the most valuable component of Tesla stock.
Some Tesla supporters desperately tried to get through to the CEO.
@elonmusk WTF please stop tweeting. Feel free to call me to vent. We want to see Tesla succeed. You're just helping the enemy. I don't get it.

— Ross Gerber (@GerberKawasaki) October 4, 2018
Tesla shares erased nearly all of their gains from September last week when Musk revealed that he would fight the SEC as it sought to hold him accountable for a reckless tweet that he had secured private funding to take Tesla private at $420 a share. The agency revealed that Musk knew the tweet was disingenuous - in fact, the $420 takeout figure was meant to be "an inside joke" between Musk and ex-girlfriend, the Canadian musician Grimes, involving "drug culture."
But after Musk rejected the SEC's initial offer, sending shares sharply lower, he changed his mind and agreed to pay a $20 million penalty (while Tesla would pay another $20 million) and surrender his chairman role on the company's board, while agreeing to pre-clear tweets with the company in the future.
We wonder what that judge - and more importantly - the SEC, are thinking right now.