In a fiery message aimed at Tel Aviv, Islamic Revolutionary Guards Corps deputy commander Brig. Gen. Hossein Salami issued a warning to Israel, Middle East-based source Al Masdar News reports.
"I tell the prime minister of the Zionist regime to practice swimming in the Mediterranean because soon you will have no choice but [to] flee into the sea," Salami said, speaking at a rally in Isfahan, central Iran on Friday, according to Fars News.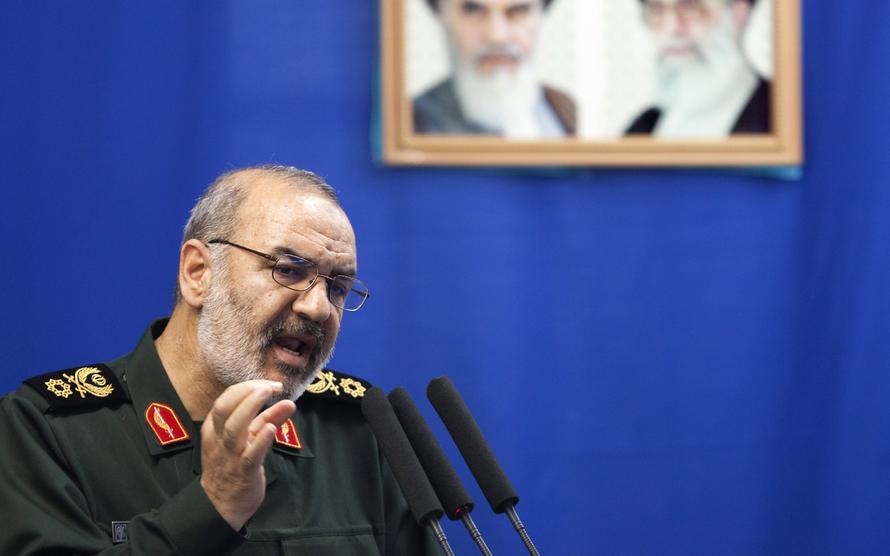 "They are not at the level of being a threat for us; Hezbollah is enough for destroying them," the commander added, speaking before IRGC volunteers. Accusing Tel Aviv of deceiving the world about Iran, the senior officer accused Israel of acting as a "political mannequin" in the US shop window.
Turning his ire toward Washington, Salami charged the US with spending $7 trillion on wars in the Middle East, adding that the US has been defeated with each effort. "We do not have military bases anywhere, and our presence in Syria is limited, which represents our values," he added, referring to the source and scope of Iran's regional influence.
Salami also praised what he called the "thunderous" October 1 missile strikes against ISIS in Syria, which Iran launched in retaliation to the September 22 terrorist attack on a military parade in Ahvaz — a southwest city in Iran — which left 25 people dead and dozens more injured.
Traditionally rocky relations between Iran and Israel hit new lows last week at the UN General Assembly, with the two countries exchanging barbs over Syria and Iran's alleged secret nuclear weapons program.
Pro tip: Iran should really stop saying "Death to America! Death to Israel! Death to Al Saud!" These slogans honestly don't help #Iran at all.

— Max Abrahms (@MaxAbrahms) October 1, 2018
Last Thursday, Israeli Prime Minister Benjamin Netanyahu claimed that Tel Aviv had discovered a second secret nuclear facility in Tehran, and vowed that Israel would "never" accept "a regime that calls for our destruction to develop nuclear weapons."
Iranian Foreign Minister Javad Zarif shot back, saying that Israel was the "only regime in our region with a secret and undeclared weapons program – including an actual atomic arsenal."
* * * 
Meanwhile nuclear weapons policy expert and author of the book, Nuclear Nightmares: Securing the World Before It Is Too Late, Joe Cirincione writes at LobeLog that the White House is marching toward war with Iran:
There is a very real possibility that Donald Trump will start a new war in the Middle East. If that's not his intention, then his administration is doing a damn good job of faking it.

In July, in a late-night tweet from the White House, President Trump threatened Iran, in all caps, with "CONSEQUENCES THE LIKES OF WHICH FEW THROUGHOUT HISTORY HAVE EVER SUFFERED." Since that rant, Trump's National Security Advisor John Bolton and his Secretary of State Mike Pompeo seem to be taking pages from the Iraq War playbook. They are cherry-picking intelligence and inflating threats. They're making specious connections between Iran and terrorists, including al-Qaeda and the Islamic State. And they're ratcheting up their rhetoric.
This, says Cirincione, became further evident during Trump's speech before the UN General Assembly last week:
Trump himself used his speech before the United Nations on September 25 to, as Mitchell Plitnick noted on this site, "build the case for aggression against Iran and even to add more obstacles to a peaceful resolution of tensions between the United States and the Islamic Republic." These tensions are about to get worse. In early November, the administration will hit countries doing business with Iran with a new round of harsh sanctions. The likelihood that this pressure will explode into military conflict is rising dramatically.
No doubt Iran is not doing itself any favors in giving fiery sermons on Netanyahu being forced to "flee into the sea".
These comments will be seized upon by both Tel Aviv and Washington as further evidence of Iranian "aggression" — though the reality remains that leaders in Tehran are busy trying to extinguish the twin domestic fires of its collapsing economy and sporadic popular unrest amidst crippling US sanctions.