Heading into Tuesday, there was just one thing traders wanted to know: how the 10Y cash Treasury would open after Monday's US holiday and after last week's rout which sent yields to multi-year highs (even as the 0.3% drop in the TLT ETF suggested more weakness for US rates). To their disappointment, the TSY yield promptly rose to a fresh 7-year high as soon as trading resumed, touching 3.26% in early trading.
30-year TSYs likewise dropped for a fourth day, sending yields to the highest since July 2014, ahead of the government selling a combined $38 billion of longer-maturity Treasuries this week, with futures volumes running at more than 200% of normal.
As yields rose, sentiment quickly reversed the tepid optimism that emerged in Asian trading, with U.S. futures and Asian shares falling as European equities gave up an early gain, leading to another sea of red for global stocks. JPMorgan summarized the trader mood best: "risk sentiment is in a foul mood and stocks are sinking everywhere."
Strength in oil stocks on higher crude prices and a rise in banking stocks on increased global borrowing had initially lifted Europe's STOXX 600 index, but it was back near a 6-month low as the early momentum faded as fears over rates and Italy returned.
As yields crept above 3.25%, both S&P 500 futures and the Stoxx Europe 600 Index were poised for a fourth day of declines. Earlier in Asia, stocks in Shanghai rose fractionally after the biggest sell-off in more than three months on Monday.
The yuan gained in onshore trading after sliding a day earlier, even though the PBOC briefly allowed the currency to slip past the 6.90 "redline." China's central bank fixed its yuan rate at 6.9019 per dollar on Tuesday, breaching the 6.9000 barrier and leading speculators to push the dollar up to 6.9120 in the spot market.
"With Chinese economic momentum continuing to weaken alongside increasing pressure from the United States, currency weakness is the obvious release valve," JPmorgan warned. "A lurch through the 7.0 level by year end is possible."
While a stronger yen put Japanese stocks under pressure, the currency ultimately pared its advance. Japan's Nikkei fell 1.3% hurt in part by a rise in the safe-harbor yen and as yields on Tokyo's government bonds tested the 0.15% cap the Bank of Japan effectively has on them. Pakistan's rupee slumped about 5 percent in an apparent devaluation ahead of what looks likely to be another IMF program.
"It all feels like it's quite nervous here over whether things going to break (out of ranges) or not," said Saxo Bank's head of FX Strategy John Hardy. He pointed to the rising U.S. and Japanese government bond yields which tend to set the bar for borrowing costs globally as well as the latest pressure on China's yuan.
And with US Treasuries set for more losses, the next question was whether Italian assets would find a bid; alas it was not meant to be and Italian bonds extended declines, led by the 10-year sector, after finance minister Giovanni Tria didn't give investors the reassurance they were hoping for in relation to growing tensions with the European Union over the nation's budget plans.
Italy's benchmark 10-year government bond yield also moved toward a 4-1/2-year high as Economy Minister Giovanni Tria struck a resolute tone on his controversial budget plans in Rome's parliament. Tria said the country's low growth doesn't allow for a cut to debt-to-GDP, adding that "the outlook is not positive" referring to global growth during a parliamentary hearing in Rome. The 10Y Italy yield rose above 3.70%, the highest since February 2014 while the BTP-Bund spreads widened to 311 bps... 
... with Italy's FTSE MIB paring initial gains, and falling 0.4%, after gaining as much as 0.9% in early trade. Italy's stock market is now getting close to bear market territory, down 19% since its high on May 7.
As the selling returned in Italy, it promptly spread to other European assets, with the Stoxx Europe 600 falling 0.4% and dragging the EURUSD to session lows below 1.1450.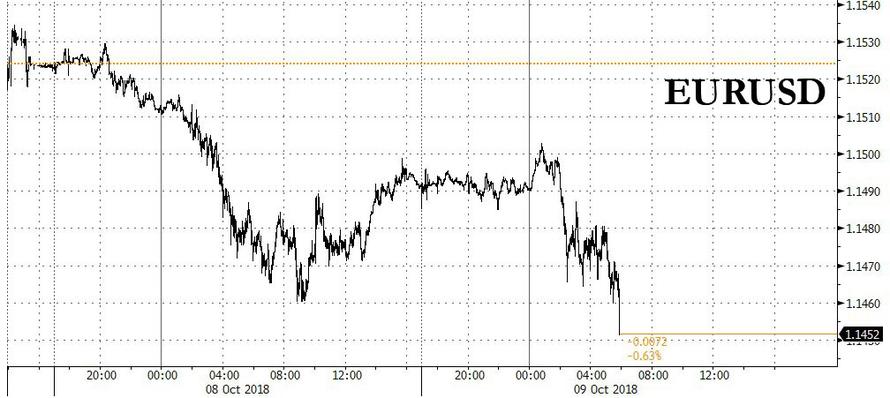 The gloomy mood that has spread across markets did not get any help from the latest IMF report released overnight. The fund reduced its outlook for global growth for the first time since 2016, due to growing trade tensions between the world's two largest economies. Meanwhile China's RRR cut announced this weekend, which failed to stabilize Chinese stocks which plunged more than 3% one day later, will inevitably put pressure on the yuan, with weakness of the currency threatening to further aggravate the trade tensions in a vicious circle that could prompt more Chinese easing.
"If the trade confrontation continues, the Chinese currency will go lower and that will create a whole host of problems for the global economy," said Alicia Levine, chief strategist at BNY Investment Management. So far there is no sign at all that the trade war has any likelihood of easing.
The global risk off mood meant more demand for safe havens like the US dollar, and the Bloomberg Dollar Spot Index advanced a second day to rise 0.2% to a six-week high as U.S. long bonds extended their recent decline. The pound came under pressure as investors started to lose hope that a Brexit agreement was imminent. 
The greenback gained against all G-10 peers as the U.S. 10-year yield touched a new seven-year high; traders kept their focus on large expiries Tuesday in the majors as a thin data calendar makes case for gamma traders to control price action until New York cut off.
In commodity markets, gold got a modest safety bid at $1,191.10, having fallen 1.4% overnight. Industrial bellwethers copper and nickel jumped 1.4 and 2% . Oil prices also rose as more evidence emerged that crude exports from Iran, OPEC's third-largest producer, are declining in the run-up to the re-imposition of U.S. sanctions and as a hurricane moved across the Gulf of Mexico. Brent crude added 50 cents to $84.41 a barrel and U.S. crude firmed 41 cents to $74.70.
Economic data include NFIB small business optimism survey, while several Fed speakers are due. Helen of Troy is among companies reporting earnings.
Market Snapshot
S&P 500 futures down 0.3% to 2,884.75
STOXX Europe 600 down 0.09% to 371.88
MXAP down 0.9% to 157.44
MXAPJ down 0.3% to 493.14
Nikkei down 1.3% to 23,469.39
Topix down 1.8% to 1,761.12
Hang Seng Index down 0.1% to 26,172.91
Shanghai Composite up 0.2% to 2,721.01
Sensex down 0.3% to 34,381.04
Australia S&P/ASX 200 down 1% to 6,041.07
Kospi down 0.6% to 2,253.83
German 10Y yield rose 2.5 bps to 0.554%
Euro down 0.2% to $1.1473
Brent Futures up 0.7% to $84.52/bbl
Italian 10Y yield rose 14.1 bps to 3.194%
Spanish 10Y yield rose 1.1 bps to 1.602%
Brent Futures up 1% to $84.73/bbl
Gold spot up 0.1% to $1,189.09
U.S. Dollar Index up 0.2% to 95.91
Top Overnight News
The Trump administration is concerned about the Chinese yuan's depreciation as the Treasury Department weighs whether to name China a currency manipulator in a report due out next week, a senior Treasury official said Monday.
Midterm elections are looking like a no-win situation for the U.S. bond market. If Democrats take the House, it raises the odds that congressional leaders will propose an infrastructure-spending bill similar in scope to President Donald Trump's original trillion-dollar proposal. And if the GOP defies expectations and holds on in Congress, tax cut 2.0 becomes more likely. In either case, the result will be more debt
Italian Finance Minister Giovanni Tria warned about the negative effects of a global trade slowdown, and said the country's output gap with other euro-area nations is unacceptable
The International Monetary Fund said the world economy is plateauing as the lender cut its growth forecast for the first time in more than two years, blaming escalating trade tensions and stresses in emerging markets
After spending most of the summer below 15, the Cboe Volatility Index climbed as high as 18.38 on Monday, a level not reached since June 28
The International Monetary Fund said the world economy is plateauing as the lender cut its growth forecast for the first time in more than two years, blaming escalating trade tensions and stresses in emerging markets
The European Union has made "limited progress" in addressing the threat a no-deal Brexit would pose to financial services, and urgent action is needed, according to the Bank of England
The three British currency traders who were part of an exclusive online chat group referred to by members as "the cartel" go on trial this week for alleged market manipulation that's already cost global banks $14 billion in penalties
Asia-Pacific stocks traded mixed as the region followed a similar picture painted on Wall St, where the Dow rose for the first time in three days, the S&P closed little changed and the Nasdaq pulled back for a third straight session. ASX 200 (-0.8%) was pressured by the healthcare and lT sectors, while Nikkei 225 (-1.4%) was playing catch-up to yesterday's slump while also subdued by a firmer currency, after re-entering the market from a long weekend. Elsewhere, Hang Seng (+0.5%) and Shanghai Comp. (+0.5%) traded choppy and with no firm direction for most of the session, before finding a firmer footing in the green following yesterday's mass sell-off. Finally, US Treasury yields continued to rise with the 30yr hitting 4-year highs and the 10yr revisiting levels last seen in 2011.
Top Asian News
Messaging Upstart Touted as WeChat Rival Wiped From Apple Store
Fat Pigs Fed Less Is China's Latest Strategy as Trade War Rages
2018 Echoes 1987 as Central Banks Shift Toward Tighter Policy
Pakistan Says It Will Seek IMF Bailout, Fueling Stock Rally
Major European indices trade broadly lower (Euro Stoxx 50 -0.5%), with the FTSE MIB hitting session lows, down -0.7%, amid reports Italy's fiscal plan may be rejected and statements from Salvini confirming the plan will not change. Sectors are mixed, with Energy up over 1% following supply concerns stemming from Hurricane Michael's impact on the Gulf of Mexico. Commerzbank is up over 2.4% following their upgrade to Overweight from Neutral by JP Morgan; but has not alleviated the DAX which is underperforming its peers. Aviva is also up over 1.5% following announcement that CEO Wilson will step down and is to be replace by Adria Montague. Swedebank is down by over 2.3% following a downgrade to Sell from Hold at Socgen.
Top European News
Royal Mail Sinks Below 2013 IPO Price Lambasted as Too Cheap
Ceconomy Plunges After Retailer Cuts Profit Forecast Again
Stay Invested in Europe Banks, Despite Italy Concerns: JPMorgan
No-Deal Brexit Could Cut German Exports to U.K. 57%: IW Study
In FX, G10 - It's not quite déjà vu, but price action and trends remain broadly the same with the USD firm and outperforming all its major rivals bar the JPY amidst sour or at least fragile risk sentiment. Indeed, Usd/Jpy is slipping back towards 113.00 again having dipped just below the big figure overnight, and is currently testing the 200 WMA around 113.18. However, decent option expiry interest at 113.25 (1.1 bn) may keep the headline pair afloat, and there is a key Fib circa 112.73 providing underlying support. Conversely, the GBP and NZD are at the foot of the G10 table as Cable retests stops/bids at 1.3050 after another retreat from 1.3100 ahead of yet another UK parliamentary presentation on Brexit, while the Kiwi is pivoting 0.6450 and lagging its more resilient AUD counterpart with the cross up near 1.1000 and Aud/Usd holding close to 0.7100. Elsewhere, the EUR remains top-heavy at 1.1500 vs the Greenback and against the Pound ahead of 0.8800 due to ongoing Italian budget jitters. The CAD awaits Canadian housing starts after nothing from BoC's Lane so far, and eyeing option expiries at 1.2950 and 1.2975 in 800 mn+, while the CHF remains relatively confined between 0.9920-50 vs the Dollar and around 1.1400 vs the Eur. DXY underpinned amidst all the above and poised to revisit 96.000. EM - Aside from further YUAN depreciation an air of consolidation pervades, with the TRY cautious within 6.0810-1340 trading parameters ahead of the Government's plan to tackle inflation.
In commodities, both WTI and Brent are up by over 0.6% and testing USD 75/BBL and USD 85/BBL respectively following supply concerns from the Gulf of Mexico where just under 20% of crude oil production has been halted in preparation for hurricane  Michael alongside evidence that Iranian crude exports are declining. In the metals scope, gold is uneventful, with the yellow metal trading within a thin USD 3/oz range. Aluminium has fallen slightly amidst reports that Norsk Hydro are preparing to resume their aluminium refinery at half capacity in the coming weeks; currently -0.15% on the day. Iron ore futures in China are up by over 3% in today's session, with prices supported by increased restocking demand at steel mills.
US Event Calendar
6am: NFIB Small Business Optimism, est. 108.3, prior 108.8
8am: Fed's Kaplan Speaks to Economic Club of New York
1pm: Fed's Harker Speaks on Importance of Education to the Economy
9:10pm: Fed's Williams Speaks on Recent Monetary Policy Developments
10:30pm: Fed's Williams, Indonesia Cen. Bank's Warjiyo speak to press
DB's Jim Reid concludes the overnight wrap
Yesterday's Treasury market holiday helped take some of the steam out of the sell off for risk assets as US equities saw a late rally in thin holiday trading to reverse some of the notable sell off in the Asian and European session. The DOW and S&P 500 outperformed, bouncing off intraday lows to close +0.15% and -0.04% respectively (the latter -0.78% at the lows as Europe went  home). Tech stocks continued to selloff with the NASDAQ and FANG indices shedding -0.67% and -1.16%, respectively, but again well off the session lows.
The VIX spiked to an intraday high of 18.38 and to the highest since July, before closing up 1.01pts at 15.83 – still the highest close since July. This came after Europe was rocked by another rout for Italian assets following a clash of heads between the populist leaders and European officials. Down for the 8th time in the last 9 session, the FTSE MIB (-2.43%) took the decline during this run to -8.39% with the index also closing below 20,000 for the first time since April 2017 and -19.12% off the near 10yr highs seen in May. The STOXX 600 by comparison was down -1.12% yesterday. The V2X index closed at 17.63 and to the second highest close since July 2nd. Italian Banks also slumped -3.71% and are now down -16.87% from the September local highs and -32.76% from the end April YTD highs. Meanwhile 10yr BTPs passed 3.50% (closing 14.4bps higher at 3.568%) for the first time since February 2014 while the 10y spread to Bunds (which fell 4.4bps yesterday to 0.529%) hit 303.9bps and to the widest since June 2013.
Sparking those moves, EU Commissioners Dombrovskis and Moscovici, in a letter sent to Italy's Finance Minister Tria over the weekend, said that there was a "significant deviation" of budget targets put forward by the government, versus the fiscal path. On the Italian side, speaking at a joint press conference with France's Le Pen, Italy's Deputy PM Salvini attacked the leaders of  the European Commission including Juncker calling them the "enemies of Europe", and added that "the politics of austerity of the  last few years have increased Italian debt and impoverished Italy". Le Pen also weighed in on the EU elections debate next year which is becoming an increasingly significant event given the Italian situation. Le Pen called the EU a "totalitarian system" and that the aim is to win the EU elections next year and work to form a "Europe of nations". It's worth noting that today will see parliament in Italy begin debating the government's budget outline. Finance Minister Tria is due to hold a number of hearings before the Lower House and Senate joint budget committees. The current timing is for the government to submit a draft budgetary plan to the EU Commission by October 15th.
After selling off last week, 10yr Bunds yet again went into flight-to-quality mode and as touched on above rallied 4.4bps. As we discussed yesterday, although we're convinced that yields should be going higher across the globe, the biggest risk is that rising yields and tightening policy create a financial crisis or tightening of financial conditions that reverse the move for a period. With global debt-to-GDP at record levels, this is a notable risk. Ironically, Bloomberg reported yesterday that Goldman Sachs plans to cut its targets for its online retail lending platform, on credit concerns.
With the recent risk-off, we are badly exposed to evidence of higher-than-expected inflation as this would make it very tough for bonds to rally on any flight to quality trade. This would be very bad for risk. So although that's not the forecast for this Thursday's vital US CPI, the risks remain asymmetric for inflation at the moment.
Also weighing on sentiment yesterday was the seemingly tense exchange between US Secretary of State Pompeo and China Foreign Minister Wang Yi. Pompeo said that there was "fundamental disagreement" between the two while Wang accused the US of escalating trade disputes and interfering in the country's domestic affairs. Wang told reporters that "these actions have damaged our mutual trust, cast a shadow over US-China relations and are completely out of line with the interests of our two people".
This morning in Asia markets are trading mixed with Nikkei (-0.92%) down as traders returned from yesterday's holiday while the Shanghai Comp (+0.42%) and Hang Seng (+0.37%) are up after declining by -3.72% and -1.39%, respectively, in yesterday's trade. Elsewhere the Chinese yuan is up +0.18% against the greenback to 6.9184. The strength in the yuan assumes significance as Bloomberg reported yesterday that the White House is concerned about the Chinese yuan's depreciation and the US treasury department is weighing naming China as a currency manipulator in a report due out next week. In the meantime, PBOC skipped its open market operation today citing high liquidity in the system. Overnight, US 10y yield has moved up by +1.1bp to 3.244% which is impressive given the risk off in Europe. This extends the 7 year highs.
In other news, the IMF slashed the global growth forecast for 2018 and 2019 to 3.7% from 3.9% earlier while keeping the US growth forecast for 2018 unchanged at 2.9% and reducing the 2019 growth forecast for US by 0.2pp to 2.5% citing the trade conflict. The IMF also sounded the alert on the global trade war saying it could take a significant bite out of global growth  estimating output could fall by more than 0.8% in 2020 and remain 0.4% below its trend line over the long term, in a scenario where US President Trump follows through on all his threats, including global duties on cars. IMF estimates output could fall by more than 1.6% in China and over 0.9% in the U.S. next year, in such a case.
Elsewhere the IMF upped the inflation forecast for the Venezuelan economy in 2018 to 1.37 million percent by the end of the year from its earlier forecast of 1 million percent. Impressive numbers.
There was some good news for markets yesterday though and that was in the performance of Brazilian assets. Indeed following the resounding victory for the far-right Bolsonaro in the first round presidential election, the Bovespa surged +4.69% yesterday while the Brazilian Real (+2.19%) ended up the top performing currency. Local currency 10y yields also rallied 45.9bps.
On the Brexit front, the pound traded as much as -0.70% weaker yesterday before retracing to close down only -0.22%. A government spokesman declined to confirm that Brexit Secretary Raab will visit Brussels this week, potentially signalling an impasse between the two parties. He also said that the UK will seek a "precise future framework" which will be more difficult to achieve than the alternative, vaguer outcome. The spokesman described the proposed Irish border solution as "temporary" which is unlikely to be acceptable to the EU. So still a lot of details to be ironed out before an agreement can be concluded this year.
The economic data front was quiet yesterday, with the main focus on Germany's disappointing industrial production print. It showed activity fell -0.3% mom in August versus expectations for a 0.3% expansion. That marks the third consecutive downside miss, which is beginning to present more serious downside risks to third quarter GDP. Separately, the Bank of France's Industry Sentiment survey printed at 105 for September, up 2pts and near its cyclical high.
Before we wrap up, and as mentioned at the top, Michal in my team published a report "Credit in a Post-QE World: Spread Curves vs. Rate Curves" yesterday. It analyses the co-movement of credit spread and rate curves across the cycle, examines how much the ECB QE/CSPP taper has been priced in, highlights current term premia in credit, presents views on value across credit curves and recommends macro credit trades on the back of that. You can download the full report here .
As for the day ahead, it's another quiet one for data with August trade stats in Germany and the September NFIB small business optimism reading in the US the only releases of note. Away from that we'll hear from the Fed's Kaplan just after lunch when he speaks at the Economic Club of New York, before the Fed's Harker speaks at an event in the evening. The ECB's Villeroy de Galhau is also due to speak this afternoon, while the BoE's Broadbent is to testify to Parliament. As mentioned earlier, keep an eye on Italy also with Finance Minister Tria due to hold a number of hearings before the joint budget committees of the Lower House and Senate on the Government's fiscal outline for the 2019 budget. Elsewhere, today is also the day that the IMF and World Bank annual meetings get underway.