---
WTI Slumps To 2-Week Lows After Biggest Crude Build In 20 Months
After holding around $75 yesterday amid storm news as Hurricane Michael shut more offshore oil platforms and the International Energy Agency warned that the global market is entering a "red zone," today saw risk-off sentiment slam it lower, back below $73 ahead of tonight's API data.
Globally, supplies from Iran and Venezuela have been shrinking, creating a "risky situation" for the world economy, said IEA Executive Director Fatih Birol.
Gulf operators shut 718.9k b/d of oil production (around 42%), 89 platforms evacuated amid Hurricane Michael, BSEE says in notice.
"Yesterday there was some concern about more extensive losses of production due to Hurricane Michael," said John Kilduff, partner at Again Capital LLC. "Now that the oil infrastructure is in the clear, this weeks EIA report will help ease concerns once we see a build printed.
API
Crude +9.75mm (+2.5mm exp) - biggest build since Feb 2017

Cushing +2.3mm (+800k exp) - biggest build since March 2018

Gasoline +3.4mm - biggest build since June 2018

Distillates -3.5mm - biggest draw since May 2018
Storm-related impact should not be present in this data but after last week's huge crude build we saw another massive crude build...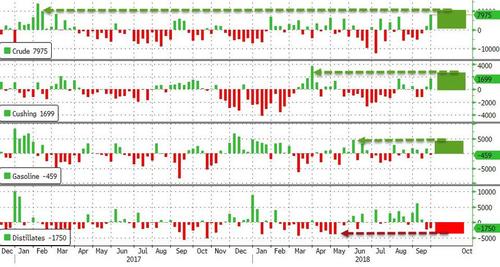 Bloomberg notes that sanctions on Iranian oil exports are hitting much harder than most people predicted as the Trump administration takes a tough line on enforcement, said executives from the world's largest energy traders. However, Saudi Aramco will supply about 4 million barrels of additional crude to Indian customers for November, according to a person familiar with the matter. That's on top of their monthly contractual supplies from Aramco.
"The market is just struggling with the expectation of the reduction in Iranian exports combined with physical evidence in the U.S. that inventories are rising," said Kyle Cooper, a consultant at Ion Energy Group LLC.
WTI hovered below $73 ahead of tonight's API data and kneejerked lower as the data hit...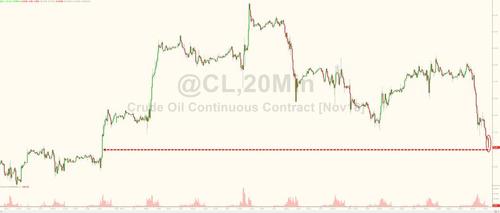 Western Canada Select's discount to West Texas Intermediate crude widened to $50 a barrel on Tuesday, the widest on record...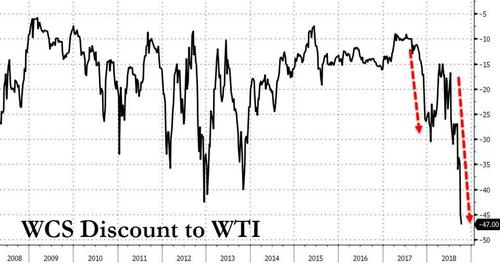 The plunge in Canadian crude prices may dent exploration budgets and shrink the nation's rig fleet, according to the chief executive officer of a major drilling contractor. The discount on Canadian crude will hammer cash flow, Precision Drilling Corp. CEO Kevin Neveu said at an event in Calgary.
With Canada's debt and equity markets "almost closed" to energy producers, cash is the sole source of funding for drilling, he said.
"If cash flows get crimped back on a quarterly basis or a daily basis by the widening differential, they would adjust their rig counts sometimes even weekly," Neveu said.