The Washington Post has provided further details on its prior reporting that US intelligence knew full well that Saudi Arabia was seeking to lure the now disappeared and allegedly murdered journalist Jamal Khashoggi to its embassy in Istanbul in order detain or kill him. 
In an interesting new revelation the Post speculates based on intel sources that the whole October 2nd incident may have been an attempted "rendition" gone wrong. As more damning evidence emerges showing a Saudi "hit team" of 15 military and intelligence individuals murdered Khashoggi and chopped up his body to carry out of the country, there now appears a strong consensus that the order may have come straight from the top, most likely from crown prince Mohammed bin Salman (MbS) himself. 
Middle East Eye, for example, concludes based on WaPo's prior report, "Saudi Arabia's Crown Prince Mohammed bin Salman, the country's de facto ruler, ordered an operation targeting journalist and US resident Jamal Khashoggi... citing US intelligence intercepts."
What's more is that NBC now reports that the Turks had the Saudi consulate bugged with listening devices before the disappearance and what now appears to be gruesome murder — which suggests Turkey is currently in possession of an audio recording of the alleged killing. 
But perhaps the only question that remains is were the Saudis planning to murder Khashoggi from the start, or was this indeed an intended "CIA-style" rendition to a black site gone wrong? WaPo reports:
The intelligence pointing to a plan to detain Khashoggi in Saudi Arabia has fueled speculation by officials and analysts in multiple countries that what transpired at the consulate was a backup plan to capture Khashoggi that may have gone wrong.

A former U.S. intelligence official — who, like others, spoke on the condition of anonymity to discuss the sensitive matter — noted that the details of the operation, which involved sending two teams totaling 15 men, in two private aircraft arriving and departing Turkey at different times, bore the hallmarks of a "rendition," in which someone is extra­legally removed from one country and deposited for interrogation in another.
This might explain what some skeptics have questioned from the start: why would the Saudis send such a large murder squad to do the deed knowing they'd leave such a sizable footprint? However, it's precisely a larger team that's needed to conduct a rendition akin the CIA "extraordinary rendition" practices and series of "black sites" characteristic of the Bush "war on terror" years. 
This could also be the early phase of the Saudis and possibly the US crafting a narrative that leaves Riyadh less culpable — a mere "rendition" that led to "unintended" death will be an easier to manage narrative, however disastrous, yet still inviting less international condemnation and scrutiny. After all one US intelligence source told the Post after being pressed as to why the US didn't warn the journalist as he unknowingly went to his death: "Capturing him, which could have been interpreted as arresting him, would not have triggered a duty-to-warn obligation. If something in the reported intercept indicated that violence was planned, then, yes, he should have been warned," the official said.
NBC published the following screenshots of Jamal Khashoggi's phone early Thursday showing he checked it just before entering the consulate but hasn't since then:
Via NBC News: Two WhatsApp screenshots obtained by NBC News from a friend of Jamal Khashoggi in the Pacific Time Zone of the U.S. show Khashoggi was "last seen" on WhatsApp at 3:06 a.m. Pacific (1:06 p.m. Istanbul). At left, a text sent by the friend on Monday, Oct. 1, 2018 to Khashoggi at 12:25 p.m. Pacific (10:25 p.m. Istanbul) was read (two blue checks). At right, a text sent by the friend on Tuesday, Oct. 2 to Khashoggi at 3:24 a.m. Pacific (1:24 p.m. Istanbul) was delivered, but was not read (two gray checks).
Meanwhile, more details have seemed to emerge by the hour, with Middle East Eye reporting further information on the chronology of what happened moments after Khashoggi entered the consulate, based on the testimony of "a Turkish source with direct knowledge of the investigation".
The source describes that Khashoggi was "dragged from consulate office, killed and dismembered". The source told Middle East Eye: "We know when Jamal was killed, in which room he was killed and where the body was taken to be dismembered. If the forensic team are allowed in, they know exactly where to go," he said.
The Turkish investigator provides details of the days leading up to the murder as follows:
Khashoggi first went to the consulate on 28 September and met with a Saudi diplomat in an attempt to get the papers he needed.

The Saudi diplomat passed him on to a member of Saudi intelligence who said the consulate would be unable to provide what he needed that day, but he could return the following week, the source said.

Khashoggi left the building on Friday with the telephone number of the intelligence official. 
Crucially, all non-essential personnel and local staff were told to "take the afternoon off" as the left for lunch. According to the source:
On Tuesday morning, Khashoggi called and asked if he should still come to the consulate and was told that the papers were ready for him, the source said. His appointment was for 1pm.

Half an hour before then, during the lunch break held at the consulate, all local staff members left for their usual lunch break which lasts an hour. As they left, they were told to take the afternoon off because a high-level diplomatic meeting was planned for the afternoon in the consulate, the source said. 

As a time-stamped photo first published by the Washington Post has shown, Khashoggi walked into the consulate less than an hour later at 1.14pm.
As already suggested in prior international reports, Khashoggi was killed shortly after entering the consulate building. The report continues:
He was greeted by an official, and led into the consul-general's room. Shortly afterwards, two men entered the room and dragged Khashoggi out of the office and into another room where they killed him, the source said, without elaborating how he was killed.

Khashoggi's body was then dragged into a third room and dismembered, he said. 
And in reference to early reports that emerged early Thursday of British intelligence leaks suggesting a drug overdose based on an attempted rendition, the Middle East Eye report further notes the following:
A Saudi source told Reuters that British intelligence believed there had been an attempt to drug Khashoggi inside the consulate that culminated in an overdose. 

He said the information came from a British intelligence source. Contacted by Reuters, British intelligence did not comment. Asked about this account, a Saudi official said: "This death is not true."
Concerning how Turkish investigators could have arrived at such level of detail concerning exactly what happened inside the consular grounds, NBC reports a new explosive detail - that the consulate was actually bugged with listening devices, according to Turkish officials.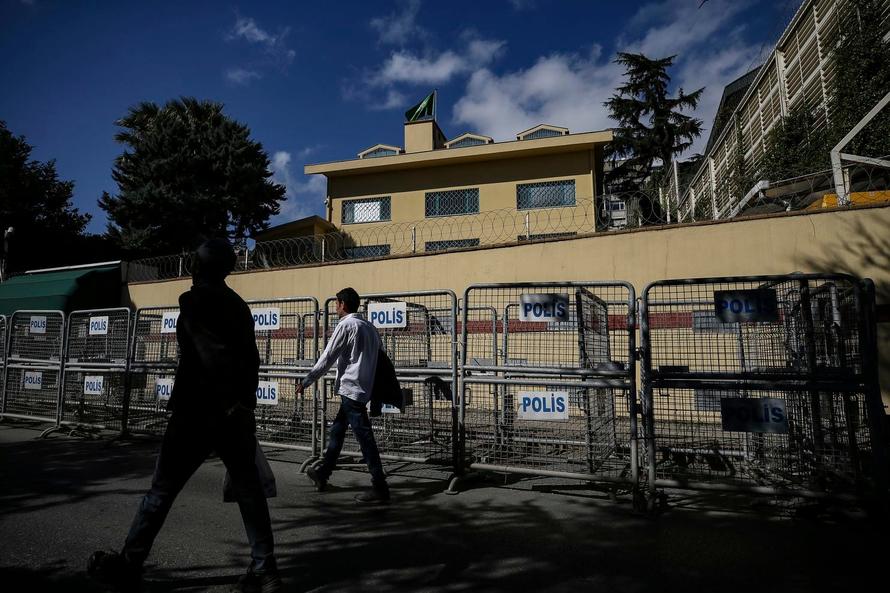 According to NBC: "On Wednesday, three people familiar with the investigation told NBC News that Turkish officials had told the U.S. that Turkey had listening devices inside the Saudi consulate, giving the Turks at least some insight into what transpired inside."
NBC was further able to confirm that the disappeared Saudi journalist and Washington Post columnist had accessed his phone's text messages just prior to entering the consulate, but never after, based on exclusive screenshots obtained from his phone. 
Explosive detail in this report: "Turkish officials had told the U.S. that Turkey had listening devices inside the Saudi consulate, giving the Turks at least some insight into what transpired inside." https://t.co/zVX3chWocT

— İyad el-Baghdadi | إياد البغدادي (@iyad_elbaghdadi) October 11, 2018
If it is indeed true that Turkish intelligence had the consulate bugged, and a recording of what exactly went down exists, it is likely only a matter of time before the audio itself is leaked. 
Meanwhile, Bloomberg reports that Turkey and Saudi Arabia will form a joint working group to investigate the disappearance of Jamal Khashoggi. This is reportedly upon Saudi Arabia's request — something further confirmed by Turkish President Recep Tayyip Erdogan's spokesman Ibrahim Kalin.