Update (1800ET): As a surge of migrants broke through a steel fence that had been padlocked shut...
CNN reports Mexican police in riot gear pushed them back, setting off smoke canisters, and Buzzfeed reports the use of tear gas.
Hundreds of Mexican Federal Police sealed the border as drones and helicopters hovered above the crowd, which waited on a bridge in sweltering heat...
The chaos calmed somewhat as migrants formed lines in a mass of humanity stretching across the bridge. Some returned to the Guatemalan side to buy water and food.
"Today, violent tides are trying to enter Mexico and they have hurt Mexican police. We did not use armed forces because we offered the obligation to help, " Mexican Interior Secretary, Alfonso Navarrete Prida told Mexican Milenio television.
At least a dozen migrants stuck on the bridge have jumped into the river below.
At least 20 people were treated for injuries after clashes with authorities, including a Mexican reporter, according to the Guatemalan Red Cross.
*  *  *
Migrants in a 4,000-strong caravan traveling north from Central America have trampled the Guatemalan border and are currently preparing for a push into Mexico. 
BREAKING: The caravan has just broken through security at the Guatemala-Mexico border and are now flooding Mexico. This is out of control! How are we supposed to trust Mexico to protect our border when they can't defend their own? @realDonaldTrump

pic.twitter.com/QWLhaoLzCv

— Lauren Rose (@LaurenRoseUltra) October 19, 2018
The migrant caravan just broke the fence on the Guatemalan side and arrive to the Mexican gate. #CaravanaMigrante #mexico pic.twitter.com/8Jp6oZ9tdN

— Nicolas Lupo (@niluso) October 19, 2018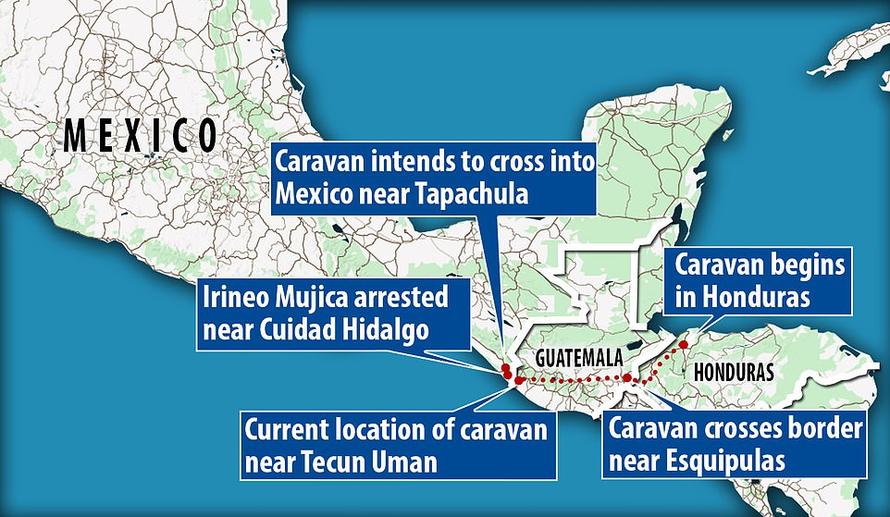 The #caravan passed the armed Guatemalan national police after pushing down the fence on the border. Now they are stopped at the Mexican border, at the entrance to Ciudad Hidalgo. #Immigration pic.twitter.com/Y7jRjYY6IW

— Maya Averbuch (@mayaaverbuch) October 19, 2018
Word of the border breach conflicts with earlier reports that the bulk of the caravan, approximately 2,000 - 3,000 people, turned around two blocks from the Mexican border with Guatemala earlier Friday. 
They were two blocks from the border line in the Guatemalan town of Tecun Uman when they retreated.  It is not an indicator that they have changed their plans, but demonstrates the obstacles the group is facing. On Thursday and Friday, the group clashed with police in the town and fought with them as Mexican man who was supporting the march was arrested. 

They are now making their way towards a bridge which traverses the Suchiate River. One migrant said: 'One way or another, we will pass.'  -Daily Mail
Thursday evening, US and Mexican officials agreed on a plan to handle the appropaching caravan, according to Fox News. 
Under the deal, which was developed over the course of several months, Mexico requested that the United Nations High Commissioner for Refugees (UNHCR) establish shelters along its southern border with Central America, the official said. -Fox News
"Just today, the Mexican government, and this is a very important step, requested the intervention of the U.N., the Office of the High Commissioner on Refugees, to help Mexico review any asylum claims from the members of the caravan," Gutierrez said. "That will allow us to have a process by which in our border we will make sure that of serving human rights, respecting international law, if there are legitimate claims to refugee, those can be processed in a very clear way."
***
On Thursday, Mexico deployed hundreds of riot police to intercept the caravan, following demands by President Trump that Mexico, Honduras, Guatemala and El Salvador intervene before he has to deploy US troops. 
MIGRANT CARAVAN: Two federal police-filled planes w/anti-riot gear landed near the Mexico/Guatemala border this morn (vid source: Policia Federal de Mexico). pic.twitter.com/UyneeXlPnu

— KarlaZabs (@karlazabs) October 17, 2018
"I must, in the strongest of terms, ask Mexico to stop this onslaught - and if unable to do so I will call up the U.S. Military and CLOSE OUR SOUTHERN BORDER!" Trump Tweeted Thursday morning. 
I am watching the Democrat Party led (because they want Open Borders and existing weak laws) assault on our country by Guatemala, Honduras and El Salvador, whose leaders are doing little to stop this large flow of people, INCLUDING MANY CRIMINALS, from entering Mexico to U.S.....

— Donald J. Trump (@realDonaldTrump) October 18, 2018
....In addition to stopping all payments to these countries, which seem to have almost no control over their population, I must, in the strongest of terms, ask Mexico to stop this onslaught - and if unable to do so I will call up the U.S. Military and CLOSE OUR SOUTHERN BORDER!..

— Donald J. Trump (@realDonaldTrump) October 18, 2018
....The assault on our country at our Southern Border, including the Criminal elements and DRUGS pouring in, is far more important to me, as President, than Trade or the USMCA. Hopefully Mexico will stop this onslaught at their Northern Border. All Democrats fault for weak laws!

— Donald J. Trump (@realDonaldTrump) October 18, 2018
On Tuesday, Trump threatened to cut off aid to Guatemala, Honduras and El Salvador if they "allow their citizens, or others, to journey through their borders and up to the United States."
We have today informed the countries of Honduras, Guatemala and El Salvador that if they allow their citizens, or others, to journey through their borders and up to the United States, with the intention of entering our country illegally, all payments made to them will STOP (END)!

— Donald J. Trump (@realDonaldTrump) October 17, 2018
Mexico said in a Thursday statement that it would also seek assistance from the United Nations refugee agency for help coordinating with Central American governments of countries from which the migrants originated. 
Honduran riot police were deployed to the Guatemala border to stop more people joining a caravan of migrants and asylum seekers. They are headed to the U.S.-Mexico border to escape inequality and violence in Honduras, where 66% of people live in poverty. pic.twitter.com/cleR2movqs

— AJ+ (@ajplus) October 17, 2018
Hundreds of federal police in riot gear fanned out on the international bridge in Suchiate, on the Mexican-Guatemalan border, as the caravan of several thousand Honduran migrants trekked toward the crossing.

Guatemala also sent police reinforcements to its side of the border, after Trump threatened to cut aid to the region, deploy the military and close the US-Mexican border if the migrants were allowed to continue.

A first group of several hundred migrants arrived late Wednesday in the border town of Tecun Uman, Guatemala, where they overflowed a local shelter, leaving many to sleep in the town square or on the street, an AFP correspondent said. -AFP
The new caravan, which began in the Honduran city of San Pedro Sula with 150 migrants, is the second caravan from Honduras this year. The first caravan was largely disbanded, though a few asylum seekers successfully made it to US soil and were taken into custody.