update: Former Soviet leader Mikhail Gorbachev, who signed the Intermediate-Range Nuclear Forces Treaty (INF) treaty with then-US President Ronald Reagan, has slammed President Trump's decision to withdraw from the historic 1987 arms control agreement, calling it a "mistake" and "a narrow-minded" decision.
Gorbachev told Interfax on Sunday: "It's completely unacceptable to break the old treaties on disarmament." 
The Soviet Union's first and only president said, "It can't be that hard to understand that discarding such agreements 'is narrow-minded,' as they say." Gorbachev said Trump's move will ultimately "undermine all the efforts, made by the leaders of the USSR and the US itself to reach nuclear disarmament."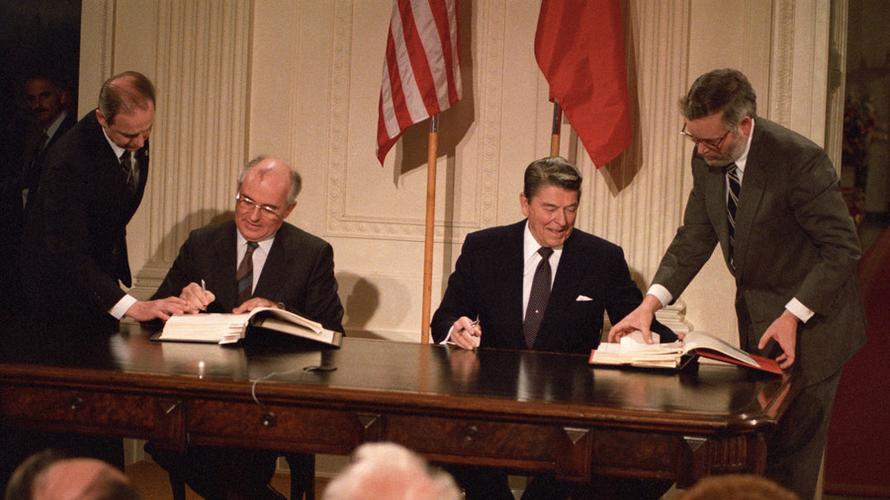 Previously on Sunday NATO actually laid the blame on Russia. A NATO spokesperson said in a somewhat vaguely worded statement that the development of Moscow's newest nuclear-capable Novator 9M729 missile system means "the most plausible assessment would be that Russia is in violation of the INF Treaty."
And for Rachel Maddow and all the hardcore 'Russiagate' peddlers out there there's this to consider...
This is a major (and dangerous) provocation toward Russia by Trump that - like his lethal arms to Ukraine, the bombing of Assad's forces, & sanctions/expulsions - should cause anyone who peddled the "Putin-controls-Trump-with- kompromat" conspiracy tripe to apologize in shame: https://t.co/bJJOrSJ6M3

— Glenn Greenwald (@ggreenwald) October 21, 2018
* * *
earlier
Washington's planned withdrawal from the international Intermediate-Range Nuclear Forces Treaty, announced by President Trump on Saturday, has been slammed by Russia as "a very dangerous step" which is ultimately part of "continuing attempts to achieve Russia's concessions through blackmail" in statements made by Russian Deputy Foreign Minister Sergei Ryabkov on Sunday.
And Russian lawmaker Konstantin Kosachev, who chairs the Russian Parliament's Upper House Foreign Affairs Committee, warned the move could create a domino effect endangering other landmark deals like the Strategic Arms Reduction Treaty (START). The lawmaker said such an outcome pits mankind against "complete chaos in terms of nuclear weapons."
Russian Deputy FM Sergei Ryabkov further said that the decision would receive the condemnation of the international community as it could trigger a new arms race and make the world deeply unstable. However, Ryabkov accused the United States seeking "total domination" and said it's attempting to remove impediments to that goal. 
"At first glance, I can say that apparently the INF Treaty creates problems for pursuing the line towards the US total domination in military sphere," Ryabkov said, according to TASS. 
He explained further of the treaty signed between the Soviet Union and the United States in 1987 in Washington, DC: "This would be a very dangerous step, which, I'm sure, won't be just understood by the international community, but arouse serious condemnation of all members of the world community, who are committed to security and stability and are ready to work on strengthening the current regimes in arms control."
On Sunday US National Security Advisor John Bolton arrived in Moscow, and Russian officials are expected to seek clarity on US intentions regarding specific steps the White House is planning to take. "Today the US president's national security advisor is arriving in Moscow. We hope during the contacts with him tomorrow and the day after tomorrow to hear more details and clarifications on what steps the US side is planning to take," Deputy FM Ryabkov said.
Russia suggested the drastic move, which comes after Moscow has deployed its newest nuclear-capable Novator 9M729 missile system — said to exceed the missile range stipulated by the treaty — is being used the by Trump administration for blackmail: 
"We condemn the continuing attempts to achieve Russia's concessions through blackmail, moreover in such an issue which has importance for international security and security in the nuclear weapons sphere, for maintaining strategic stability," the deputy FM stated. 
"Therefore, these are the attempts to portray this situation as if Russia violates the treaty. But it's not just that we do not violate it, but we strictly observe it. And we are tolerant when pointing to US blatant violations of the agreement for many years," Ryabkov said.
Meanwhile, in a statement sure to add fuel to the ongoing diplomatic fire, NATO announced it is holding Russia responsible for the US withdrawal from the INF Treaty, saying it is "highly likely" that Moscow violates this agreement. 
NATO Spokesperson Oana Lungescu said on Sunday:
NATO Allies have repeatedly raised their concerns about Russia's lack of respect for its international commitments, including for the Intermediate-Range Nuclear Forces Treaty, which was concluded in 1987 between the United States and the Soviet Union. At the NATO Summit in July [in Brussels], Allies stressed that the United States is in compliance with its obligations under the INF Treaty, while a pattern of behavior over many years has led to widespread doubts about Russian compliance.
The spokesperson continued, referencing Russia's recently unveiled Novator 9M729 system:
After years of denials and obfuscation, Russia recently acknowledged the existence of the missile system without providing the necessary transparency and explanation. In the absence of any credible answer from Russia on this new missile, Allies believe that the most plausible assessment would be that Russia is in violation of the INF Treaty.
President Trump had said Saturday after a campaign rally in Elko, Nevada: "We're not going to let them violate a nuclear agreement," and indicated, "We're going to terminate the agreement."
In a report that undoubtedly further complicated John Bolton's weekend trip to Moscow, the Guardian revealed on Friday that the national security advisor - in what some described as an overreach of the position's typical role - had been pushing Trump to abandon the Intermediate Range Nuclear Forces Treaty.
The announcement comes after the U.S. had been warning Russia it could resort to strong countermeasures unless Moscow complies with international commitments to arms reduction under the Intermediate-Range Nuclear Forces Treaty, a pact struck in the 1980s.
When first signed by President Ronald Reagan and Soviet leader Mikhail Gorbachev following their historic 1986 meeting, the INF was touted as an important deescalation of tensions between the two superpowers. But it has since become a flashpoint in the increasingly strained relationship between the US and Russia, as both sides have accused the other of violating its terms.